Discover the finger-licking best in Boulder County
By Linnea Covington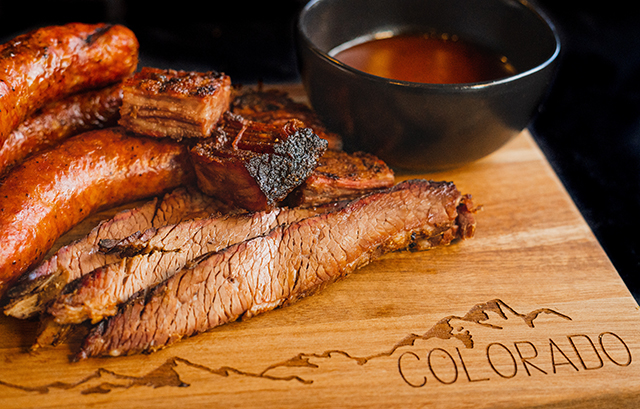 Summer conjures long days and festive outdoor Activities. Luckily, locals don't have to worry about slaving over a hot grill to indulge in delectable barbecue favorites—plenty of establishments have perfected the art of smokey barbecue themselves. This high season, leave the apron at home and treat yourself to the area's tastiest spots for smoked, grilled and barbecued foods.
Busey Brews Smokehouse & Brewery
Nederland
In 2019 Janice and Kyle Busey bought the restaurant Kyle worked at and transformed it into what it is today—an 18-tap brewery that also turns out really good barbecue. All the meats are smoked onsite, and so is the tofu, which has its own smoker to keep it a true vegan and vegetarian option. Pair a plate of slow-smoked ribs, pulled pork, brisket or smoked chicken wings with a pint of Tropical Stay-cation Juicy IPA, and call the meal a real trip to barbecue paradise.
DJ's Watering Hole Restaurant
Louisville
Back in November of 2022, three guys got together to create a unique restaurant that not only served homemade pulled pork, burnt ends, ribs, brisket and chicken wings, but also added an Indian twist to the food. Funny enough, none of the owners are actually named DJ, instead the name comes from the first initial of their first names, Darryl Johnson, Jatin Patel and Shivang Patel. The inspiration for the rich masala that tops the meat (optional) comes from Jatin Patel, who originally owned Tiffins India Cafe in Boulder. Not only does the barbecue have this flavorful flare, but the Indian influence is also found on sandwiches, in salads, throughout the appetizer menu and in a side of freshly made naan, perfect for scooping up the tender bits of meat, sauce and rice.
LuLu's BBQ
Louisville
Get down with some Texas-style smoking and spice rubs, mixed with a bit of Carolina-style vinegar sauce and the restaurant's very own Lazy-H BBQ sauce, created by the owner's family in Oklahoma. Owned by Kevin Herrington, the restaurant opened in 2011 and was built inside a renovated gas station. Look for rib tips, smoked sausages and barbecue-laden nachos, as well as the usual lineup of succulent pulled pork, ribs, smoked turkey and brisket. Visit the shop seven days a week, from noon until about 8pm, or when they sell out.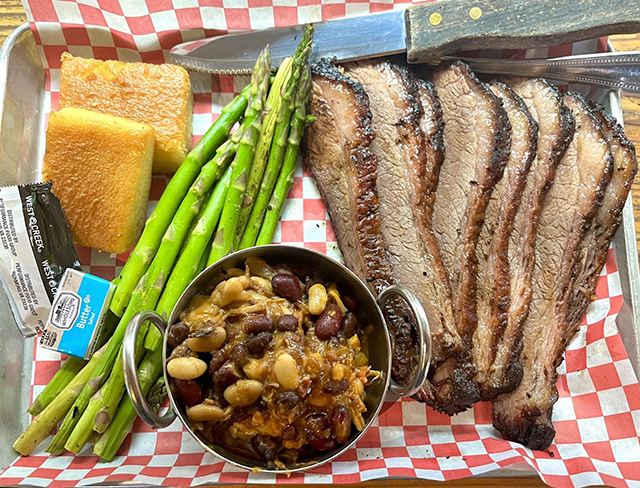 Georgia Boys
Longmont
Don't let the name fool you, Georgia Boys isn't a transplant, it was founded in Boulder by two fraternity brothers, Nick Reckinger and Matt Alexander, and the name comes from their home state. The two had started making and selling slow-cooked, southern-style barbecue out of their Boulder apartment, and it became so popular that they opened their first shop in 2011. The original spot since closed, but the team still operates three Colorado locations in Frederick, Greeley and Longmont. Stop in for popular items such as the beef brisket and burnt ends, then add on a platter of St. Louis-style pork ribs and smoked chicken thighs. All platters come with Texas toast and two sides, such as hand-cut fries, skillet cornbread, sweet potato casserole and baked beans.
Wayne's Smoke Shack
Superior
Wayne and Samantha Shelnutt have run this joint for almost 10 years, and they continue to love what they make. In fact, Wayne personally seasons, smokes and pulls every single piece of meat himself, with no plans to pass the saucy gloves to anyone else as long as he is in charge. While Wayne flavors the Texas-style brisket, St. Louis ribs, smoked turkey and candied pork belly, Samantha cuts the meat on the block, making it a true mom-and-pop operation. Another way the operation stands out comes through its dedication to using the highest quality hormone- and antibiotic-free meat. The only catch comes in timing—while open year-round, customers can only get the barbecue on Fridays and Saturdays from 11am to 3pm, or until they sell out. However, there's also a grab-and-go market where packs of the couple's frozen barbecue meats can be purchased to take home.
West End Tavern
Boulder
For over three decades, this institution has served Boulderites good beer and even better food. Today, it's owned by the restaurant group Big Red F, and that's about all that's changed. Enjoy not only standard pub fare but goods from the smoker, too, like pulled pork with Carolina gold barbecue sauce, burnt ends, hot links and St. Louis-style ribs. Order a platter there or take your barbecue by the pound, there is no wrong answer.
Smokin' Daves BBQ & Brew
Longmont
The first Smokin' Daves BBQ & Brew opened in Estes Park in 2007, and now owners David and Cat Oehlman have four Colorado locations, Longmont being one of them. All the food and sauces are made from scratch, including the flavorful rubs on the meat. Go in for the barbecue and stay for a plate of southern-style catfish, smoked meatloaf, award-winning chili, sandwiches and more. Don't skip out on the bison ribs, jalapeño hushpuppies or Carolina pulled pork, either. Although anything picked up from this friendly spot is worth indulging in.
KT's BBQ
Boulder
Taking the first initials of their first names, Kirk and Tricia Jamison opened KT's BBQ in a little blue house in Boulder in January 1992. Today, they have two locations, both modeled after Pecos Pit BBQ in Seattle, the state where the Jamisons come from. The idea for KT's was to serve mainly Memphis-style barbecue, and its highlights include the hickory-smoked pulled pork topped with a peppery vinegar-based sauce, dry-rubbed pork ribs, Texas-style beef brisket with Tricia's secret sauce and spicy hot links.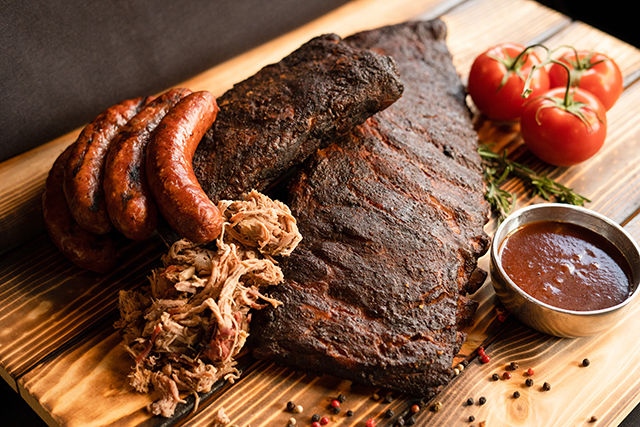 Oskar Blues Homemade Liquids and Solids
Longmont
Dale Katechis grew up in Alabama, and if you grow up in Alabama, said the owner of Oskar Blues Brewery, you had to grow up on barbecue. That's why when he moved out to Colorado, he wanted to bring that southern staple along for the ride with his first gastronomic venture, which opened during an epic snowstorm in April 1996. While Oskar Blues may be better known for its beer nowadays, it was food that drove Katechis to start brewing. Now each of the four "fooderies" has its own smoker, which burns apple and hickory wood. Of course, beer is still a part of it, and while pairing a pint with a pile of pulled pork or smoked chicken wings showcases this, so do the sauces that utilize some of the beers in the recipe.
Avery Brewing Co.
Boulder
Something about beer and barbecue just goes together, as witnessed by how many spots in Boulder County make both. Avery Brewing Co. is no exception, and it's easy for diners to indulge in a plate of house-smoked brisket or ribs with tomatillo barbecue sauce and a pint of Hazyish IPA or Clear Horizons. The food menu also features smoked brisket nachos, smoked salmon over salads and more.
Kona Hawaiian BBQ
Longmont
What makes Hawaiian barbecue stand out is its marinade—it's made with a sweet-and-tangy mixture of soy sauce, sugar and fresh garlic and ginger. Kona Hawaiian BBQ in Longmont is fairly new, opening in 2022 with a parade of barbecue chicken, kalua pork, kalbi short rib and Hawaiian barbecue beef platters taking the spotlight. It's a casual spot ready for any hungry customer looking for a quick and satisfying meal.
The Local
Boulder
While The Local itself doesn't make barbecue, its catering sister Hattie's BBQ is housed in the same building and provides all the goods that make this a choice spot for smoked meat lovers. Choose from Texas-style brisket, Carolina-style pork, St. Louis ribs and all the homemade sauces. The concepts are run by married couple Nate and Whitney Rajotte, who opened this casual spot in the Willow Springs Shopping Center in North Boulder.