Supremely easy (and just a little bit fancy)
By ANNE WOLFE POSTIC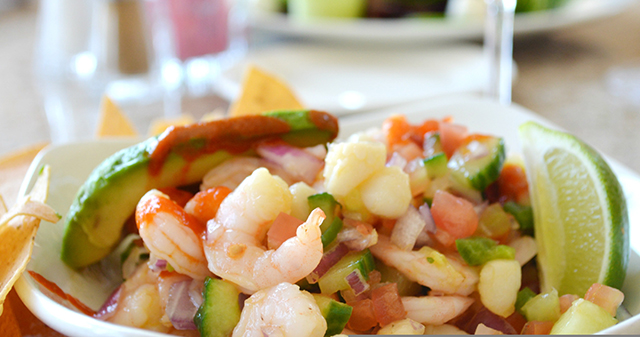 Do you like having people over? Do you like serving something simple and light, yet slightly impressive? Not quite a meal, but more dramatic than a snack? Do you love making something just for yourself that's special enough to brighten your day? If you have a little fresh fish and a zippered plastic bag, ceviche is here for you.
I own part of a very traditional (read: old and in constant need of repair) house on the Edisto Island sound. Solo visits allow me to get plenty of repairs done and make sure it's well stocked for renters. (As an aside, what do y'all do with spoons? One year, we started with 42 spoons. Six months later, there were three. Really, three. I understand losing a few, because toddlers wander off with things, and occasionally one might decide to eat yogurt in the car, then forget to return the spoon. But 39 spoons? What happened? But I digress.) When I'm alone, there's no point in making an enormous pot of Frogmore stew, roasting an entire fish, or steaming and picking a dozen crabs. Yet the lure of fresh seafood is irresistible so close to the coast. Going out to eat solo after a day of yard work, counting spoons, and laundering bed linens might require clean clothes, which can be daunting.
Ceviche to the rescue! It can serve one or two people, but be multiplied as needed. Before you get to hauling rugs outside and beating the dirt out of them, go to your favorite seafood vendor and get a pound (or less, or more) of your favorite fish. Pop it in the freezer for about 30 minutes, which makes it easier to chop evenly. While you wait, list all the tasks you have to do that day. If one of those tasks is "knife sharpening," do that first.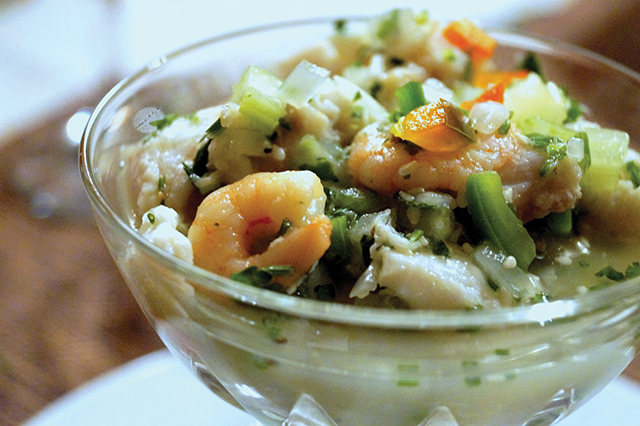 Here we go, easy ceviche:
1. Chop your fish into little cubes, maybe about a half inch. If you prefer bigger or smaller cubes, fine by me. Do make sure they're uniform in size to ensure even cooking.
2. Add about a quarter cup thinly sliced green onion (or minced shallot or red onion) to the fish.
3. Maybe add a little finely chopped red pepper, and minced jalapeño or a dash of cayenne, if you like it spicy.
4. Juice a few lemons, limes, or a mixture, enough to make about a cup of juice per pound of fish.
5. Put all the ingredients in a zippered bag, squeezing out as much air as possible before closing, so all ingredients are immersed in juice. The acidity in the citrus cures the fish.
6. Put the bag in the fridge for a few hours and go on about your day. Check as many tasks as possible off your list.
When you're ready for a pat on the back, pour a glass of something nice and cold to drink. Take the ceviche out of the fridge and use a slotted spoon to put a portion in a bowl. (Ceviche will keep for a couple of days in the fridge, but you can't put it back in once you've let it get to room temperature.)
Add salt and pepper to taste, maybe a little fresh basil or cilantro, and drizzle with olive oil. Serve with a bowl of chips and enjoy.