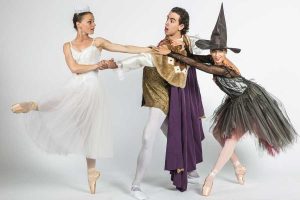 Dance Events in Boulder, Colorado
(See each organization's website for additional events not listed below.)
---
Avalon Ballroom
The Avalon Ballroom, 6185 Arapahoe Road, hosts a variety of dance events every day of the week year-round, hosted by a variety of dance groups. There's a large, cushioned dance floor, and most events include a lesson. Ongoing events include Zumba, tango, salsa and waltz; see the full schedule at
www.avalonevents.org
.
Mondays:
Scandinavian Monday Night Dance, 7:30-10pm
Fridays:
Tango Practica (for all levels), 7-10pm
Saturdays
: Forro: Brazilian couples dance, 12:30-1:30pm
Dec. 31:
New Year's Even Dance Party, 7pm-2am
Blue Moon Dance Company
Check
www.bluemoondancecompany.com
for news of upcoming performances.
Boulder Ballet
Feb. 22-24:
"New Horizons" is a world premiere of contemporary works performed by the troupe's professional company. At Dairy Arts Center, 2590 Walnut St. See
www.boulderballet.org
for times and ticket information.
Nov. 23-25 & Dec. 1-2:
The Nutcracker (Boulder and Longmont performances)
May 17-19:
Cinderella
Boulder Swing Dance
Weekly swing dance lessons on Monday evenings are open to everyone; start the monthlong series on the first Monday of any month. Kakes Studio, 2115 Pearl St.
www.boulderswingdance.com
.
Centennial State Ballet
April 27-28:
"A Midsummer Night's Dream," based on Shakespeare's play, is suitable for all ages. 2pm Saturday and 1pm Sunday at Niwot High School Auditorium, 8989 Niwot Road. www.centennialstateballet.org.
Dec. 21-23:
The Nutcracker
Cindy Brandle Dance Company
April 19-21:
CBDC premieres "A World on Fire Project" at Dairy Arts Center, 2590 Walnut St. Check
www.cindybrandledance.com
for more info.
Colorado Ballet
Feb. 1-10
: "The Wizard of Oz" features exciting new sets, colorful costumes and amazing special effects. Check
www.coloradoballet.org
for ticket info.
Through Dec. 24:
The Nutracker
March 8-10:
Tour de Force
April 5-14:
Ballet Masterworks
CU Presents: Batsheva Dance Company
March 20:
CU's Artist series hosts Batsheva Dance Company, Israel's foremost contemporary dance company. 7:30pm at CU's Macky Auditorium; ticket info at
www.cupresents.org
. See separate listing for the University of Colorado Department of Dance.
April 6:
Dorrance Dance
Dance Bridge:
"Dance Is for Every Body!" Showcase
Dance Bridge, a project of the Boulder Arts Commission, also lists classes, companies, workshops, festivals, grant and audition info, and upcoming events on its website. Sign up for the newsletter to stay updated.
www.artsresource.org/dance-bridge
Danse Etoile
Feb. 22-24:
Danse Etoile presents a retelling of two beloved stories, "Snow White" and "The Ugly Duckling" and classical works, including student pieces and guest musicians. At Broomfield Auditorium, 3 Community Park Road.
www.danseetoile.org
Frequent Flyers Aerial Dance
Dec. 7-9:
Frequent Flyers' professional company explores the intersection of technology and aerial dance with stunning aerial performances and an interactive experience for audience members. Evening and matinee performances at Dairy Arts Center, 2590 Walnut St. Tickets:
www.frequentflyers.org
Dec. 14-16:
Student Company performances
Golden Bridge Movement Mass
Sundays:
"Movement Mass" group dances celebrate community as dancers remember their wholeness "in these times of great change." Open to all, and no dance experience is necessary. The 11am-noon event is usually at the Avalon Ballroom, 6185 Arapahoe Road, but check
www.bdanced.com
for the schedule, as the venue sometimes changes.
Lyons Old-Time Square Dances
Feb. 2, March 2 & April 6:
Live dance callers, old-time string bands and three hours of reels, mixers and squares for the whole family. 7-10pm at Oskar Blues, 303 Main St. in Lyons. Check the group's Facebook page for updated info on this popular monthly dance series.
1940s & 50s White Christmas Ball
Dec. 1:
 There may still be a few tickets left for the annual Christmas event; check
1940sball.org
for details. Then check back in the spring for early-bird tickets to the WWII-Era Ball in early June.
Production Company Dance Centre
Dec. 15:
The students of Longmont's PCDC present their big holiday show, suitable for all ages, at Longmont High School, 1040 Sunset St. Time updates and ticket info:
www.productioncompanydance.com
.
Reverence Academy of Dance
Dec. 16:
"Searching for Christmas" is RAD's annual holiday show; check
 www.reverenceacademyofdance.com
for details.
Scandinavian Fifth Saturday Bygdedans
March 30:
Whenever a month contains a fifth Saturday, it's time for a Scandinavian dance, with a wide range of Swedish and Norwegian dances for all levels. 8-10:30pm at the Avalon Ballroom, 6185 Arapahoe Road.
www.boulderdancecoalition.org
.
Schiff Dance Collective
Find winter/spring performances at
www.schiffdance.com
.
T2 Dance Project
March 31:
SPRINGbreak ChoreoFest is an incubator for modern and contemporary dance choreography; groups of participating dancers and choreographers create new dance works in just eight hours of rehearsal time, then all groups present a public performance on Sunday. 6:30pm at Dairy Arts Center, 2590 Walnut St.
www.t2dance.com
.
3rd Law Dance/Theater
April 5-7:
"Obstinate Pearl," in collaboration with the Boulder Bach Festival, features dancers and musicians moving through time, drawing the audience forward. At Dairy Arts Center, 2590 Walnut St., check
www.3rdlaw.org
for updates.
Nov. 30-Dec. 2:
"Singularity"
University of Colorado Department of Dance
Feb. 28-March 3:
"Open Space" showcases dance works that "lilt, groove and tumble across a spectrum of styles." Learn more about this and the rest of the spring schedule at
www.colorado.edu/theatredance
.
Feb. 7-10:
"Catapult," BFA concert
April 12:
"The Current," dance works curated by faculty and guest artists
Versatility Dance Festival
Jan. 11-12:
VDF brings together the best in emerging and established dance companies and dance filmmakers from Colorado and beyond. Friday is Dance Film Night and Saturday is Dance Performance Night, both 7:30pm at Dairy Arts Center, 2590 Walnut St.
www.t2dance.com
.