24 Carrot Bistro
04 Aug 2023
New American cuisine celebrates local farms and seasonal foods
By RAY LINVILLE » Photos TIM ROMANO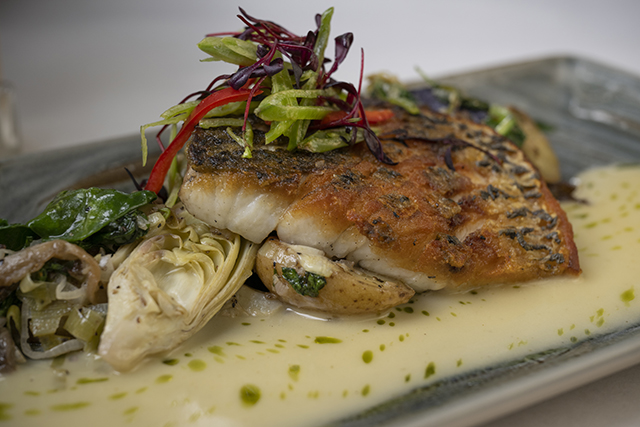 Located in downtown Erie, 24 Carrot Bistro has a simple approach to food: farm-to-table, fresh, seasonal and local. Co-owners Kevin Kidd, executive chef, and Bianca Retzloff, general manager, are passionate about sourcing fresh, seasonal ingredients from local farms throughout Colorado.
Retzloff, who grew up on a 10-acre organic family farm, shares Kidd's commitment for serving food of the highest quality. Their New American cuisine has a strong emphasis on ingredients that showcase area family farms. "We bring in produce from local farms as they come in season," says Kidd.
The owners, who worked together at leading restaurants in Colorado since 2008 before opening 24 Carrot Bistro in 2015, have long-standing relationships with many local sources such as Croft Family Farm in Kersey, which is known for fresh produce.
Small plates, entrees and even the kids menu feature meat from Buckner Family Farm in Longmont where all animals graze on natural grasses.
Even in landlocked Colorado, 24 Carrot Bistro also specializes in fresh seafood. Taking advantage of his roots in Cape Cod, Massachusetts, where he began his culinary journey at age 14, Kidd has extensive relationships with New England providers to obtain calamari and other fresh seafood.
He is also currently featuring wild caught Alaskan halibut and salmon. They are shipped and picked up from the airport within hours of being caught. "It's literally just 48 to 72 hours after they've been taken out of the water. The seafood on the menu is always changing and rotates depending on the season," Kidd says.
"I also do a lot of creative dishes with duck. Duck confit and pan-seared duck breast are always on the menu," he adds.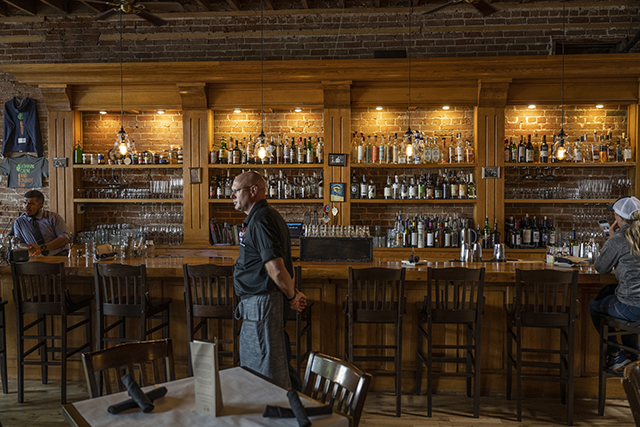 Delectable desserts are brought to life by Louis Thomas, the phenomenal pastry chef. The 24 Carrot Cake, so appropriately named, is the signature sweet. "The recipe hasn't changed since the restaurant opened," says Retzloff.
Flavored cheesecakes, such as the lemon blackberry, are also Thomas' specialties. Mini Bites, which change daily, are smaller desserts. "They are half the price, and they are so creative," she adds.
In the dining room, the 25-foot antique bar serves up an impressive selection of classic cocktails, local spirits and craft beers on tap. "It's our centerpiece, a talking piece that definitely lends to the ambiance," says Retzloff.
The talent behind the bar is amazing. "Our team has combined over 40 years of bartending experience. They are really professionals who are proud of their skill and craft. They make a lot of their own cocktail ingredients in house," she adds.
The godfather of the bartending team is D.J. Reimer, a local legend whose frustration with artificial cocktail items inspired him to handcraft his own special flavors with organic and natural ingredients. In addition to being prominently featured at 24 Carrot Bistro, they are also sold through Reimer's business, Grove Street Alchemy.
Much of the charm of 24 Carrot Bistro draws from being in a building over 120 years old — "one of the oldest in historic downtown Erie. It's always been a gathering place for the community and town," Retzloff says.
Historic exposed brick and hardwood floors create a warm and inviting space where every seat feels like the best seat in the house. Its legacy as being a place for the community to gather for good time and excellent drinks led to a menu innovation known as the Speakeasy. Once a month, Kidd plans a four-course meal around a novel theme that is capped by desserts specially prepared by Thomas.
In June, the Speakeasy theme was California Cuisine, and in July, it was Bourbon Country. For August, the menu has been planned with a Key West theme with special seafood creations by Kidd.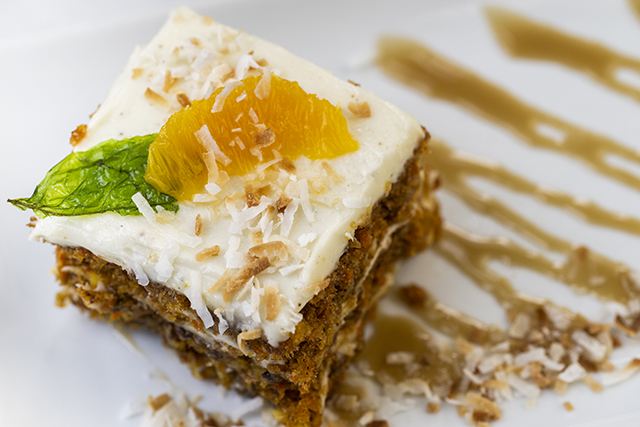 "The Speakeasy is a product of the coronavirus era. Our customers couldn't have their regular seats at the bar, and they missed their interactions with our bartenders. We really create a fun atmosphere by even blackening out the windows much like what happened during Prohibition," says Retzloff.
In 1932, Colorado endorsed the repeal of Prohibition by an overwhelming 67 percent of the vote. Other states slowly came on board, and finally the 21st Amendment that ended Prohibition was approved on December 5, 1933. This day continues to be celebrated each year by 24 Carrot Bistro with a "Prohibition Ends At Last!" party. As the restaurant's team teases, "Tighten those suspenders, fasten those hair ornaments and get ready to eat and drink the night away. Flappers and mobsters welcome."
Another way to try 24 Carrot Bistro's delicious creations is on Thursdays from 5 to 8pm until mid-September by visiting the Erie Farmers Market on Briggs Street. Wander by 24 Carrot Bistro, pick up a special libation such as Bourbon Peach Lemonade and enjoy it as you stroll the entertainment district.
In addition to dining inside, now is an excellent season to enjoy outside dining at 24 Carrot Bistro with the streetside seating on Briggs Street. "While we usually are limited to 55 seats in the winter, we have space for up to almost 100 in the summer," says Retzloff.
Also enjoy dining outside on the back patio, called the Garden, where herbs, flowers and other plants are lovingly cared for by "Mama T," the nickname for Retzloff's mother, a master gardener who continues to grow vegetables and other crops on the family farm.
With a broad menu of chef-inspired appetizers, small plates and entrees served in a refined, casual atmosphere, 24 Carrot Bistro is the perfect place to meet a friend for lunch, go for an after-work cocktail or bring the whole family for dinner.