The Chef's Cookbook
04 Aug 2023
Elevate your plant-based cooking skills with Escoffier
Compiled by Mara Welty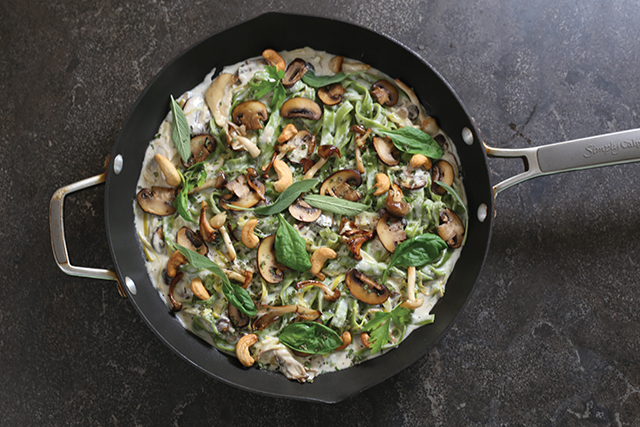 Step into a world where culinary excellence merges with timeless traditions, where the aroma of delectable creations fills the air and where the spirit of a legendary chef lives on. Enter the Auguste Escoffier School of Culinary Arts, where the legacy of the King of Chefs and Chef of Kings, Auguste Escoffier, is celebrated and carried forward.
With a passion for sustainability and a commitment to modern culinary techniques, the school offers students an immersive training experience through a well-balanced, hands-on curriculum and expert guidance from over 130 esteemed chef educators. Students learn not only the art of cooking but also the importance of camaraderie, critical thinking and effective communication.
As the largest culinary school brand in the nation—with its very own campus nestled in Boulder, led by educator-chef-president Kirk Bachmann—the Auguste Escoffier School of Culinary Arts continues to expand its horizons with innovative programs focusing on holistic and plant-based cuisines—seven of which they graciously share below.
It's no wonder they continue to leave an indelible mark on the culinary landscape.
HANDMADE SPINACH PASTA WITH LEEKS & WILD MUSHROOMS
Recipe provided by Escoffier Culinary Education Specialist Frank Vollkommer, CMPC, M.Ed.
SPINACH PASTA
Serves: 4 to 6
1 1/2 cup type 00 flour
1/3 cup semolina flour
3 ounces spinach puree
3 ounces water
1 teaspoon salt
1 tablespoon olive oil
1. To make the spinach puree, quickly blanch fresh spinach leaves in a small amount of boiling water and immediately drain. Press out the excess water and reserve it for adjusting the consistency of the puree. Process the blanched spinach until smooth using a blender or food processor, adding back just enough of the reserved blanching liquid to create a smooth puree consistency. Allow the spinach puree to cool.
2. To mix the pasta dough, add the flour, semolina and salt to a large mixing bowl. Make a well in the center of the flour mixture and add the spinach puree and oil. Begin mixing, pulling the flour into the center to form a shaggy dough. Add only enough water to make a firm, cohesive dough. *Note: It is better for the dough to be a little dry for easier handling, rolling and cutting using the pasta machine.
3. Knead the dough on a lightly floured surface for 6–8 minutes or until a smooth, elastic consistency is achieved. Wrap the dough in plastic and refrigerate for a minimum of 2 hours to relax the gluten.
4. Cut the pasta into small rectangles and press flat to fit through the widest setting on the pasta roller. Alternatively, a rolling pin may be used. Feed the pasta dough through the machine several times to a thickness of 1–2mm using flour only if the pasta is sticking to the machine or table. Allow the sheets to dry on each side for 10–15 minutes to help prevent the dough from sticking when the noodles are cut.
5. Pass the sheets of pasta through the noodle-cutting attachment to the desired width. Dust the noodles lightly with semolina to prevent them from sticking together. At this point, the cut noodles may be hung to dry or coiled into small nests equal to one portion. The pasta may be cooked immediately, dried, refrigerated or frozen fresh for use at a later time.
6. To cook the pasta, bring a large pot of salted water to a rolling boil. Drop the pasta into the boiling water and cook for 2–3 minutes or until al dente. Fresh pasta cooks very quickly, so be sure to have everything else ready before boiling the noodles.
WILD MUSHROOM & LEEK SAUCE WITH CASHEW CREAM
Serves: 4 to 6
3 ounces julienne leeks (about 1 stalk, washed)
4 ounces wild mushrooms (crimini, shitake, oyster, enoki)
2 ounces fresh spinach leaves
3 ea garlic cloves (finely chopped)
12 ounces cashew cream (see instructions)
1 ounce toasted cashews
Parsley to taste
Sage to taste
Salt to taste
Pepper to taste
Extra virgin olive oil
1. To make the cashew cream, soak 6 ounces of raw cashews in approximately 8 ounces of warm water, or enough to cover them completely. Allow the cashews to soften for a minimum of 4 hours or overnight. Using a high-speed blender or food processor, puree the cashews and water until completely smooth. Adjust the consistency to that of heavy cream using additional water. Reserve the cashew cream.
2. Sear the mushrooms on medium heat to remove water and develop a golden-brown color. Remove the mushrooms from the pan and reserve.
3. Sweat the leeks and garlic in olive oil until translucent and aromatic. Add the cashew cream and the seared mushrooms. *Pro tip: Reserve a few mushrooms to use as garnish. Season with salt and pepper to taste and remove from the heat.
4. Boil the spinach pasta for approximately 2 minutes in salted water. Remove the pasta with tongs and place directly into the mushroom sauce mixture. Use some of the hot pasta water to adjust the consistency, as the pasta will absorb some of the liquid. Sprinkle with fresh chopped parsley, sage and garnish with the toasted cashews and/or reserved mushrooms. Enjoy!
THAI PIE PIZZA WITH QUINOA CRUST
Recipe provided by Chef McKenzie Johnson, Escoffier Culinary Arts/Plant-Based Culinary Arts Chef Instructor
CHEF COMMENT: This plant-based, gluten-free Thai pizza has the flavors of Thai spring rolls on a crispy pizza crust. Two surprising recipes in one that will leave you coming back for more, and who doesn't love peanut sauce?!
Toppings to consider before or after baking: Toasted peanuts, shredded carrots, pineapple chunks, sliced red peppers, cilantro, sliced green onion, microgreens, broccoli mushrooms
SIMPLE QUINOA CRUST
1 cup white quinoa
1 cup + 1 tablespoon hot water
1 tablespoon onion powder
1 pinch salt
1. Preheat oven to 425°F.
2. Add the quinoa and the hot water to a bowl and allow to soak for 15 minutes.
3. Transfer to a powerful blender, add a pinch of salt and onion powder and process until a creamy batter forms, much like a pancake batter.
4. Line a large, rimmed baking sheet with parchment paper. Pour the quinoa batter in the middle and, using a spatula, spread it thinly and evenly towards the sides of the baking sheet. (You can shape it into a circle or a simple rectangular shape, whatever you prefer.) Keep it roughly 1/3-inch thick.
5. Bake the quinoa flatbread for 20 to 25 minutes (no need to flip it) until golden brown and crisp around the edges. The longer you cook it, the crispier it will get, so check after 20 minutes.
PEANUT SAUCE
1/2 cup peanut butter
1/2 cup light coconut milk
1 tablespoon rice vinegar
1 tablespoon coconut sugar
1 tablespoon toasted sesame oil
1 tablespoon tamari
1 clove garlic, minced
1 teaspoon ginger, minced
1 teaspoon sriracha sauce
1. Mix all peanut sauce ingredients in a high-speed blender until garlic and ginger are well blended.
2. Refrigerate for at least an hour if a thicker sauce is desired.
GARLIC GINGER TOFU
*Substitution options: You can substitute a plant-based chicken here, mushrooms or chunks of cauliflower marinated the same way and browned in a sauté pan.
1 teaspoon ginger, minced
1 clove garlic, minced
1 tablespoon tamari
1 tablespoon toasted sesame oil
14 ounces firm tofu
1. Combine minced ginger and garlic with tamari and sesame oil.
2. Prepare the tofu by gently pressing out the water and then patting it dry.
3. Slice tofu and place in marinade. Marinate overnight for the most robust flavor, or, if you're in a hurry, marinate for at least an hour.
4. Cook in oil until golden brown, then flip and cook on the other side until golden brown.
5. Prep desired veggies for toppings.
PIZZA ASSEMBLY
1. Preheat oven to 450°F.
2. Layer peanut sauce and toppings on pre-baked quinoa pizza crust.
3. Cook pizza at 450° for 10 minutes more.
4. Drizzle more peanut sauce, if desired.
5. Sprinkle fresh herbs on top, slice and serve. Enjoy!
PUMPKIN SEED PATE WITH CORN SALSA
Recipe provided by Escoffier Pastry Arts Chef Instructor John Oechsner CEPC, CCE, A.O.S., B.A.
PUMPKIN SEED PÂTÉ (VEGAN, RAW, GLUTEN-FREE)
2 cups raw pumpkin seeds, soaked in filtered water for 20–30 minutes, then drained
1/2 cup (packed) Italian parsley leaves
1/2 cup (packed) arugula
1 tablespoon garlic, minced
1 tablespoon ginger, minced
1 teaspoon jalapeño, minced
1/4 cup tamari or coconut aminos, or 1 1/2 teaspoons sea salt
1/3 cup olive oil
1/2 cup freshly squeezed lemon juice
1. Combine everything in a food processor and blend until creamy but still retains some texture. Do not blend until completely smooth. Adjust seasoning as needed.
2. Pack in a container and keep in the refrigerator for up to 2 days.
3. Serve with Avocado-Corn Salsa as a dip or use romaine lettuce leaves for a raw "taco."
AVOCADO-CORN SALSA
1 cup toma tomato, medium dice
1 cup fresh corn kernels, from about 1 ear of corn
1/3 cup red onion, small dice
1/2 cup red bell pepper, small dice
2–3 tablespoons cilantro, coarsely chopped
1 teaspoon garlic, mashed to a paste
1/2 teaspoon minced habanero or other hot chile, or to taste
1 teaspoon sea salt
1 tablespoon fresh lime juice, or to taste
1 ripe avocado, diced
1. Combine all ingredients except the avocado and adjust the seasonings to taste. Refrigerate for one hour.
2. Just before plate-up, gently fold in the diced avocado.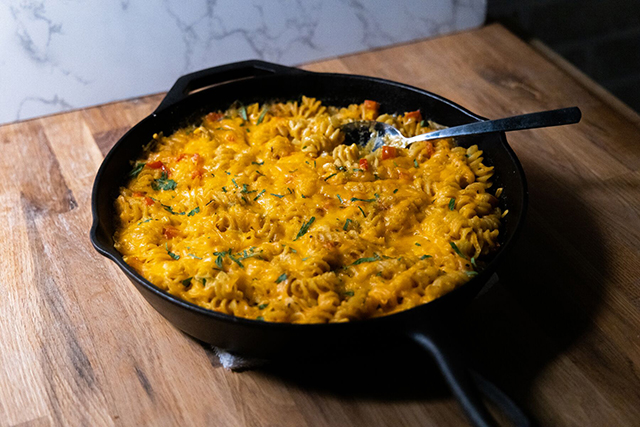 CREOLE MAC' N CHEEZ
Recipe provided by Escoffier Culinary Arts Chef Instructor Adele Ledet B.A.
CHEF COMMENT: This recipe reminds me of New Orleans-style dishes. You can add vegan shrimp or andouille sausage to jazz it up. Turn it into a soul food dish by adding collards and BBQ cauliflower.
1 pound rotini noodles
2 cups unsweetened coconut milk
1/2 cup + 4 tablespoons butter, plant-based
1/2 cup chickpea flour
1 red bell pepper, halved, seeded
1 yellow onion, halved
2 garlic cloves
4 celery stalks
2 bay leaves
1 teaspoon smoked paprika
1/2 teaspoon thyme
3/4 tablespoon + 1 teaspoon Creole Magik spices
1 tablespoon + 1 teaspoon onion powder
1 tablespoon + 1 teaspoon garlic powder
3/4 tablespoon turmeric
14 ounces, divided, shredded American cheese or cheddar vegan cheese
1. In a medium pot, add water and boil. Boil noodles until al dente.
2. Strain and return to pot. Add butter and 1 teaspoon each of creole spices, onion and garlic powder to noodles. Set aside.
3. Preheat oven to 375°F. Roughly chop vegetables. Set aside.
4. In a large skillet, melt 1/2 cup butter, then add vegetables and cook until semi-translucent. Add bay leaves and stir. Add spices and stir until evenly combined.
5. Warm milk in a small pot until warm. Do not boil.
6. Add flour to skillet and mix in until even. Then add warm milk and stir until even. Add 7 ounces of cheese and stir until melted. Taste and adjust seasonings.
7. Add noodles to the skillet, mix evenly, then transfer to a large pan. Sprinkle with the remaining 7 ounces of cheese and dot butter all over the cheese, about 4 tablespoons.
8. Cover tightly with foil and bake for around 30 minutes or until the cheese melts.
RUSTIC FRUIT TART
Recipe provided by Escoffier Baking & Pastry Arts Chef Instructor Denise Spooner B.A., A.S., CEPC
CHEF COMMENT: Seasonal berries or fruits become the star of this plant-based dessert. Using cashew yogurt gives the custard a slightly richer taste and feel that complements the flavorful berries.
SHORTBREAD CRUST RECIPE
50 grams organic vegan granulated sugar (or coconut sugar)
100 grams plant-based butter
175 grams all-purpose flour
1 gram salt
2 grams vanilla extract
1. Cream the butter and the sugar together until light and fluffy.
2. Add the vanilla extract. Once incorporated, add the dry ingredients until it comes together.
3. Place in the fridge for at least one hour before using.
CASHEW CUSTARD FILLING
300 grams cashew milk
50 grams organic vegan granulated sugar (or coconut sugar)
25 grams cornstarch
5 grams vanilla extract
150 grams vegan cashew yogurt
3 grams lemon zest
1 gram salt
1. Blend together the sugar and cornstarch in a separate bowl.
2. Place the cashew milk inside a small pot and whisk in the sugar blend, avoiding lumps.
3. Cook the sugar blend and the milk until it reaches a boil and becomes thick. Add in the vanilla extract and strain if needed.
4. Place in a bowl and cover with plastic wrap, let sit in the fridge until cool.
5. Once cool, whisk until smooth and stir in the cashew yogurt, lemon and salt. Adjust the flavor to taste.
ASSEMBLY
1. Preheat oven to 350°F.
2. Using a tart pan of choice, spray with nonstick spray.
3. Press the shortbread crust into the pan with an even thickness, along the bottom and the sides. Dock the bottom with a fork to prevent an uneven bake.
4. Place in the fridge/freezer to help set or to make ahead.
5. Bake the tart for 18–20 minutes, or until the sides begin to golden. Let the empty tart pan cool.
6. Fill with the finished cashew custard.
7. Top with seasonal berries of choice.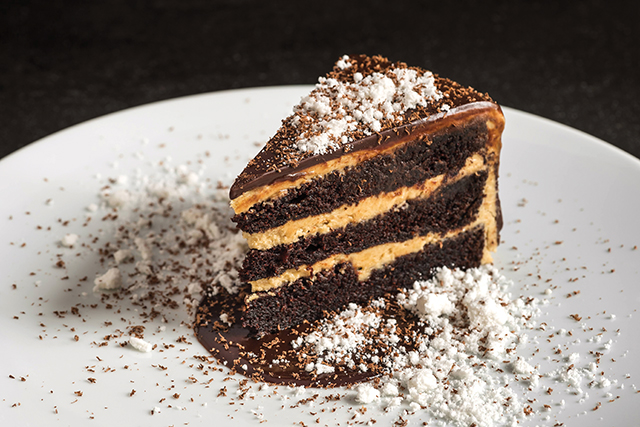 PEANUT BUTTER CHOCOLATE CAKE
Recipe provided by Escoffier Baking & Pastry Arts Chef Instructor Nicole Lourie B.S., M.A.T., A.S.
CAKE
180 grams gluten-free flour blend
180 grams sugar
2 grams salt
28 grams cocoa powder
6 grams baking soda
3 grams baking powder
100 grams oil
18 grams vinegar
5 grams vanilla extract
200 grams almond milk
1. Preheat oven to 350°F.
2. Line a 10-inch round cake pan with parchment on the button, do not spray the sides with pan spray. In a bowl, combine the gluten-free flour, salt, cocoa powder, baking soda and baking powder. Sift!
3. In a separate bowl, whisk together the sugar, vanilla and oil.
4. Combine the almond milk and vinegar and allow to sit for 5 minutes.
5. Alternate adding the dry and wet ingredients into your oil.
6. Pour batter into your prepared pan and bake for 25–30 minutes or until the cake pulls away from the sides of the pan slightly and bounces back when touched.
FROSTING
243 grams peanut butter
133 grams coconut oil
6 grams vanilla extract
3 grams salt
355 grams powdered sugar
1. In a mixing bowl, fitted with a paddle attachment, combine the peanut butter, coconut oil, salt and vanilla. Mix until smooth.
2. Sift the powdered sugar and add slowly in stages to the peanut butter mixture. Mix until smooth.
GLAZE
21 grams coconut oil
150 grams dark chocolate
1. Melt coconut oil in a heat-safe bowl either in the microwave or on a double boiler.
2. Add the chocolate coins (or chopped chocolate) to the coconut oil and mix until homogeneous.
ASSEMBLY
1. Cut the cooled cake horizontally into three even layers.
2. Spread an equal amount of frosting between the layers. Chill the cake as needed since the frosting can be soft to work with.
3. Crumb-coat the cake and allow the frosting to firm up before the final icing.
4. Once the final icing is completed, chill the cake for 10–15 minutes.
5. Allow the cake to sit on the counter on a glazing rack for 2–5 minutes while you warm the glaze. The glaze should be between 85°–90°F. Pour glaze over the cake, ensuring the edges are coated. Use an offset spatula to remove excess glaze from the top of the cake in one to two motions.
6. Allow the glaze to harden before slicing for service.
TIPS
• The peanut butter frosting will get lumpy before it gets smooth. You haven't done anything wrong, just let it keep going.
• You can over-mix this frosting, and it will get soupy!
• Frosting can be stored at room temperature in a sealed container for 10 days.
• This cake can be frozen for up to a month if wrapped properly.
• The cake can be used with regular all-purpose flour and does not need to be gluten-free.
• Almond milk can be substituted for regular milk if you do not need the recipe to be vegan.
• Peanut butter can be substituted with other praline pastes to create different nut-flavored frostings such as hazelnut, pecan or almond.
LEMONY SUGAR SNAP PEA PASTA
Recipe provided by Escoffier Culinary Arts Chef Instructor Maya Brown A.S., A.S.
One 8-ounce box of Banza rotini pasta
Extra virgin olive oil, for pasta
1/2 pound sugar snap peas, halved
1/2 cup parmesan cheese, grated (more, if desired)
1/4 cup fresh herb of choice (dill, basil, and/or parsley)
4 garlic cloves, pasted
1–2 lemons, zested & juiced
Salt, to taste
Freshly ground black pepper, to taste
1. Cook pasta from the directions on the box—Banza pasta cooks quickly—only a few minutes.
2. Drain and rinse pasta under cold water to stop the cooking process.
3. Drizzle the pasta with olive oil to avoid pasta from sticking to one another.
4. Mix pasta and add sugar snap peas, cheese, herb(s), garlic and lemon zest and juice in a mixing bowl.
5. Gently fold with one another.
6. Season to taste with salt and fresh ground black pepper.
7. Pasta can be served cold or warmed.
8. It can be kept in an airtight container for a few days, but will be eaten up very quickly!