Loveland factory brings personalized cabinet design to Boulder
06 Dec 2015
Visions in Wood
By Sophie Goodman How can your home reflect and inspire your life? For one couple, a month-long trip to Ireland left them with a penchant for pub architecture. Hoping to re-create that atmosphere in their Front Range home, the couple approached The Artisan Shop to help make their vision a reality. The result was stunning. The designers and woodworking artisans, in meticulous detail, built the bar and dark-paneled walls of the traditional Irish pub, the seating areas, columns and hand-carved griffins. Within six months, The Artisan Shop had built and installed the owners' own piece of Ireland. The Artisan Shop opened its Loveland factory and showroom in 2011 with the goal of providing the best-quality custom cabinetry that was locally made and environmentally sustainable. What began as a six-man shop has since grown into a team of 40 designers, artisans and craftsmen. Owners Bernie Stone, Jeff Stone, Mike Coppola and Brandon Sullivan opened their newest showroom and design center in September on 28th Street just north of Valmont.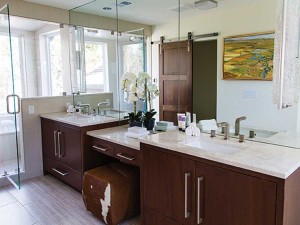 It's their inspiration and commitment to high-quality products that defines The Artisan Shop. "Most of our guys do this not just as a job—it's also their passion," says executive vice president Jeff Stone. "Not only do they work in the factory during the day, their weekend hobby is woodworking. One of our designers in Boulder has her master's in fine arts as well as a certificate in cabinetry design. We take an enormous amount of pride in our work." In the last two years, the Cabinet Makers Association has presented them with six first-place and three second-place awards for kitchen, bar and entertainment-center home design. The Boulder showroom itself reflects The Artisan Shop's sustainable practices and unique approach to the design process. "The building of the showroom had the least environmental impact possible," Stone says. The floors are made of beetle-kill pine, a unique wood imbued with yellow and gray hues. The harvesting of this wood from affected Colorado forests helps stem the spread of wildfires. And the beetle-kill pine, like most of the wood the shop uses, is kiln-dried in Fort Collins, limiting the impact of extensive transportation.
Meeting Your Designer
As you walk through the showroom, you move from a traditional rustic two-tone cherry kitchen with a traditional mountain feel to an ultramodern Parapan acrylic kitchen. Catering to their customers' varied visions is important to The Artisan Shop. "The most critical part of the design process is that initial step of meeting with one of our designers. People come in with all sorts of objects—backsplashes, faucets, a piece of granite, even a paint chip—that they've fallen in love with. It's our job to help them bring their vision to life," Stone explains. Clients then have the opportunity to pair their hardware with a door, a wood they are drawn to, or a specific room design.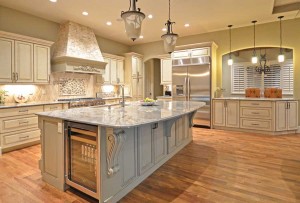 This focus on tactile, personalized design has caught the attention of architects, contractors and homeowners across Colorado. The shop has risen to the top of the industry standard for customer service: Houzz, an online industry resource that brings together homeowners, designers and craftsmen, recognized its excellence with the Houzz 2015 Award for Service. The Artisan Shop opened the Boulder showroom because of the high demand for their work from these architects, contractors and interior designers, as well as individual homeowners. About one-quarter of their work was already in the Boulder County area before the new showroom opened, and Stone believes that The Artisan Shop's commitment to environmentally sustainable practices and locally sourced products, and their support of the local economy, strikes a chord with local people. "We build here in Colorado. We make everything in house, down to the specialized carving knives that might be needed for a specific project," he says. "People love that they can visit our factory. We have a lot of customers come up to Loveland for a tour while their cabinets are being made." The factory is on the cutting edge of manufacturing technology, impressively combining handcraft with top-of-the-line equipment that is made and maintained on the Front Range. The company sponsored October's Month of Modern, an event that brought local builders, architects and designers together to support small businesses in their efforts to collaborate on contemporary design trends in the region. And they hope that with the opening of the 28th Street showroom, their involvement in the Boulder community will continue to grow. "When people begin renovations and custom builds, they're often in it for the long haul—years, potentially," Stone says. "Our Boulder showroom displays our work and professionalism through a walk-in, neighborhood vibe—the ideal environment to begin your renovation project. And our designers love when customers come in after their project is complete just to give them a thank-you hug."
---
Sophie Goodman is a freelance writer with a background in creative writing. She is an avid skier and recently relocated to Boulder from the San Juans. 
---
The Artisan Shop (www.theartisanshop.net) has two locations, both open from 8 a.m.-5 p.m. Monday-Friday: Boulder Showroom and Design Center 3070 28th St., Boulder 80301 • 303-444-4112 Loveland Showroom and Factory 1072 Madison Ave., Loveland 80537 • 970-613-0345 You can also see examples of their work at Specialty Appliance in Louisville, or visit their display at the Denver Garden and Home Show Feb. 13-21.