How Electrical Muscle Stimulation (EMS) training could allow you to live your best life
02 Jun 2017
Shockingly Successful
By Haley Gray  |  photos by phil mumford Dana Derichsweiler was just being neighborly when she first tried working out at FITtec, an electrical muscle stimulation (EMS) fitness training studio in Boulder. Derichsweiler owns the Walnut Cafe, a few doors up from FITtec on Walnut Street east of 30th. She's a devoted amateur athlete and at the time was gearing up to ride more than 1,000 miles to Burning Man in the Nevada desert by cycling centuries (100 miles in a day) every day.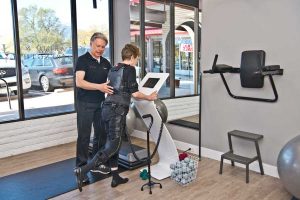 After one EMS workout, Derichsweiler says, she was hooked. The new technology introduces electrical stimulation to muscles via a full-body suit. While the wearer performs exercises, a trainer controls an electrical current that encourages more muscle fibers to contract than would be possible during conventional training. EMS gives suit wearers more bang for their buck, so to speak, in terms of the strength-building full-body workout they get, and the shorter time they spend doing that workout compared to conventional training. In addition to building muscle density, strength and tone, EMS rewards endorphin fiends with gratifying soreness the next day. "It's unlike anything I've ever done, and I've done everything," the cafe owner says. "I got really, incredibly sore. Most people will tell you they got really sore—and that never really happens to me." Derichsweiler continued her ambitious cycling in preparation for her big trip. But when she finally hit the road, she took a nasty spill that injured her shoulder. She says EMS helped her regain her strength post-injury without putting stress on her joints. While more commonly used in Europe and around the globe, with studios in 55 countries and more than 300,000 trainings a day, EMS training is largely new to the United States.
Back in Pre-baby Shape
Liana Bezuidenhout, co-owner of FITtec, used EMS to get back in shape after the birth of her second child. She says that after her first child, it took a year of dedicated workouts at a conventional gym five times per week to get her shape back. After giving birth to her second child, she switched to EMS training. Her husband, Shaun, had been using EMS to supplement his cycling workouts for a number of years. Liana says it took her only two weekly workouts of 20 minutes each to achieve the same results as she had with her gym regimen, in much less than a year. She found herself converted to the EMS method to keep a strong, lean physique. In 2015, when their younger child was just 10 months old, the Bezuidenhouts emigrated to the United States from their native South Africa. They bought a flooring business, Floor Crafters Hardwood Flooring in Gunbarrel, and settled into family life in Boulder. But after about a year, the pair were desperate for their old workout routine. Here in the United States, EMS workouts are still scarce, and they couldn't find a studio to train at.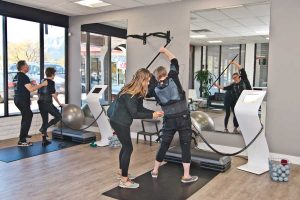 That's when they hatched the idea to simply open their own. In May 2016, FITtec opened its doors. "It's a difficult thing; it's completely a new technology to the U.S. market," says Shaun. "So we put a lot of effort into education, networking and telling people about this cutting-edge fitness technology." So far, it seems to be catching on. For Peggy Rosenbrock, a retired grocery-store worker who lives in Brighton, it was easy to be convinced. Rosenbrock has a chronic disorder that causes muscle pain and tenderness, and at one point she was confined to a wheelchair because of it. A friend of hers had begun working at FITtec as a trainer and suggested she try an EMS workout. Rosenbrock, 62, says the brief, low-joint-stress workouts she gets at FITtec have helped her strengthen her core, which takes pressure off her overburdened, tender back. She believes this has reduced her pain. "If your core is weak, then you're relying more on your back," Rosenbrock says. "I was having horrible sciatica issues and pain in my back. I could only be up on my feet a few hours a day, it just hurt too bad. … I developed neuropathy late in my condition, and I feel like it is now better. The muscle pain is at a very manageable stage. It used to be an 8-9-10 every day, out of 10. And now, I would categorize it as a 2." For the price of 20 minutes twice a week, Rosenbrock has bought a world of movement.
FITtec (303-440-3441; www.FITtec.net) is located at 3151 Walnut St., Boulder 80301. It is open Monday through Friday 7 a.m.-7 p.m. and Saturday and Sunday 8 a.m.-3 p.m. Visit the website for trainer bios and medical contraindications.