Empowered young fashion designers make rubbish ravishing
30 Nov 2018
Trashy to Trendy
By Sara Bruskin | photos by Dylan Crossley Photo Have you ever dug through your garbage can for something to wear? Probably not, but that is the challenge for participants in Common Threads' Trash the Runway workshop, in which 32 middle and high school students design and create haute couture from found items that are difficult or impossible to recycle—in other words, trash. The workshop, formerly known as Recycled Runway, culminates in a huge runway show with designers wearing their creations for a packed theater, and a panel of judges selects winners.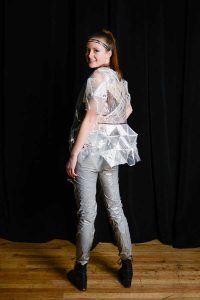 Libby Alexander, founder and owner of Common Threads boutique consignment shops, has been hosting these workshops in her Boulder store for the past nine years. As a business owner, she says there is a limited connection with the community, and this program helps build a stronger bond than just selling things. "It's been fun to see it grow," said Alexander. "We work with such amazing people to bring this together." Tanja Leonard and Rachel Lubanowski mentor the participants during eight weekly workshop sessions in preparation for the show, helping them source their materials and advising them on garment construction. Leonard said the program began with a focus on recycled or recyclable materials, such as paper and newspaper, but has moved away from those in favor of hard-to-recycle items—like CDs and bike tire tubes—to keep them out of landfills. Sydney Canova, middle school runner-up in 2017, made her outfit from used dryer sheets colored red with leftover paint from Boulder's Household Hazardous Waste Center. Three-time participant Olivia Beresford scored the 2018 runner-up prize in the high school division with a garment made from Boulder Chip bags, Chocolove gold foil wrappers and shredded paper from The Bar Method. "I wanted to use these materials as a kind of ode to Boulder and the unique products that are locally made," she said.
Local Collaboration
The community program has amassed an eclectic list of volunteers, including Boulder restaurateur Danette Stuckey. A former model, she coaches participants on their stage presence, how to walk a runway, pose and show off their individual garments with confidence. Event coordinator Ricki Booker donates her services, while Rosalind Wiseman—local author of "Queen Bees & Wannabes," the book on which Tina Fey's movie "Mean Girls" was based—emcees the annual runway event.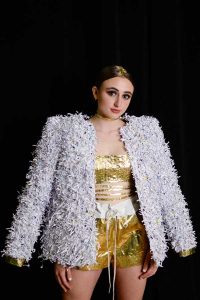 Stylists from Twig Salon ready the contestants' hair for the runway, local artists judge the competition and many winners' prizes are donated by area businesses. Students from a technology class at Lafayette's Peak to Peak Charter School even designed the audience voting software spectators use to select their favorite outfits. Presley Church, grand prize winner in the 2018 high school category with an ensemble made from hard-to-recycle plastics like Ziploc bags and bubble wrap, appreciates that this program brings the community together to support teen artists. "I'm blown away every year!" she said. Her sister Margo Church won the high school design category and audience choice award with a bold black gown. "I used a trampoline mat because it seemed like a fun challenge," she said. "I wanted to make my dress as big and cool as I could, and the trampoline mat is really stiff."
Skills and Sass
While some participants dream of a future in design, most aren't striving to become the next Vera Wang. Leonard says the program is less about setting students up for a design career and more about expressing themselves in an outlet other than traditional sports and academics.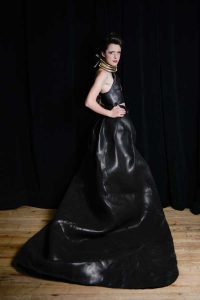 "They learn about themselves and develop problem-solving skills and grit," she added. For most, strutting down a runway in front of hundreds of people is a new experience, and Alexander says most are nervous at first but have sass and style when they hit the stage. "The large crowd is definitely intimidating," confirmed Beresford. "But once you're out on the runway, the roar of the crowd always seems to empower me." The upcoming runway show in March 2019 will mark the 10-year anniversary, and, as usual, all proceeds will be donated to a local charity. "Every year I think they'll never be able to top last year's garments, but they always do," said Alexander. "These kids are amazing."