It's Heating Up
19 Jun 2023
Bask in Boulder's many summertime festivities
By Jason Frye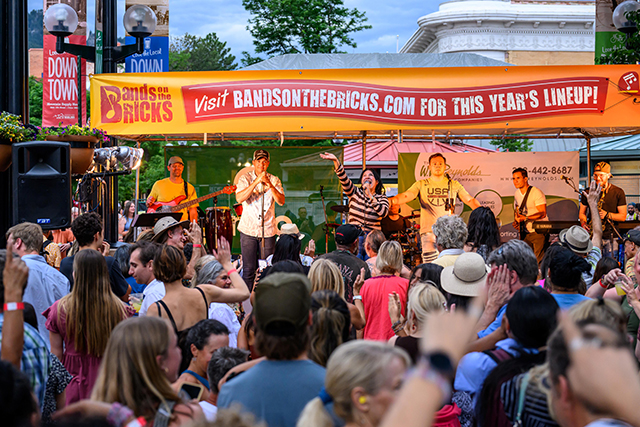 What's your favorite season in Boulder, and why is it summer? We're only half-kidding—with Colorado's 300 days of annual sunshine, it's difficult to pick a favorite season in the Centennial state. Fall brings spectacular color; winter has firelit evenings and snowy days; and, in spring, it's all wildflowers and warming weather—which brings us to summer's long, sun-drenched days that we get to fill with unbridled fun.
And Boulder certainly doesn't lack when it comes to summertime shenanigans. We've wrangled up some of the top activities to enjoy during the warmer months. Whether you're a thrill-seeker or prefer a more relaxed pace, there's something for everyone.
Outdoor Adventures
Tackle the Trail
The Open Space and Mountain Parks Trail System Challenge asks you to take on all 176 marked trails in Boulder, logging some 155 miles as you earn bragging rights and a pretty sweet badge when you finish that last mile. Share your progress by using #BoulderTrailChallenge as you post pics and videos of your adventure. For a complete trail challenge checklist and maps, visit bouldercolorado.gov.
Tube to Work
Don your work duds, grab your tube and join "The World's Greatest Traffic Jam" on July 14 as you float to work (or at least from Eben G. Fine Park to Boulder Central Park). It's weird, it's fun and it's a good reason to be a little late to the office. Entry is $20. Find the schedule at tubetoworkday.com.
Hike Incognito, or In Costume
This is Boulder, so a hike to the Flatirons is mandatory in any season. But this summer, have a little fun with it and make the trek in costume. Some folks dress as superheroes, others do it in SCUBA gear, roller skates or their birthday suit. No matter what you choose, we're sure you'll hit the trail in style.
Reach New Heights
Boulder Paragliding takes adventurous folks (like you) high into the sky for a new perspective on town. Drift through the air on your tandem flight, take in the incredible sights and, if you love it, sign up for lessons to become a certified paraglider. Learn more at boulderparagliding.com.
Cool Off With Whitewater Rafting
Colorado's only National Wild and Scenic River, the Cache La Poudre River, runs through the Roosevelt National Forest, not far north of Boulder. This narrow watercourse offers Class II-IV rapids from start to finish. Guides from A Wanderlust Adventure can steer you down safely. Though, be warned—you're definitely in the splash zone. Plan your journey at awanderlustadventure.com.
Tube Through Town
Of course, you can cool off—and experience some smaller rapids—by tubing Boulder Creek from Eben G. Fine Whitewater Park into downtown. Think of it as a practice run for Tube to Work Day or just a great reason to ditch your desk and have some fun on the water. The water's cold in Boulder Creek, even in summer, so you might want a wetsuit. Fortunately, Whitewater Tubing can help you out at whitewatertubing.com.
Camp Under the Stars
The Perseid Meteor Shower will put on a show from July 17 to Aug. 24, peaking on Aug. 13, just ahead of the new moon. Ergo, a night or two of camping is in order. There are more than 50 developed campgrounds in both the Arapaho and Roosevelt National Forests, as well as the Pawnee National Grassland, located within a short drive of Boulder. Check out the developed and dispersed camping here at fs.usda.gov/arp or head out to your favorite campground for a dazzling display of celestial fireworks.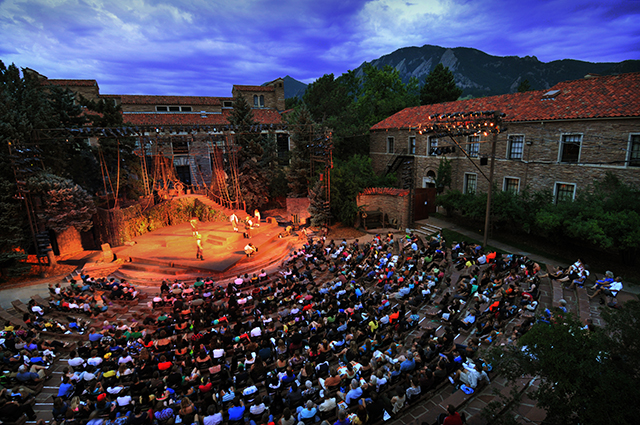 Performing Arts
Meadow Music
Bring the kids along for an all-ages hike and concert by Jeff & Paige, the musical duo with a passion for the environment. The 30-minute hikes begin at Chautauqua Park and the entertaining nature- and science-based concert takes place on Chautauqua Green. Several dates have been announced—June 12, 19 and 26; July 8, 17 and 22—and more may be on the horizon. For event information and other Jeff & Paige shows, visit jeffandpaige.org.
A Symphony Summer
The Colorado Music Festival runs a six-week summer concert series at Chautauqua Auditorium, where the Festival Orchestra (nearly 50 players strong) and special guest musicians perform works by Mahler, Mozart, Rachmaninoff and others, including world premiere compositions. Dates and tickets can be found at coloradomusicfestival.org.
LOL
The Boulder Comedy Festival (June 21-25) brings local, regional and national touring comedians to town for shows at BOCO Cider, the Dairy Arts Center, Wonderland Brewing, Finkel & Garf and Junkyard Social. Schedule and tickets can be found at bouldercomedyfestival.com.
Join the Long Strange Trip (One Last Time)
On July 1-3, Dead & Company—the remaining members of the Grateful Dead, plus a few other musical wizards—returns to Boulder for a final series of performances at Folsom Field on the CU campus. This is Dead & Company's final run and nearly every show is sold out, but who knows, maybe you can score a miracle: deadandcompany.com.
51st Annual RockyGrass Festival
Lyons celebrates all things bluegrass from July 28-30 when RockyGrass returns for its 51st installment. Sam Bush, Peter Rowan, Molly Tuttle & Golden Highway, Stillhouse Junkies and about two dozen other marquee acts—as well as a second stage filled with the next generation of bluegrass stars—fill the air with that high, lonesome sound. Camp on-site at the Planet Bluegrass Ranch, where you can take part in workshops and talks or jam out and sing along with friends new and old. Tickets and lineup information can be found at bluegrass.com/rockygrass.
Bands on the Bricks
This free outdoor summer concert series runs every Wednesday night from 6-9 pm, June 14 to Aug. 2. This summer's lineup is made up of an assortment of great local and Front Range musicians, including The Goonies, Chimbangle, Chain Station and Mighty Mystic. For the full lineup—including opening acts—head to boulderdowntown.com.
Rocky Mountain Folks Festival
The music-loving town of Lyons hosts the Rocky Mountain Folks Festival on Aug. 11-13. This so-called "Summit on the Song" brings together songwriters, singers and musicians across many genres together to play, sing, write and talk about the music-making process. Tickets and additional information can be found at bluegrass.com/folks.
Hiking Theatre
The creative minds at Arts In The Open deliver a different kind of outdoor theatre throughout summer: The plays take place on, or beside, hiking trails. From early June through mid-August, a pair of plays—"A Superhero Tale" by Alisha Bashaw and "Myth Adventures" by Patti Murtha—will be performed trailside for a roving, hiking audience. Performances are suitable for all ages and involve a moderate hike. Find tickets and additional information at artsintheopera.org.
Dairy Arts Center's Killer Lineup
The Dairy Arts Center has a summer season lineup like no other. Colorado Sky: Puppet Opera Festival (June 3-4); Parlando School of Musical Arts' performances of "Twelfth Night" and "James and the Giant Peach Jr!" (June 16-17 and June 25); the Dance Conservatory of Denver's blend of ballet, jazz and modern choreography (June 11); the daylong Hocus Focus Magic Camp (various dates and age groups); the Community Writing Circle (June 27, July 25, Aug. 22); and more. Details on these events and the full lineup can be found at thedairy.org.
Festivals and Celebrations
Boulder Jewish Festival
On June 4, the Boulder Jewish Festival celebrates all things Jewish culture and artistry on Pearl Street. Musicians, dancers, artists and artisans will perform and display their wares while food vendors and local Jewish organizations provide other ways to celebrate or deepen your connection to the culture. More information available at boulderjcc.org.
Take Pride in Boulder
Boulder County celebrates Pride Month in June with a number of events. Boulder Pride Festival takes place June 11 at Boulder Central Park; Lafayette Pride on the Plaza is June 15; QTPOC Pride is June 18 at the Equality Center of the Rocky Mountains; and Longmont Pride Festival is June 30 at Roosevelt Park. Full details can be found at outboulder.org/pride.
Colorado Shakespeare Festival
From mid-June through August, experience the best of The Bard at the Colorado Shakespeare Festival, a summer-long series of plays at the Mary Rippon Outdoor Theatre on CU's campus. This season the players will present "Much Ado About Nothing," "The Winter's Tale," "King Lear," and "The Comedy of Errors," in addition to "One Man, Two Guvnors," by Richard Bean. Dates, tickets and future performances can be found at cupresents.org.
Boulder Fine Arts Street Festival
This outdoor arts festival elevates the typical arts and crafts you'll find at street fairs and focuses on fine artists and accomplished artisans from nearby and across the nation. For two full days—July 8-9—meet the artists, admire their works and bring a treasure home. Information is available at artfestival.com.
Pearl Street Arts Festival
July 14-16, Boulder welcomes another arts festival, this time on the Pearl Street Mall. The Pearl Street Arts Festival has a little of everything—watercolors and oils, sculptures, photography and prints—in works traditional and playful, at a range of price points. It's a great place to start your art collection and discover up-and-coming local artists: boulderdowntown.com/arts-fest.
ENOFF Film Fest
From July 13-16, Boulder's Environmental/Nature/Outdoors Film Festival delivers four days of narrative, documentary and short films from artists around the world. In addition to screenings, there are Q&A sessions, talks, music and more. Lineup and ticket information can be found at boulderenoff.org.
A Peachy Gathering
In nearby Lafayette, the Lafayette Peach Festival celebrates its 24th year in 2023. On Aug. 19, pick up your peach pies, dig into some peach cobbler and enjoy all the games and booths at the fair. Front Range and Western artists, artisans and craftspeople will have works for sale, as will scores of vendors: lafayettecolorado.com/special-events.
Boulder Taco Fest
Between bouts of Lucha Libre wrestling, performances from the slate of bands and all the games to play and things to do, you might forget to sample some of the tacos at Boulder Taco Fest. On Aug. 26, the lawn at the Boulder Civic Area and Library will be transformed into a temple to tacos where you can taste tacos (of course), tequila and craft beer. Tickets begin at $30. Learn more at bouldertacofest.com.
Dinner in the Dark
The Boulder Blind Café Experience: Music and Dinner in the Dark is one of the most unusual—and impactful—things to try in Boulder this summer. From Aug. 18-20, you and your dinner companions have the chance to sit down for a family-style dinner and concert in 100% darkness. No blindfolds, no light, just your four other senses working overtime. Full information and reservations are available at theblindcafe.com/boulder.