Rooftop Rendezvous
19 Jun 2023
The ultimate guide to elevated dining this summer
By Josie Sexton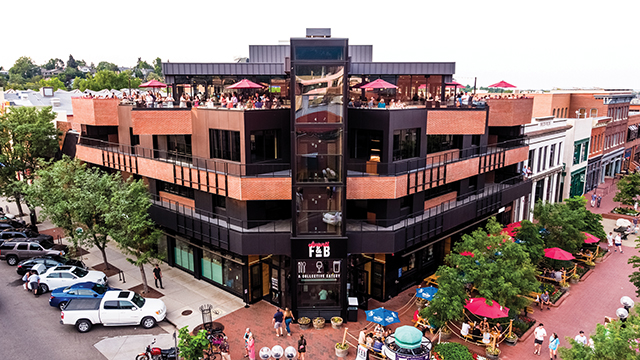 While never a guarantee, restaurant patios in Boulder County start heating up around the middle of May, just after the last big snow melt. As soon as that late-spring cold snap subsides (and sometimes before it), the umbrellas go up, the tables get set and the iced drinks begin flowing.
Here are a dozen of the top rooftop restaurant and bar hangouts where you can enjoy the food, booze and views from sunup to sundown.
Avanti F&B
Boulder
For vistas of downtown Boulder and the surrounding Flatirons, Avanti is hard to beat. The fourth-floor rooftop hangout has nearly 360-degree views. It also packs in a bar and a top-notch pizza counter alongside seating indoors and out—pick from a fireside perch, a railing overlook, a communal table, or a cozy lounge. This is the place for a pie with friends, from afternoon to sunset and well into the night.
Birdhouse
Erie
The rooftop isn't the only draw to this newer downtown Erie restaurant; Birdhouse also serves ramen, tacos and tropical cocktails, with a specialty in rum-based mixed drinks. Sound intriguing? This eclectic street food spot is also built around a big old cottonwood tree, making it a true "birdhouse," or a treehouse once you get up to the roof, which is surrounded by leafy overhanging branches. Order a spread that includes chicken karaage, carnitas tacos, tonkotsu ramen and a Gold Finch cocktail with spiced rum and grapefruit.
Cafe Mexicali
Boulder
The Boulder location of this Front Range Mexican restaurant chain is walkable from CU's campus. And even though it's located just off Route 36 and mostly surrounded by concrete, you'll feel worlds away once you climb the stairs to the mountain-facing, second-story rooftop. This is the spot to stop for lunch and take a breath (in between bites of sweet corn enchiladas or chicken molido quesolles).
Corrida
Boulder
Romantic evenings, special occasions and any reason to celebrate for a night might bring you to Corrida's rooftop restaurant and patio. The sprawling top-floor space seems so close to the Flatirons that you could almost reach out and touch them. Instead, snap a photo of the killer views while sitting fireside with a gin tonic and some tapas. Or grab a dinner table for a more serious meal of Spanish octopus, steak and tempranillo.
Flavor of India
Longmont
This downtown Longmont restaurant might surprise you with its shaded rooftop terrace, complete with a large bar where you can people-watch. The open-air dining area is still enclosed on two sides by neighboring business' walls, so you'll feel just exposed enough to the elements while still staying warm (and, even better, dry). Go for clay-oven tandoori or goat curry, and add an iced or hot chai depending on the weather.
Piripi
Erie
You might not have suspected Erie as a date-night destination, but this suburban enclave gets quite romantic after dark. And the heated second-floor patio at Piripi is completely charming overlooking Briggs Street. A small playroom inside the restaurant can even occupy the kids while you're finishing up with a quiet moment at dinner. The menu leans Mediterranean, and chef Hugo cooks paella on the first Monday of (almost) every month.
Rio Grande Mexican Restaurant
Boulder
34-year-old Boulder staple, the Rio, got a big refresh in 2019, bringing its famous margaritas (limit three per customer) and equally famous local rooftop into the 2020s. These days you can find all the original menu favorites plus many more scratch-made food and drink options, including a long list of specialty tequilas and house margaritas. The views of Boulder's Flatirons rival Corrida nearby, while the vibe and price point are certainly more casual.
Rosetta Hall
Boulder
Eight international food stalls, a coffee counter and two bars (one on the rooftop) make Rosetta Hall one of the prime spots in Boulder to eat with a group while taking in mountain scenery. The multi-leveled roof terrace includes a row of private cabanas for a poolside feel, while a built-in "boat" brings you closer to sea-level for some lounging on pillows and turf. Sunday DJ sets make the already cool atmosphere even cooler with the trifecta of music, cocktails and food.
The Roost
Longmont
Come May, it starts to feel like a little oasis up on the roof of The Roost in Longmont. Surrounded by Main Street's leafy trees and flower beds, The Roost will lift its garage doors once the weather warms to create a full patio effect from the first floor up to the rooftop. Add in some live music sets along with the craft food and drinks, and you've got an easy hangout, especially during happy hour, which runs from 3-6 pm. every day except Friday and Saturday.
Waterloo
Louisville
Austin, Texas transplant Waterloo is eclectic and laid back, just like its home city. Food offerings include a little something for everyone, from burgers to tacos and bowls. The second-floor rooftop deck connects to the restaurant's upstairs dining room and bar, bringing a backyard vibe and views over Main Street. Find community tables, smaller group seating, bar stools and plenty of shade in the summertime.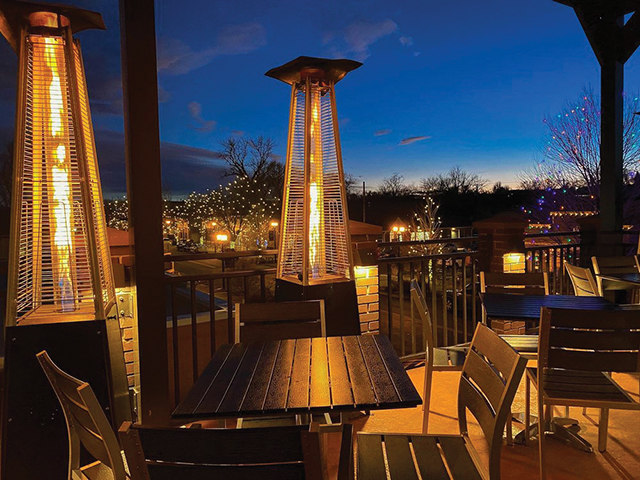 West End Tavern
Boulder
A West Pearl Street classic, West End Tavern has been kickin' since 1987 inside a building that dates back nearly a century longer. Burgers are a go-to on the food menu, but the barbecue is also a must (go for the burnt ends). And upstairs, the rooftop remains hidden among surrounding buildings while still providing epic views to the Flatirons. Order a beer on tap or bourbon from the extensive list and join a party that's more than 35 years in the making.
William Oliver's Publick House
Lafayette
Two things to know about William Oliver's: Bacon and Whiskey. This Fort Collins-based bar stocks bottles from Colorado, Scotland and around the world. And bits of thick-cut bacon (or whole slices) are sprinkled across the food menu, as well as in some of the cocktails. The Lafayette outpost is easy to spot with its red-barn exterior. Head straight to the rooftop for late-night drinks under the twinkle lights and stars; the pub now stays open until 2am daily.