Striking Gold
02 Aug 2023
The rare treat that is Gold Hill Inn
By BRAD WEISMANN » Photos by Bonnie Chaim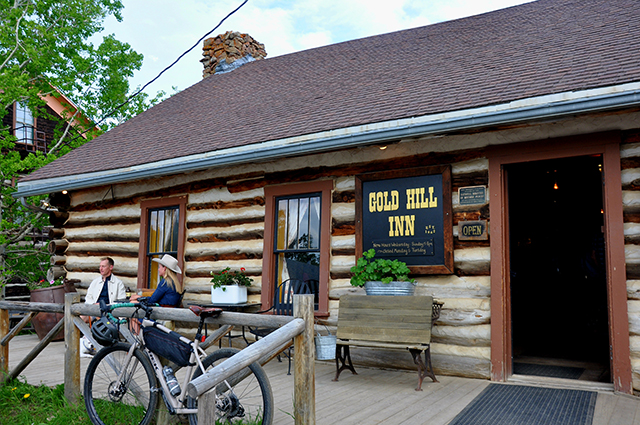 Some of Boulder's most sublime experiences are hidden, lying well off the beaten track. Such is the case with a little oasis of fine dining and live entertainment that's been in business for a century now, high in the foothills. Though only 10 miles from downtown, it's a half-hour drive and a world away from the everyday, a local institution of quiet excellence. Welcome to the Gold Hill Inn.
It's a leisurely trip away from Boulder, up Left Hand Canyon. Paved road turns into a ribbon of dirt, and the forest crowds in on both sides. At the end of the trail sits Gold Hill, a charming little settlement of a few hundred, a former mining camp that's now called home by those who thrive on the location's beauty and in-the-woods isolation. And smack dab in the middle of this is a rustic and tastefully decorated dining hall, built in 1924, that the Finn family has operated for 61 years.
"It's kind of its own beast," says co-owner Brian Finn, who has run things at the Gold Hill Inn with his brother Christopher since the 1980s. "It's definitely a community center." Its snug and imposing log cabin structure accommodates a number of dining tables and a full bar.
Their parents Barbara and Frank bought the place in 1962 and quickly turned it into a dining destination. Its unique prix fixe menu features various appetizers, soups, entrees and desserts, varying seasonally and changing from evening to evening. Guests are offered either six-course or three-course meals.
Of his dishes, which range from lamb and pork to rabbit and trout, Finn says, "There are always some old favorites, but new and different entrees make their way onto the menu, and that's always rotated in as well."
Another factor contributing to the inn's charming ambiance is its strong commitment to live music. Local musicians of all kinds perform on the dining hall's Barroom Stage, or outside at its new innovation, the Beer Garden, an outdoor space adjacent to the restaurant that accommodates a la carte dining and live listening. (A little band you may have heard of, Elephant Revival, played its first gig at the inn in 2006.)
"We do a fair amount of live music," says Finn. "When COVID started, we opened up a beer garden that's a hit. Now, after COVID, we have a la carte served very casually in the beer garden, and we started doing music out there. On Friday nights we'll have a band inside, usually a bluegrass band."
First-time visitors may want to avail themselves of the inn's signature holiday barbeques, which are held on Memorial Day, the 4th of July Twang Fest and Labor Day. The stellar event of the inn's concert season is the mid-July The Charles, aka the Charles Sawtelle Memorial Mountain Jam, which benefits local independent radio station KGNU. Sawtelle was the original guitarist for Boulder's famed Hot Rize bluegrass group; he helped found the festival in 1989 and passed away, prematurely, in 1999.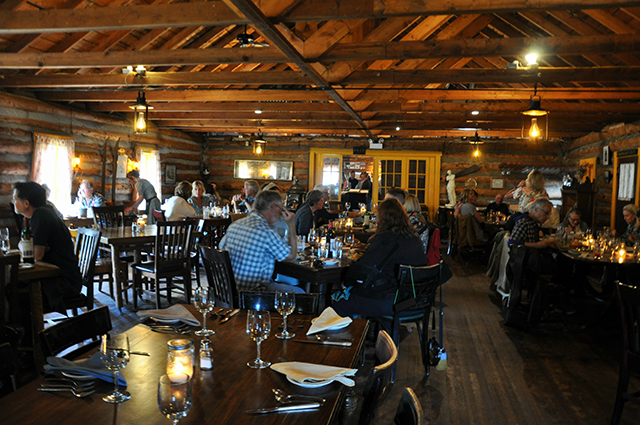 The area's roots run deep in local history. Gold Hill was the site of the first discovery of gold in Colorado, on January 15, 1859. The town boomed and busted with the fortunes of the miners, but enough people stayed on to create a community. The inn was originally built to service the Bluebird Lodge across the street.
That hotel was built in 1872 as the Wentworth and housed luminaries such as lawyer Clarence Darrow and poet Eugene Field. (Both the lodge and the inn are listed on the National Register of Historic Places.) In 1920, it was purchased and renamed after the "Bluebirds," self-supporting women from Chicago who came west to camp for the summer.
The Finns now operate the Bluebird as well. It's an intimate lodging, with nine sleeping rooms, a kitchen, a dining room and more. It's now rented out as a whole and is appropriate for family reunions, weddings and small corporate events.
One featured attraction at the lodge that's making a comeback is Murder Mystery Nights. 'Til Death Do Us Party Productions handles the mystery part of the evening, which includes the three-course dinner.
"They were put on hold during COVID," says Finn of the mystery nights, "but we are starting to look at doing a little run this fall, very limited." Dates so far are August 4, September 2 and October 14, 20 and 27.
Finn assesses the value of the inn in its traditions and its dedication to quiet excellence. "We're steeped in history throughout the years," he says. "It's a pretty rich place to work. It's a one-of-a-kind kind of place."
FYI: Gold Hill Inn, 401 Main St., Gold Hill; 303-443-6461; goldhillinn.com. Open Wednesday through Sunday, 5pm to 8pm, May through December.