Floor Finder Guide
03 Jan 2016
Flooring runs from classic favorites, like hardwood, to technologically inspired products. Here's a look at what's underfoot these days.
By Eli Wallace When it comes to giving your home a makeover, there's nothing quite like getting to the bottom of the matter—floors. Though we often overlook the styles underfoot, flooring sets the tone for an entire room and can drastically affect the experience of a space. But the sheer number of flooring materials, styles and options can be overwhelming. "From a practical standpoint, there are several things to consider," advises Scott Humphrey, CEO of the World Floor Covering Association. He recommends considering how long you plan on living in the home, how often you entertain, and whether you have children and pets. Also consider how much aesthetics, functionality, durability and price matter to you. The answers will direct you toward the best flooring for your home and lifestyle. Here's a guide to some of today's options, including classic treatments and new technologies (prices do not include installation costs).
Hip Hardwoods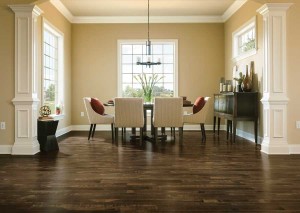 Always popular, solid-wood floors add warmth to any room. Hardwoods include oak, birch, maple, fir, cherry and pine, to name just a few, and different stains and finishes make hardwood a handsome choice for most rooms. The best thing about hardwood is likely its look. Neutral wood tones complement practically every furniture style, from antique credenzas to minimalist couches. Plus, hardwood floors last for generations, are easy to clean and add great value to a home. Rustic looks in oak and hickory are especially popular and plentiful, as are distressed hardwoods and textured wire-brushed planks. However, this classic style has a few downsides. The first is price, as planks can run around $5-13 per square foot. Hardwood floors also wear in high-traffic areas, and may need waxing and sanding and refinishing over time. They're also loud and not terribly pet-friendly; paws will clack and slip on this floor. Hardwood can dent, too, although some manufacturers infuse woods with substances like acrylic to make them less susceptible to denting. Since wood is also vulnerable to water, it's not the best choice for mudrooms, laundry rooms, bathrooms or kitchens.
Lovely Laminates
Laminate flooring addresses the weaknesses of hardwood flooring while providing the same classic look. The smaller price tag—50 cents to $5 per square foot—is only one reason why laminate is wildly popular and likely to stay that way.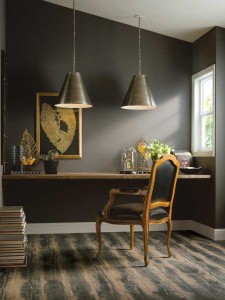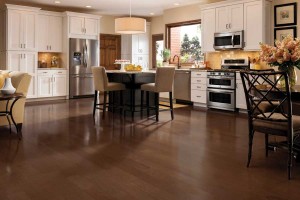 "Laminate flooring has benefited enormously through the use of high-definition printing, allowing the finished product to be nearly impossible to differentiate from the real thing," Humphrey says. Laminate flooring is made of multiple layers of synthetic-flooring products fused together through a lamination process. Laminates of yesteryear often looked fake, but advanced printing technologies now allow manufacturers to create a variety of laminates that look virtually identical to the products they mimic. Laminate flooring can simulate wood, but also tile, stone or slate. Most laminates have a click-and-lock design, which connects boards like puzzle pieces and doesn't require glue or nails. An enterprising DIYer could install it, provided he or she is comfortable using a saw. A rule of thumb is to allow one weekend per 300 square feet for installation, especially if you're working solo. But the money you save installing your own floor "often comes at the expense of headaches down the road," Humphrey says. "If you hire a professional installer, it will be done quicker, likely better, and is often warranted for a period of time up to the life of the product." Laminates don't dent like wood, and they resist moisture and stains, so they work well in places like kitchens, where hardwoods might buckle or warp. As strides in laminate technology increase, the cons are becoming fewer. However, laminate doesn't feel quite the same as real-deal wood, and it's a little harder and more slippery than other flooring. Also, laminate won't give your home the resale value that hardwood will. The biggest downside is laminate can't be sanded and refinished. If it does get scratched, it has to be replaced.
Wooed by Engineered Wood
For those who object to laminate because it isn't real wood, another alternative is engineered wood flooring. This flooring type has the appearance of wood and costs roughly the same—$3-19 per square foot, depending on layer thickness and quality. "Engineered flooring is a half-inch of plywood with real wood glued on to it. There's been a huge increase in the number of selections and the number of engineered-wood manufacturers recently," says Jeff Hindman, owner of Cottonwood Custom Builders in Boulder. Because it's a newer technology, engineered flooring has yet to reach the popularity of laminate and hardwood, but Hindman says it's becoming more common in Boulder County, and for good reason. "Engineered flooring is much better over radiant-heat systems, and it doesn't have the expansion issue that hardwood does. Also, it's pretty 'green,' because instead of having a three-quarter-inch piece of solid wood from trees that have to be processed, engineered flooring uses a third of that wood." Many engineered hardwoods are made in the U.S., which reduces their carbon footprint, compared to sustainable but far-flung materials like bamboo, he adds. However, the real-wood top layer can still dent, and wears more easily than laminate. And it may warp with moisture. Also, the glue used in engineered wood flooring's construction can release harmful chemicals into the air, especially during and directly after installation.
Timeless Tile
While printing technology has greatly improved laminate tiles, real tile still holds its own in both price ($1-21 per square foot) and flexibility, as tiles can be ceramic, porcelain, stone, quarry or marble, offering a wide range of colors, textures and finishes.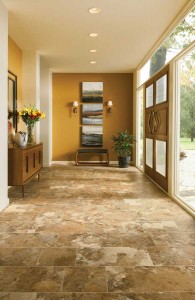 "The great thing about tile is there are so many new looks, like the new porcelains that look like real stone. There are endless varieties, and they're reasonably priced. That never used to be the case," Hindman says. Tile will likely always be a popular choice, especially in water-prone areas like mudrooms, kitchens and bathrooms. Because it lasts for decades when properly treated, tile increases a home's resale value. If you have radiant-floor heating, tile will work wonderfully; if you don't, winter mornings will probably require slippers. But tile's strengths can be weaknesses in the wrong room. It won't absorb sound, which can make large rooms or spaces with high ceilings feel cold and clinical. Plus, installation isn't easy and requires the use of specialized saws to cut tiles in place, creating dust in the process. And though tile floors withstand foot traffic very well, they can chip or crack under centralized pressure, such as dropping a heavy object on one corner. If tiles do break, there's little to be done beyond ripping them up and replacing.
Vinyl Victories
Probably the cheapest form of flooring, vinyl has come a long way from the ugly yellowing patterns found in many a grandmother's kitchen. Per square foot, vinyl runs about 80 cents to $6, depending on type and quality. These days, self-adhesive vinyl tiles make installation fast and easy, as the tiles stick straight to the subfloor. Like laminate, vinyl has benefited greatly from advances in printing technology, though some would say it has room to improve when viewed up close.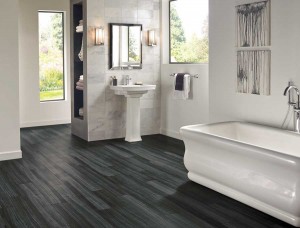 Durable and waterproof, vinyl is often the best choice for cracked or settling subfloors. But the range in quality varies widely. Sheet vinyl is cheaper, but it also feels cheaper, and it's difficult to install. On the other hand, luxury vinyl tile (LVT) is more functional, waterproof, easier to install, better looking and priced about the same as laminate. In fact, LVT seeks to become a major laminate competitor, and there are now wood, tile, slate and stone styles of LVT widely available at home--improvement stores. The biggest difference between the two materials stems from their construction: LVT is made of plastic, which feels softer underfoot, while laminate is more rigid.
Carpet Comeback?
When talking about flooring, it's impossible to ignore carpet. Yet carpeting's popularity has dropped in recent years, possibly due to concerns about allergies and harmful volatile organic compounds, or the material's short, roughly 10-year life span. "We rarely see carpet these days," Hindman says. "Thirty percent of the homes we work on have no carpet at all. That's a good trend, I think. Carpet wears out and has to go to the landfill. Hard surfaces are greener, because they last longer and can be reused, so they're much less wasteful." With less-eco-friendly products, he says, "If you tear out tile, it's a trash-can's worth; if you tear out carpet, it's a truckload." But you won't hear that viewpoint from everyone, and few other flooring options offer the same color and texture variety at a cost of $2-13 per square foot. Plus, carpet helps absorb sound and insulates the home. The greener move toward carpet tiles may reduce waste, and recent strides in the feel of synthetics, like softer nylons and polyesters, and greener choices like cotton, wool and recycled pop-bottle carpeting, may boost a carpet comeback. No matter which flooring you choose, first consider the room's purpose. Make a list of needs—must be kid-friendly, waterproof, cost-effective, attractive, etc.—to help you narrow your choices. Although new technologies have drastically widened the playing field, today's plethora of flooring material just means you have more options to pick the perfect base for every space.