Blue Sky Bridge: Giving Victims of Child Abuse a Voice
02 Apr 2021
Statewide and across the country, reports of child abuse decreased in 2020. The Colorado Child Abuse and Neglect Hotline (1-844-CO-4-KIDS) reported a 13 percent decline. At first glance, that seems like positive progress, but the truth is more complicated.
By Vicki Martinez
The decline in reports is just that—a decline in reports, not necessarily a decline in abuse. Gina Maione Earles, executive director of Blue Sky Bridge, a child advocacy center for Boulder County, says, "We're exceptionally concerned, knowing children have fewer trusted adults around."
Additional figures from the statewide hotline validate that concern: Calls from educational professionals decreased by 30 percent and calls from medical professionals were down 11 percent in 2020. "Unfortunately, that doesn't mean there's less child abuse; it means child abuse is not getting reported," says Maione Earles. Children being out of school and away from the watchful eye of educators is problematic, but there is a glimmer of hope: "Family and friends are stepping up. Calls to the hotline [from that group] increased five percent. We see that as a great thing. It's very good news," she says.
A Different Approach to Child Advocacy
Blue Sky Bridge, an accredited member of the National Children's Alliance, was established to provide a place for victims of abuse to tell their stories in a safe and supportive environment. The organization conducts forensic interviews to provide case information to law enforcement, judicial and social service agencies. The professionals who work and volunteer for Blue Sky Bridge are committed to serving children who enter the abuse investigation process as well as those who have not yet been able to get help. A private, independent organization, Blue Sky Bridge is afforded the freedom to develop their own procedures and programs. They do things differently:
Commitment to Staff Wellness "This work is incredibly challenging," says Maione Earles. "We're committed to offsetting that by providing staff all the tools they need for their own wellness, to advocate for themselves, to help our team be resilient."
Blue Sky Bridge Is a Happy Home They operate from a family-type residence. Nobody lives there and there are offices behind doors, but Blue Sky Bridge feels like a home—there's a kitchen, living room and comfortable play spaces. And, if visitors are lucky, they'll be greeted by Marion.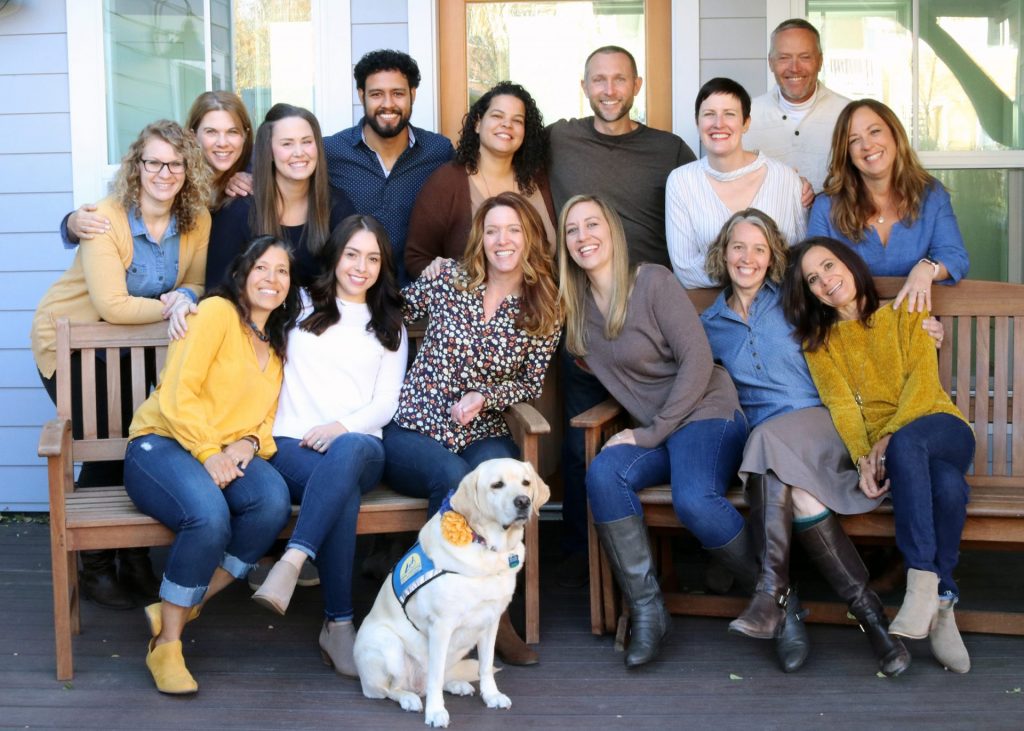 Marion the Dog An official staff member, Marion joined the team nearly five years ago, and she's more than just an office dog. She's a highly specialized facility dog who came to Blue Sky Bridge from Canine Companions for Independence. (Staff are certain she was specially bred for extra softness and the silkiest ears!) Among her duties: unconditional acceptance of all who enter; provide a calming and grounding effect on days when staff or external partners experience vicarious trauma and stress; sit still for extended periods of time; listen without interrupting.
An excellent listener, Marion sits with children during forensic interviews or therapy, when possible. She doesn't mind when her ears are incessantly stroked. In fact, Marion's fur never gets ruffled.
Perseverance During a Pandemic
As part of the organization's COVID-19 response, they've embraced the video conferencing technology that's become so vital during the pandemic. "We've taken some steps that are pretty unique in Colorado and across the country," Maione Earles says. When abuse is suspected, conducting a thorough, in-person forensic interview is paramount to effective child advocacy. Children and family members still go to the office and can speak to the interviewer from a separate room, via Zoom. During the interview, there's no need to wear a mask as the child and interviewer talk.
Why is this so important? Those conducting and observing the interview can see the child's reactions and understand them better. It's a more direct conversation, and it's still conducted within the confines of the organization's offices for safety and security.
"We're also providing tele-mental health," says Trish Wood, Blue Sky Bridge's education manager. "We loan tech to families so kiddos are still able to receive the benefits of trauma-focused cognitive behavioral therapy and Eye Movement and Desensitization and Reprocessing therapy via Zoom."
Education Is the Answer
It's ultimately the responsibility of adults to keep children safe. For that reason, Blue Sky Bridge invests heavily in community education. "The best thing we can do as adults is to have our eyes open to what might be happening to children around us and come to terms with the fact that child abuse is extremely prevalent in our Boulder County community—in every community," says Wood.
She references research that has shown an increased incidence of child abuse during local and regional disasters, when children are stuck at home with little or no access to trusted adults like teachers and counselors. Sadly, 88 percent of child abuse offenders are parents, parents' partners or close relatives.
To address this, Blue Sky Bridge's Education and Outreach Program is twofold.
School-Based Education
The organization's in-school activities, for both Boulder Valley and St. Vrain Valley school districts, include presentations on body autonomy, body safety, talking to a trusted adult and the difference between a secret and a surprise. It starts with kindergarteners, to build a foundation of simple language around these topics. Later, they reach third graders because science shows this is the age when children begin to identify as separate, individual beings. Children learn a three-step plan to help them get out of a situation if they're feeling uncomfortable or unsafe.
Training for Adults
Increased knowledge improves attitudes and changes child-protective behaviors in adults. An important piece of Blue Sky Bridge's school-based education is to educate the adults—educators, staff and administrators—who interact with children every day. "We train them on the language we use with kids, how to reinforce the messages from the presentations, plus ways to teach these concepts," says Wood. "We also cover recognizing signs of potential abuse."
Recognizing the unseen signs of child abuse
Acting out in ways they haven't before

Looking uncharacteristically unkempt

Appearing more sullen or moody or angry
---
Steps to take if a child discloses something
Remain calm

Listen and affirm that you believe them

Get the basic info from the child

Be honest; explain that you'll have to tell someone else whose job it is to keep them safe (being truthful sets the child up for success)

MAKE THE CALL (1-844-CO-4-KIDS)
---
April is National Child Abuse Prevention Month
Blue Sky Bridge is hosting three 30-minute training sessions in April during lunch (12–12:30) over Zoom. The Education Heroes for Kids series is free of charge. Be a hero for kids by giving 90 minutes of your time to attend these trainings.
April 14: Talking to Children about Safety from Sexual Abuse
April 21: Healthy Touch for Children & Youth
April 28: Bystanders Protecting Children from Boundary Violations
Registration is available at blueskybridge.org.