Climbing the Family Tree
21 Dec 2014
How America's strongest mother-daughter partnership navigates the vertical world
By Chris Weidner Robyn Erbesfield was one of my heroes back in 1988, when I began climbing. I seemed to read about her competition and sport-climbing success in every magazine. Today, she climbs harder than ever and has raised her children—Shawn, 16, and Brooke, 13—to follow in her chalk marks.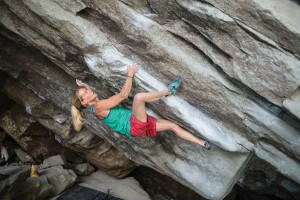 Since Robyn (now Raboutou) first crammed her feet into leather shoes with sticky rubber soles, the sport of climbing has changed dramatically. But climbing's allure—the friendships, the struggle, the athleticism—remains the same as it has always been. If risk gives climbing its spark, then the extraordinary trust between partners fuels the fire that transforms climbing into a lifelong passion. And we're finally seeing how that passion plays out as Brooke, part of America's second generation of elite rock climbers, partners up with her rock-star mom. Robyn Raboutou was 18 years old when her high school boyfriend taught her to climb. "The first few years were spent living for the weekends to climb outside," says Robyn, who grew up in Atlanta. In the meantime, they trained on a homemade "crack machine"—a wooden structure that simulates crack climbing—in his parents' garage and on fingertip holds screwed onto the roof. Her training paid off. In 1989, eight years after learning the sport, Robyn won her first World Cup competition (conducted on an artificial wall), taking third place in the overall circuit. In 1992, she began an unprecedented winning streak, taking the overall World Cup title four years in a row. Robyn's performance on real rock also peaked during that time. In 1993 she became the first woman in the world to climb a route rated 5.13c on her first try, without prior knowledge of the moves, and the third woman ever to tick a 5.14. And that year she married French rock star Didier Raboutou, another world-class climber. The couple had their son, Shawn, in 1998 and Brooke in 2001. Didier left the sport years ago, but Robyn, now 51 years old, continues to push herself, squeezing in her personal climbing time between coaching Brooke and the other students at ABC Kids Climbing, a training facility in Boulder she and Didier founded.
Pinky Promises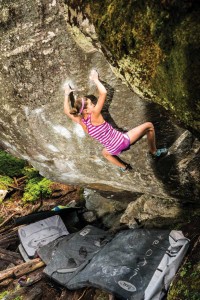 Brooke first climbed as a 1-year-old, and at 8 she began setting records for being the youngest female to achieve several difficulty levels in bouldering and sport climbing. In 2012, at age 11, she became the youngest person ever, male or female, to succeed on a route rated 5.14b when she climbed Welcome to Tijuana in Rodellar, Spain. Perhaps no climb encompasses the contrast of support and competition between Robyn and Brooke like that one. "I've always had a mentality that if the kids can do it, I can do it," Robyn says. They rehearsed the extremely difficult moves together as a family. "We tag-team really well, relying on each other's positive energy." "It was fun because we both did it different ways," Brooke says. "I could help her with some moves and she could help me with some. We work well together." But it's not always easy. "There are times when we butt heads a little bit," says Robyn. "Sometimes we can catch it quickly and sometimes it's one of those mediocre days where we don't hit it off." Brooke and Robyn spend so much time together that they've developed a method for getting along. Robyn explains, "When we start a trip we'll do what we call a 'pinky promise.' We make a commitment to be patient with each other. Whether she gets a boulder problem first or I get the boulder problem first, or whatever, it really just comes down to being respectful. The majority of the time—and I would give Brooke the most credit for this—we do really well together." Because she's just 5 feet 1 inch tall, reachy moves are often Robyn's limiting factor. So when Brooke (4 feet 9 and growing) could do the moves on a climb, Robyn always figured she could too, but "I'm getting to the point now where that's just not true anymore. If she can do it, it doesn't mean I can do it."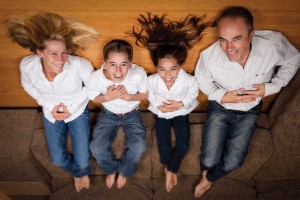 Like her brother, Brooke is showing signs of independence, regularly making plans with other climbers. Robyn says, "She'll even say to me, 'You don't have to come.' I do everything I can so she can have that day without me." Whomever she climbs with, Brooke is proving her commitment to the sport is as solid as her mom's. "I wouldn't want to be less into climbing, because I love it," Brooke says. "And I wouldn't want to be more into climbing, because I can't be." As for Robyn, she's most excited to continue coaching young climbers who still make her think from time to time, 'If they can do it, I can do it.' "I haven't lost that," she says. "That keeps me strong." Chris Weidner first climbed as a 14-year-old at summer camp. Now, 26 years later, he's still learning how to move well, train harder and control his fear of heights.