Colorado Buffaloes Have a New Look
17 Sep 2015
and it's more than just the snazzy new uniforms
By Larry Zimmer Jr. They say "clothes make the man," but Coach Mike MacIntyre isn't counting on those new Nike duds to win more games as he starts his third year as head coach of the Colorado Buffaloes. He believes his team will look like a Pac-12 Conference team—leaner, more muscular, more chiseled. This is by design. MacIntyre said at the end of last season that although he felt his players were in excellent condition, they had to get stronger. "Some of our guys are big enough, but they have to reshape it a little bit more," he said. "Our whole football team needs to get more powerful."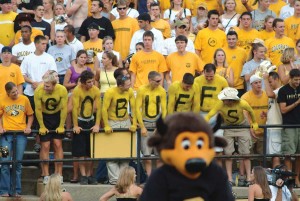 So, several months later? "I think our strength is really improving. I do see a lot more power." MacIntyre hastens to say that "bigger" doesn't mean he wants all his players at 300 pounds, "but there are a couple of guys who had to go from 170 to 185. That added strength will make a big difference." Another difference is maturity. In MacIntyre's first two seasons, CU was among the youngest teams in the nation. True freshmen, redshirt freshmen and sophomores have now become sophomores with playing experience and seasoned juniors and seniors. The coaches point out that they're now dealing with 20-somethings instead of teenagers. College football, for better or for worse, has become a 365-day-a-year commitment for the players.  Those enrolled in summer classes, or who have met certain academic requirements, are allowed supervised conditioning Monday through Friday. The NCAA modified its rules for summer practices, which still were conducted by the players themselves, but coaches were allowed to meet with the players once a week. Players and their position coaches met every Thursday through the summer. This helped MacIntyre's resolve to field a bigger, stronger, more mature football team.
Running the Numbers
MacIntyre worked what many called a miracle in his third year at San Jose State. It was the first time in 25 years that the Spartans had a 10-win season. In his first season, San Jose was 1-12, improving to 5-7 the next year and 11-2 in year three, which included a bowl win. (MacIntyre did not coach the Spartans in the bowl game, because he was already at Colorado.) Many say the Buffaloes have not shown that kind of progression. In 2012, under Jon Embree, Colorado was 1-11 and gave up an average of 46 points a game. Five teams scored 50 or more points, two of them 70 and 69. SB Sports ranked CU as the second-worst college team in the last 15 years.  That's what MacIntyre inherited. CU showed immediate improvement in 2013 with a 4-8 record, and gave up 50 points only three times. In year two, 2014, the Buffs fell to 2-10 (0-9 in the Pac-12). That's not progression, you say? Not so fast. The Pac-12 is so strong that even when a team is much improved, it can be difficult to see. Let's look at the numbers.
Colorado scored 342 points last year—the most since 2002. The 42 touchdowns were the most since 2003. Seven times the Buffs were tied or within a touchdown in the fourth quarter, but ultimately lost.  Two of those games, California and UCLA, were decided in double overtime. Four losses were by a combined 15 points. Colorado averaged 439.2 yards in total offense. CU scored 40 out of 45 trips to the red zone (inside the opponent's 20). Twenty-nine were touchdowns, more than double the number from 2013. Note that this was all on offense. Whatabout that defense that ranked 111 out of 129 FBS (Football Bowl Subdivision) teams? Rush defense was 102, pass defense was 100 and scoring defense was 116. Without question, the defense must improve. The Pac-12 is recognized for its imaginative high-powered, high-scoring, hybrid spread offenses, with the Oregon Ducks a prime example. The Pac-12 champions went all the way to the inaugural National Championship Game, where they lost to Ohio State. Oregon's quarterback, Marcus Mariota, won the Heisman Trophy, but was only one of a parade of top quarterbacks who trot onto the field each Saturday in the Pac-12.
Beset by Injuries
Every team has injuries, but Colorado had more than its share on the defensive unit. Already young, inexperienced and lacking depth, the Buffs were hit in the defensive line and the secondary. Secondary veterans missed a combined 58 games. Colorado was faced weekly with putting a new secondary on the field, and in the Pac-12 that's an issue. Jared Bell, who missed the entire year, has been granted a sixth year by the NCAA and hopes to regain his 2013 form. Veterans Marques Mosley, Tedric Thompson, Chidobe Awuzie, Evan White, Ryan Moeller and Ahkello Witherspoon have recovered from injuries and are ready to go. The Buffs have to replace Greg Henderson, a four-year starter, but senior Kenneth Crawley is back and will lead the defensive backs. Transfer Afolabi Laguda from Butler Community College could compete for a starting job. Defensive linemen Samson Kafovalu and Tyler Hennington missed 2014 and would have been starters. The two return to join the group that got experience by being forced into action: Derek McCartney, Tim Coleman, Justin Solis, Eddie Lopez, Jimmie Gilbert and De'jon Wilson. Three junior-college transfers will play a role. They are Leo Jackson (Foothill JC), Jordan Carrell (Juco All-American from American River College) and Blake Robbins (Georgia Military Academy). The biggest change on defense is the hiring of Jim Leavitt as defensive coordinator. He brings with him a wealth of experience. Leavitt played safety at Missouri in the 1970s and, interestingly, had three interceptions against Colorado in his career. He is a disciple of legendary Bill Snyder at Kansas State and was the head coach of a start-up program at the University of South Florida from 1996-2009. The Bulls won at least seven games over 10 seasons and went to five straight bowl games. The last four years, Leavitt coached defense for Jim Harbaugh with the San Francisco 49ers. Leavitt says, "I returned to college coaching because it was the right place at the right time." He has installed a basic 3-4 defense, which will mean some of the defensive ends will be playing off the line of scrimmage and there will be more opportunities for veteran linebackers Addison Gillam, Kenneth Olugbode and Deaysean Rippy.
New Plays with Quick Passes
Despite improvement on offense, MacIntyre and offensive coordinator Brian Lindgren have spent countless hours working on taking the next step. Obviously, the key is quarterback Sefo Liufau, back for his third year as a starter. While Liufau's numbers last season were impressive (3,200 passing yards, 28 touchdowns and a 65.3 completion percentage, all school records), there was a downside: too many mental errors, 15 interceptions and three lost fumbles. Lindgren installed new plays featuring a lot of quick passes. This helps keep Liufau on his feet. He was sacked only 18 times but still takes a beating.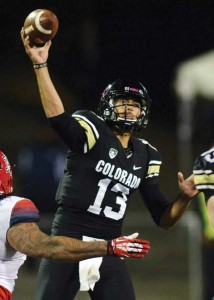 Liufau played at 215 pounds as a freshman and 230 last season. He will play at 240 this season and feels the added weight is muscle. He's also an effective runner, which opens up the offense. "My mobility is definitely better," says Liufau. "I think it will definitely help our running backs and create indecision among the linebackers." MacIntyre hopes that Liufau is correct and that the running game will improve. While satisfied with the progress to an average of 154.6 yards per game and an average of 4.11 per play, MacIntyre feels the run game must take another step up. He points to some games last season when CU could have sealed a win by controlling the ball and running the clock late in the game. Workhorse Tony Jones has graduated, but the cupboard is not bare. Christian Powell, Michael Adkins II and Phillip Lindsay are battle-tested, and two other names could figure in the mix. Aaron Baltazar is a junior-college transfer who earlier in his career started at Boise State, and true freshman Pat Carr, from Houston, has a chance to play. "He can fly," MacIntyre says.
Is This the Year?
Despite losing four-year starters Daniel Munyer and Kaiwi Crabb, the offensive line figures to be even better. Returning are starting center Alex Kelley and the two starting tackles, Jeremy Irwin and Stephane Nembot. Gerrad Kough, Sully Wiefels, Jonathan Huckins, Shane Callahan and Sam Kronshage have experience. Two 2014 recruits who didn't enroll until last January—Isaac Miller from Silver Creek High School and Dillon Middlemiss from Pomona—will challenge for playing time, as will true freshman Tim Lynott Jr., who starred at Parker High School. The passing game will be anchored by senior Nelson Spruce, CU's 2014 MVP. Spruce caught 124 passes for 1,456 yards and 14 touchdowns a year ago, and was second-team All Pac-12. He holds 21 school records and should shatter them all by the time his senior season is over. Three sophomores—Shay Fields, Bryce Bobo and Donovan Lee—hope to build on good freshman seasons. Devon Ross and Jay MacIntyre, the coach's son, will be in the wide-receiver rotation. The Buffs will miss kicker Will Oliver and punter Darragh O'Neill, who manned those positions for four years. In 2014 Oliver nailed 42 of 42 extra points and was 16 of 21 in his field goals, with seven more than 40 yards. He was the scoring leader for four seasons, and in all kicking categories trails only All-American Mason Crosby. Last year O'Neill averaged 44.1 yards per punt with a net of 39.5. Diego Gonzalez from Guadalupe, Mexico, and Chris Graham from Burlingame, Calif., won letters last year and are both kickers and punters. Freshman Alex Kinney from Rocky Mountain High School in Fort Collins will figure in the competition. Colorado has gone nine years without a winning season. Could this be the year? Is there a bowl game at the end of 2015? MacIntyre knows it's a daunting task, but also knows the reality. "We definitely need to win more games and I definitely believe we will. We're right there knocking at the door; we used to not even be on the doorstep. Now we need to knock the door down. I'm excited about the future and so are our young men. They don't believe it's a pipe dream anymore."
---
A CU Institution
If you've followed football in Colorado for the past 44 years, you know Larry Zimmer. Larry has been the legendary voice of Buffs football on KOA for the past 39 years. From 1971 to 1996 he also was the voice of the Denver Broncos, serving as color analyst and play-by-play announcer.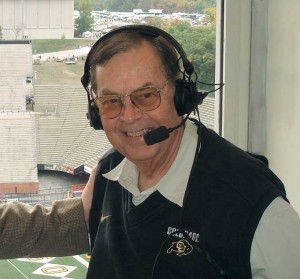 Larry has honored Boulder Magazine with his Buffs Preview every year since 2003. We are proud to publish his super-knowledgeable assessments of the season ahead, and we hope he will write them for many years to come. "I have fun doing it," he says. "It kind of gets me ready for the season." Last October, the night after working the CU-Oregon State game, Larry fell and suffered complications that kept him in the hospital for almost five months and threatened to end his career in the booth, if not his life. An injury from a breathing tube left him with one paralyzed vocal cord, and he couldn't speak for almost a month. The good news is that, thanks to the devoted care of his wife, Brigitte, the CU team who prayed for him every day, friends, fans and "the whole CU family," Larry resumes his role as color commentator for CU's six home games and possibly some road games too. On Nov. 13—his 80th birthday—he plans to retire after 50 years in college football, 42 of them in Boulder. The Athletic Department considers him "almost as synonymous with CU as Ralphie." Larry isn't sure what future projects he may take on; he's just "thrilled to be healthy enough to go back into the booth and do the thing that I love." He says he hopes to be at the Utah game Nov. 28, "and who knows—the last game may be a bowl game." Thank you, Larry—we love working with you. See you next year. —Mary Jarrett
---
For the 50th consecutive year—the last before his retirement—Larry Zimmer will be behind the microphone broadcasting college football. This is his 42nd year as "Voice of the Buffs." Zimmer also has been play announcer for the Michigan Wolverines and Colorado State Rams, and broadcast Denver Broncos football for 26 years. Zimmer, who won the Chris Schenkel Award in 2009, has been inducted into the Colorado Sports Hall of Fame, the CU Athletic Hall of Fame, the Broadcast Professionals of Colorado Hall of Fame and the Colorado Ski and Snowboard Hall of Fame.