All About Quality
29 Dec 2014
Tahona serves up innovative small plates, fine drinks and high spirits
By Kate Jonuska  |  photos by phil mumford With his refined palate and expert knowledge, trained sommelier Peter Soutiere loves to talk about flavor profiles, regional variations and food pairing—but not in regard to wine. After years in fine dining, Soutiere today would much prefer to pour you one of the more than 100 artisanal tequilas on the menu at Tahona Tequila Bistro, which he's owned with his wife, Mara Soutiere, since 2006. "My wife and I fell in love with artisan tequilas, because it is something very much like the wine trade," Peter says. "There are the different nuances of flavor, the materials used for aging, the region in which the agave was grown. Fine tequilas are very similar to fine bourbons, cognacs or scotches."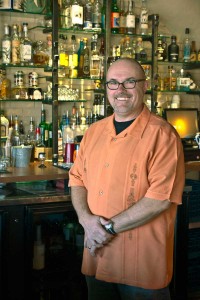 Very similar, that is, except for one notable absence: pretension, which Tahona avoids in all forms. In fact, with its focus on artisanal tequilas and authentic, fresh Mexican cuisine, Tahona Tequila Bistro manages to be simultaneously laid-back and gourmand. The laid-back part is visible from the get-go on the welcoming sidewalk patio. The entire front façade of the restaurant can be opened to the sun—and to the excellent people-watching venue of Pearl Street's West End. "Even if we're not on a beach, we try to cultivate that inside-outside environment when the weather is nice," says Soutiere. He also strives to bring the freshness of the outdoors into the food. "This isn't Tex-Mex. Our food's flavor isn't drowned in sour cream and cheese," he says. "Our food is made the way that real, authentic Mexican food is prepared, with fresh ingredients, fresh vegetables, fresh seafood and meats. Nothing comes out of a can." That includes the homemade tinga, an authentic Mexican chipotle glaze akin to barbecue, on the chicken tinga tacos ($11 for three). The buttermilk fried-chicken pieces and smoky, spicy sauce topped with queso fresco head the list of customers' favorite dishes. Similarly, Tahona's signature pork green chili ($8 a bowl) is composed of three varieties of roasted peppers, tender pork shoulder and asadero cheese, and is made fresh daily. Tahona's entrées are stellar and include enchiladas, a special tamale of the day and the classic Mexican dish chilaquiles ($12). The latter, a melting-pot feast of flavors, includes fresh tortilla chips cooked down with green chili and cheese, topped with two eggs over easy and fresh salsa.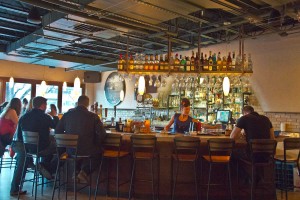 'Not Your Fast-food Tacos'
"But the heart of the menu is really based on things to share, smaller plates—especially with tacos, where you can get one of this kind and one of that kind," says Soutiere, who notes there are at least 10 tacos available every day. "These are not your fast-food taco with choices of seasoned beef or seasoned pork. These are smaller, like Mexican street tacos, and have different, innovative flavors." There are pork carnitas with cabbage salsa; carne con cerveza with beer-braised beef; pork belly with poblanos and tomatillo-avocado sauce; a vegetarian taco with corn, zucchini, spinach, mushrooms and Anaheim peppers; and of course—because "customers might riot" if it disappeared from the menu—the duck tacos ($13 for three). The duck is slow-cooked until tender and moist, and is then topped with homemade pineapple-jalapeño jam, spinach, fried shallots, raisins and cotija cheese.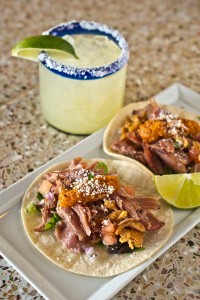 "People also love the duck nachos," Soutiere says. That take on classic nachos features flour-tortilla chips, duck, goat cheese, jalapeños, avocado and a drizzle of sweet soy sauce for $9. "We just love offering more innovative, modern or different ingredients alongside the classics." Innovation can also be seen in daily specials. Or try the Daily Dos, where for only $7 you'll nosh on the day's special small plate and special beverage, which is either a premium beer or, more often, a unique Margarita. Yes, a lot of the tequilas available at Tahona are sipping tequilas, of a quality that savoring them alone is recommended. "But making different flavors of Margaritas and even infusing tequilas is something we're very well known for here," says Soutiere, who tries to have at least six tequilas infused with fruits, vegetables and spices available at all times. "Cucumber, jalapeño and cilantro is probably one of our most popular and innovative styles," he says. "We also do a super-spicy ghost-pepper tequila with lychees. That's one you don't sip. You put it in a Margarita to cool down the spice a bit." Servers and bar staff are almost as educated as Soutiere about their inventory, so don't be surprised when a trip to Tahona for happy hour (4-6 p.m. daily and all day Mondays) turns into a fascinating learning experience. But of course, Tahona's customers aren't all drinkers. "We have so many different types of customers," Soutiere says. "We have our families who come in with their kids, happy-hour people who want a snack and a drink, people who come to the bar to sip tequilas, and then on Fridays and Saturdays, there's the dancing crowd." On weekend evenings after the kitchen closes, the cleared dining room becomes a nightclub with a live deejay. Serving fine spirits and high spirits, the casual as well as the gourmet, is a balance that works for owners Mara and Peter Soutiere. "It's about being high-quality. Whether that be in upscale fine dining or something more casual, the quality is what I appreciate," says Peter. "And that I get to do this for a job? It's just so much fun."
---
Tahona Tequila Bistro (303-938-9600; www.tahonaboulder.com) is located at 1035 Pearl St., Boulder 80302. During its winter season, it's open 4 p.m. until close Sundays-Fridays and 11:30 a.m. until close Saturdays. There's dancing on Friday and Saturday nights after the kitchen closes.
---
Kate Jonuska (www.katejonuska.com) is a Boulder freelance writer of fiction, features and food.