The Greenbriar Inn Crowd
26 Jun 2015
The Greenbriar springs to life with patio pleasures and herb-infused summer cocktails
By John Lehndorff | Photos by Phil Mumford Walking up to The Greenbriar Inn on a sultry July evening is like making a grand entrance at a classy garden party in progress. Couples and families, having cleaned up nicely from the day's exertions, sit shaded by a canopy of trees and sip cocktails while waiting for dinner. Some never go into the restaurant itself, preferring to nibble truffled fries with Béarnaise sauce on the patio or in the bar.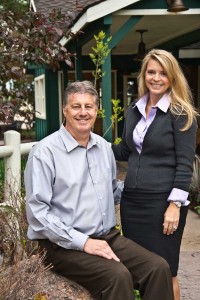 The sight of all those folks soaking up this oasis makes Philip Goddard smile. For 19 years the former biology major has been steadily "greening" the Greenbriar Inn. The 20-acre corner north of Boulder is graced by more than 300 trees, a huge garden, two ponds and a waterfall, all set against the terra-cotta foothills. The Vermont native vividly recalls when he pulled up to the restaurant for his job interview. "I loved it the first time I saw it. It reminded me of a country inn. It was almost like coming home," he says. Goddard started on Jan. 1, 1981, worked his way up the cooking ladder, and then left for a few years. In 1996 he bought the place he now co-owns with his wife and partner, Emma. Goddard set about planting almost immediately, and long before "farm-to-table" became a buzzword. This year he hopes the 7,000-square-foot garden will produce Swiss chard, radishes, peppers, rhubarb, roses, peas, beans and tomatoes for executive chef Matt Ochs. The trout and bass raised in the property's ponds are smoked and served as an appetizer. Originally built in 1873 as a general store and post office for the town of Altona, the building remained open as a gas station until 1960. The Greenbriar Inn debuted in 1967 with a distinctly Continental menu, including Wiener-schnitzel, Sauerbraten with warm potato salad, and lobster thermidor. The "show" was the impeccably choreographed service and tableside preparation of steak tartare, Caesar salad and bananas Foster. Those iconic dishes are still made tableside on request, Goddard says, and a few "forever" classics—beef Wellington, oysters Rockefeller and duck-liver mousse pâté—have resisted retirement.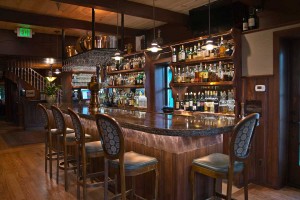 But despite all the tradition and respect for history, this is not your grandmother's Greenbriar Inn. Most of the menu changes six to eight times a year. Chef Ochs' surprising summer lineup includes a starter that mimics an Italian dessert: a shaved-beet and arugula "tiramisu" with goat-cheese mascarpone, tender citrus sections and house-baked ladyfingers. On the light side, for the months when the sunlight lingers till 9 p.m., he pairs grilled Arctic char with basil-lemon-tarragon butter with vanilla parsnip purée, roasted tricolor cauliflower and sautéed kale. Attractions on the bar menu include gazpacho sorbet with a peppered vodka shooter.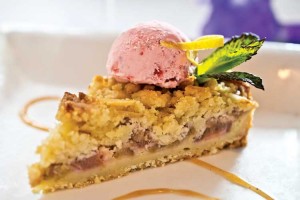 For dessert, resident pastry chef Shelley Katz plates a subtly sweet fresh-rhubarb tart with almond streusel, strawberry ice cream and vanilla-cardamom caramel sauce.
Sundays Are Fun Days
If you mention the Greenbriar Inn to many locals and lots of University of Colorado grads, visions of oysters on the half shell, eggs Benedict and crème brûlée will fill their heads. Sunday brunch was introduced in 1986 and it took off immediately. "We get some people who come for brunch almost every week," Goddard says, and holidays including Easter and Mother's Day are packed with three generations around the tables. The weekly smorgasbord ranges from an omelette bar, French toast and carved prime rib to entrées, salads and a sweet buffet of chocolate-dipped berries, napoleons and bread pudding with crème anglaise.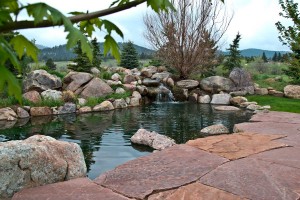 Walk the grounds almost any Saturday or Sunday from spring to fall, and chances are you'll see a bride and groom and a big celebration. Goddard's green thumb has transformed the site into a much-prized wedding location where 40 to 60 couples say "I do" every year. The Greenbriar remains one of Boulder's most comfortable dining experiences where you can have a conversation without raising your voice. The restaurant has quietly stockpiled a wealth of local and national awards for its brunch and its wine list and as a romantic destination, but Goddard says he hasn't spent much time tooting his own horn. Although the 2013 flood plus a fire that gutted the eatery's famous bar were major challenges, the Greenbriar Inn is a survivor that now has a new bar and a bigger patio. "We've seen everything from fire and flood to heart attacks," Goddard says, "but we also see people having the best day of their life. That's what I love."
---
The Greenbriar Inn (303-440-7979; www.greenbriarinn.com) is located at 8735 N. Foothills Highway (U.S. Route 36), about 6 miles north of Boulder. It is open for dinner Tuesday-Sunday, 5:30-9:30 p.m. Champagne Sunday Brunch 10:30 a.m.-1:30 p.m.
---
John Lehndorff arrived in Boulder in 1976 and worked in several Boulder kitchens before landing a short-lived gig as The Greenbriar Inn's first pantry boy. He made salads, appetizers and desserts, and enjoyed working under chef Herman, who now owns the Fawn Brook Inn in Allenspark. 
Photos by Phil Mumford