Better Than Before
19 Jun 2023
How one Louisville couple rebuilt their home following the 2021 Marshall Fire
By Emily O'Brien » Photos Jon Eady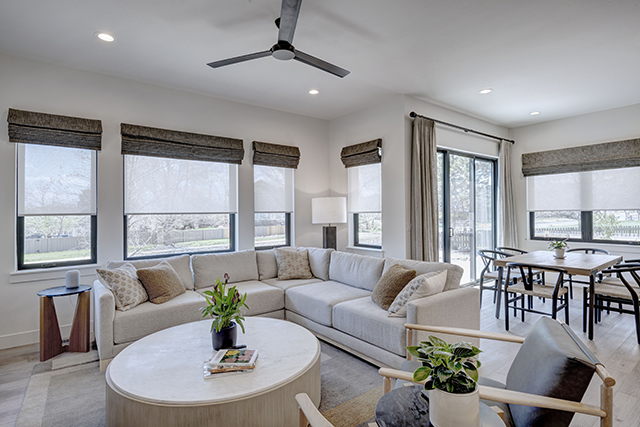 Building a new home was not something Roy and Virginia Howland had planned on doing. But when the 2021 Marshall Fire destroyed their house, along with more than 1,000 others, on that fateful December day in Louisville, they knew fairly quickly that they wanted to rebuild on the same lot.
"We love Louisville and our neighborhood and neighbors, and we wanted to stay here. People were telling us, 'It's going to take you two or three years to rebuild,' which was discouraging," said Roy.
Thankfully, the couple connected with builder Justin Wood of Wood Brothers Homes in Louisville.
"He was more encouraging on the timeline," Roy said, adding that he liked that Wood was from the area. "We felt he was giving us a realistic scenario, which was what we wanted. There was no sales pitch, and everyone from Wood Brothers Homes is genuinely invested in getting people back home. This came across consistently throughout the project."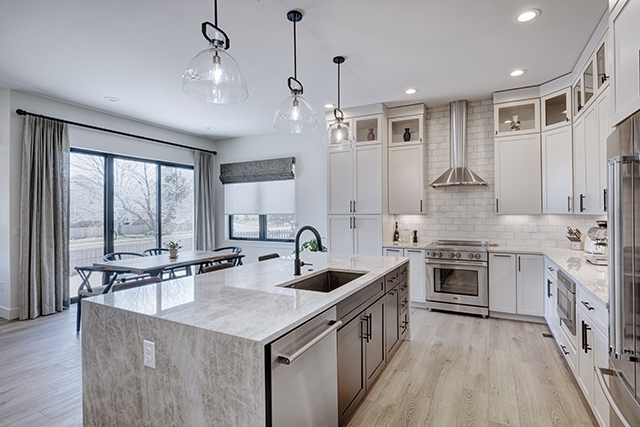 From the Ashes
The homeowners didn't just build a replica of their 2,500-square-foot home; they jumped at the opportunity to make it better.
"We had lived in the prior house for 24 years, so it was easy to identify things we wanted to do differently," Roy said. To achieve their dream home, the Howlands partnered with Whitten Design Group, in addition to Wood Brothers Homes.
The architects at Whitten Design Group helped the Howlands do an inventory of their wants and their needs, considering several elements, such as the size, layout, and desired views. They also explored different interior styles and exterior features. However, throughout all the decision-making processes, the Howlands always prioritized the need for their new home to belong.
"Since their home was at the very boundary of the fire, most of the homes on their street survived," Karl Whitten of Whitten Design Group said. "Together, we forged a design and selected material that keeps up with the palate of adjacent homes, while also giving the Howlands an identity of their own."
The home's new exterior combines Western farmhouse styles with Craftsman features. Internally, the materials, finishes and furnishings are more contemporary. Previously, the home was a four-bedroom, two-and-a-half-bath. Today, the home has five bedrooms and four baths.
"It all came together in the final designs and when we selected all the colors and surfaces. It was fun to watch it become real," said Virginia.
The Howlands also heightened the ceilings to add a sense of airiness and utilized natural stone throughout the home. They installed a mudroom and repositioned the owner's suite to face westward, providing them with a view of the mountains instead of the southeastern landscapes they had before.
"The main living area is much brighter and more open than what we had before. The fireplace came out really nice and makes it a really comfortable space," Roy said. "We also added a finished space in the basement, so the house doesn't feel too big for the two of us but still has a lot of practical living space for a bigger family."
The couple also made the new kitchen roomier since they cook quite a bit.
The Howlands were pleased with Wood Brothers Homes' standard building options, like the solid wood doors, lighting, plumbing fixtures and Euro frameless shower doors.
"They were easy to work with on really anything we wanted, and they went above and beyond what we suggested for areas like the mud room—adding wood paneling with hooks, a built-in bench and shelves so it was fully functional when we moved in," Roy said.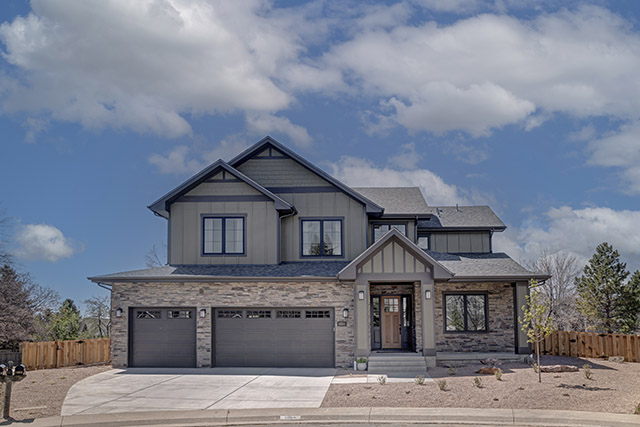 A Relatively Smooth Process
It's not often you hear how quickly a home was built. In fact, it's quite the opposite.
While there were some supply chain issues, Wood Brothers Homes knew how to get around them. Certain materials like appliances and windows needed to be ordered more immediately, long before the building process even began.
And working with the same contractors as they had for the past 13 years came in handy: They didn't have to worry about labor shortage issues, which many other companies encountered.
Effectively, Wood Brothers Homes operated at a lightning-quick pace. They were the first builders to clear a lot in Louisville, which required adhering to unique protocols due to the fire. Wood Brother Homes removed 12 inches of topsoil from the Howland's land, ridding the ground of any contaminants left over by the fire. The company was also the first to complete a rebuild, which was finished on December 16, 2022—just two weeks before the first anniversary of the Marshall Fire.
For Wood and his team, there are no plans to slow down anytime soon. They're currently rebuilding 25 homes, each with different styles and designs—which is unlike most builders, who typically undertake large projects by streamlining layouts and aesthetics.
"We're thrilled to be able to help as many of these clients as we can. Because most of my team actually grew up in Louisville, it's very important for us to help this community look forward and thrive," said Wood.
And for Roy and Virginia, their work has certainly made an impact.
"Words can't adequately describe what it feels like to suddenly not be able to go home and to know you can't go home for what's going to be a long time. We were extra happy that Wood Brothers Homes not only met their timeline but beat it by two months," said Roy. "For people who didn't lose a home in the fire, it seems like it happened a long time ago. But many families are still displaced. We are just so relieved to be back home."