Feature Home: A Contemporary Canvas
26 Jun 2018
This modern home was designed to showcase the artist-owner's paintings, but it's also a work of art on its own.
Photos by Alivestudios.com Text By Lisa Marshall Push open the front door of Jennifer and Robin Johnson's new home and you feel as if you've stumbled upon a gallery of modern French art. Vivid splashes of rose-colored brushstrokes immediately catch your eye, drawing you to an oversized acrylic named "Secret Garden" for the French flower beds that inspired it. Around the corner, deep turquoise hues transport you to Gorges du Loup, a river valley near Nice, France, where the couple used to take their two boys to swim. On another wall hangs an abstract rendering of Renoir's French Riviera garden.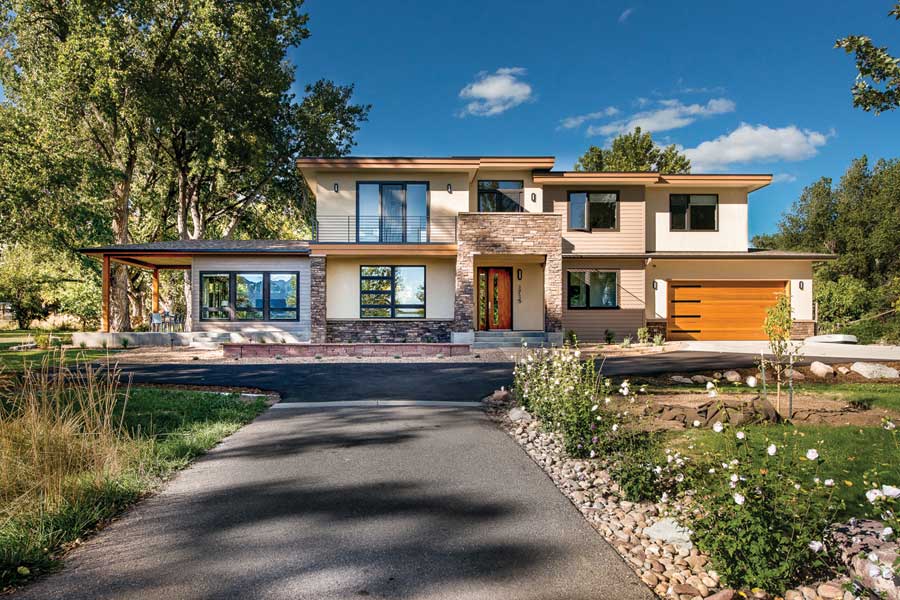 With dozens of Jennifer's original paintings gracing crisp white walls bathed in natural light, it's easy for a visitor to overlook the understated beauty of the house itself. But that's just how they intended it. "In my mind, less is more," says Jennifer, whose family of four moved to Boulder in 2015 after living 13 years in France. "We didn't want the fabric of the home to be so overwhelming you didn't notice the art." But in many ways, the home is a work of art, too. Set back on the grassy, daffodil-studded property, with towering cottonwoods and sweeping Flatirons views, the 3,333-square-foot, four-bedroom home manages to be at once elegant and unpretentious, green and affordable, ultramodern while warm and inviting.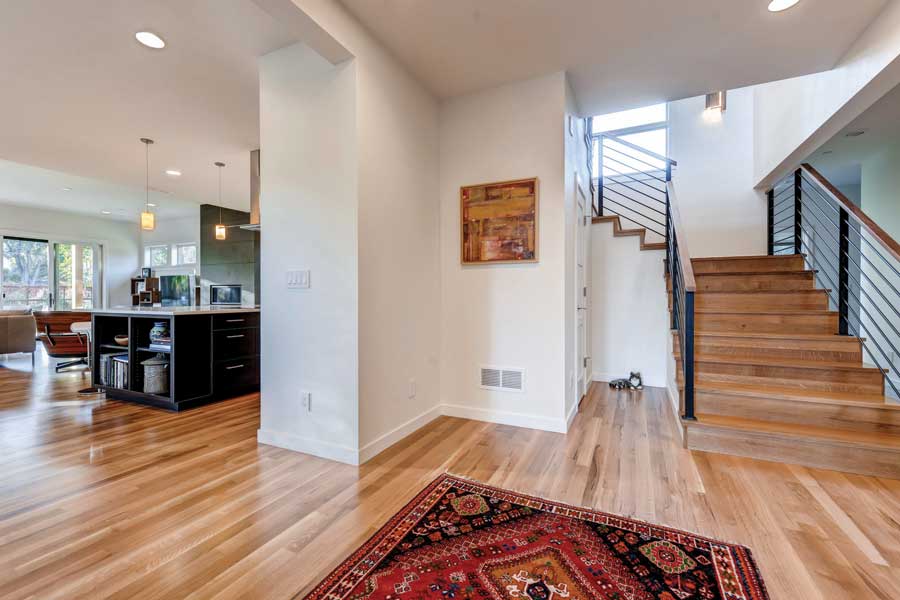 The Johnsons worked with Boulder-based ­Rodwin Architecture and their builder, Skycastle Construction, to design it via Skype from 5,000 miles away and moved in just 18 months after setting eyes on the lot. "Our friends were like 'don't do it; so many things can go wrong building a house. You'll end up divorced!'" Jennifer recalls. "But we took a leap of faith." Adds Robin: "Honestly, it was easy."
Fresh from France to Colorado
Jennifer was working as a communications director for a Fortune 500 company when she and Robin decided to leave their home in England, where he is from, and move to a small coastal village near the French Mediterranean coast.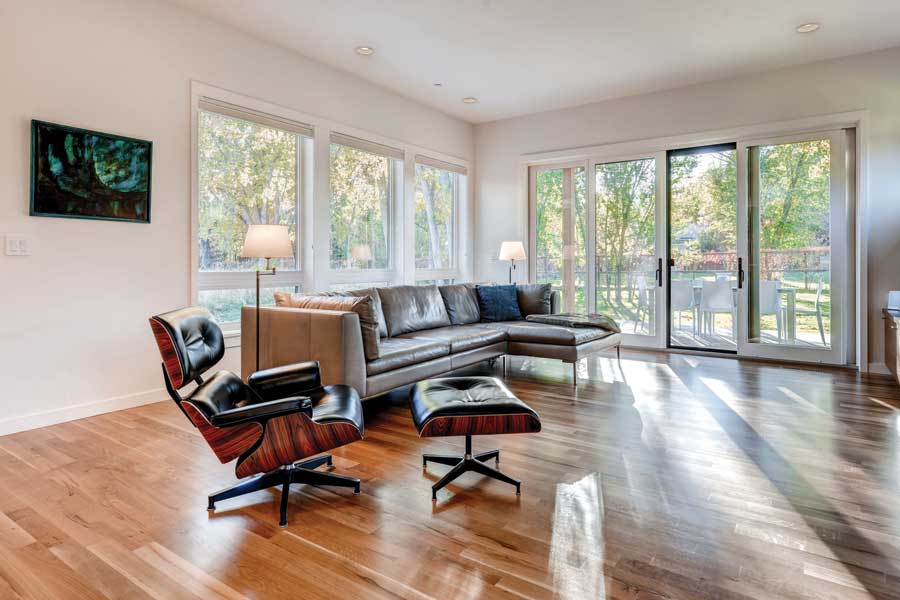 "We wanted to experience life in another country and to raise our kids bilingual so we just picked up and went," says Jennifer, who is originally from Florida. While Robin continued his job as a pilot, she took time off to raise their two boys and nurture her love of painting. From a backyard studio overlooking olive orchards and the Mediterranean Sea, she developed a unique style using layers of paint and bits of fabric to create textural, 3-D abstracts inspired by old photos, distant memories or her mind's eye. The couple recently hosted an Open Studios tour, during which 200 visitors saw her art and heard about her creative process.
"I start out with an intention or end goal, but I'm never entirely sure how the process is going to work out," Jennifer says, noting she often paints over her work a few times, and sometimes flips them sideways or upside down before arriving at a final result. "It makes the end product richer." That combination of intention and open-mindedness served her well when she and Robin decided to move to Boulder, a town they'd spent only a few days in—and fallen in love with—and build a house from the ground up.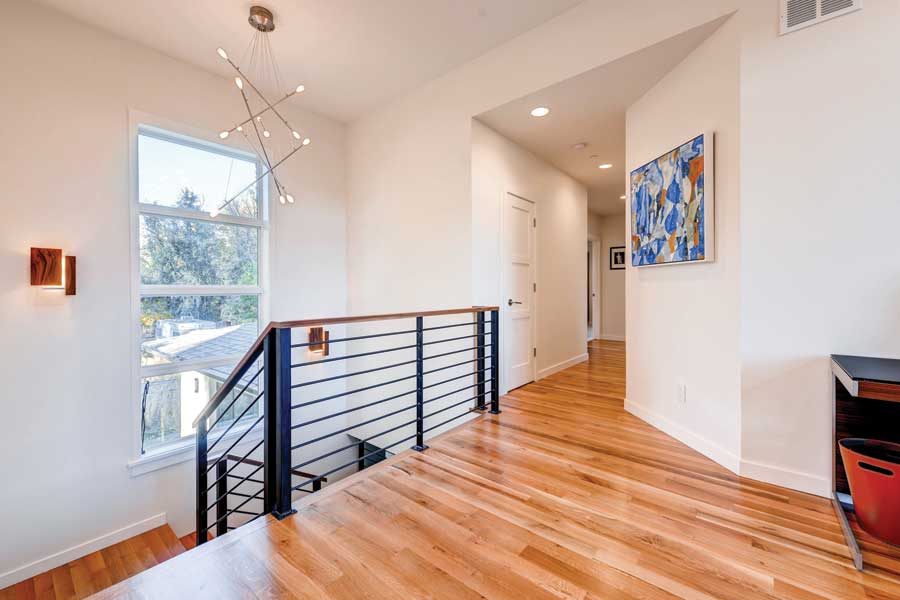 While in France, she scoured the Internet in search of an architect and found Scott Rodwin, the owner of Boulder's Rodwin Architecture firm. During the Johnsons' brief visit to Boulder, Rodwin personally drove them to an overgrown lot he recalled seeing a for-sale sign on a year before. They spotted the sign lying in the tall grass and called the number. Soon they were drafting house plans. "We wanted a feeling of space and light, a house that was easy to maintain and cheap to run, with a design that showcased Jennifer's art," Robin says. They moved to Boulder just as the construction phase began, working closely with Rodwin and Skycastle Construction's general contractor Brandon David, who heads up the build side of the design-build firm.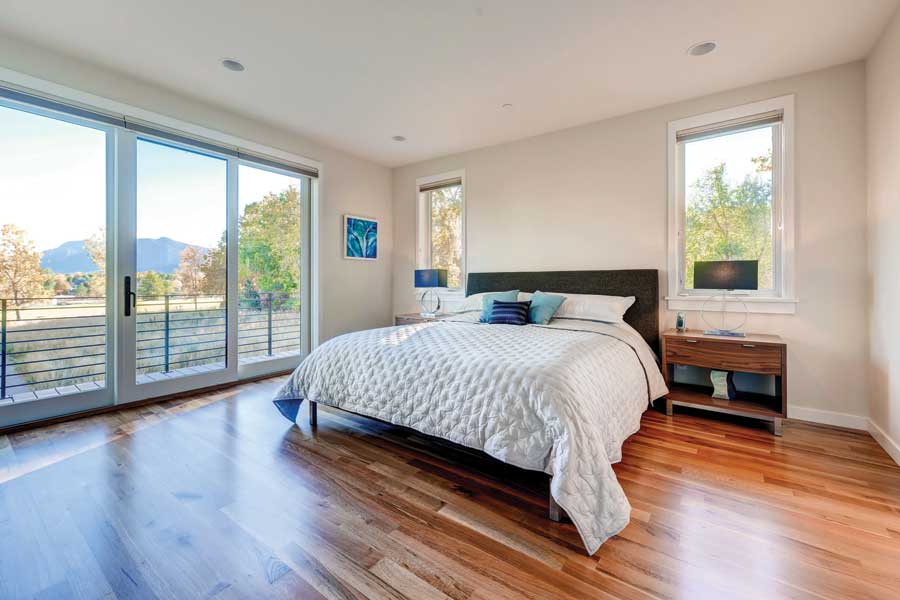 "It's a complete collaboration between our design and building arms so the client's original design intention does not get lost when you do the hand off," Rodwin explains. The Johnsons played an active role, loading pictures of their dream kitchen, great room and master bath on a website for Rodwin and David to view as they all contemplated which materials to use. Then came the tough decisions and the paring phase. Through sometimes-heated discussions over everything from ornamental beams and hot tubs to fancy switch plates and heat registers, the couple always defaulted to their keep-it-simple philosophy. As a result, they managed to stay on budget, on schedule and—they joke—married. "We could have spent another $100,000 on the same size house, but it would have been for things that, in reality, we will never miss," Robin says. They also tried to keep things in perspective. "It's funny how noticeably small items assume great importance when you're building a house with your spouse," he adds. "Compromise is key."
Midcentury, Right-Sized, Green
Tour their final creation today and you'll see a bright open-floor plan, with clean lines, a simple color palette and a design that perfectly reflects their wish list. Large, south-facing windows, discrete rooftop solar panels, well-insulated walls, high-performance mechanical systems and LED lighting give the house a HERS rating of 36, meaning it uses 64 percent less energy per square foot than required by local code. (The utility company even gives the couple a small check each month).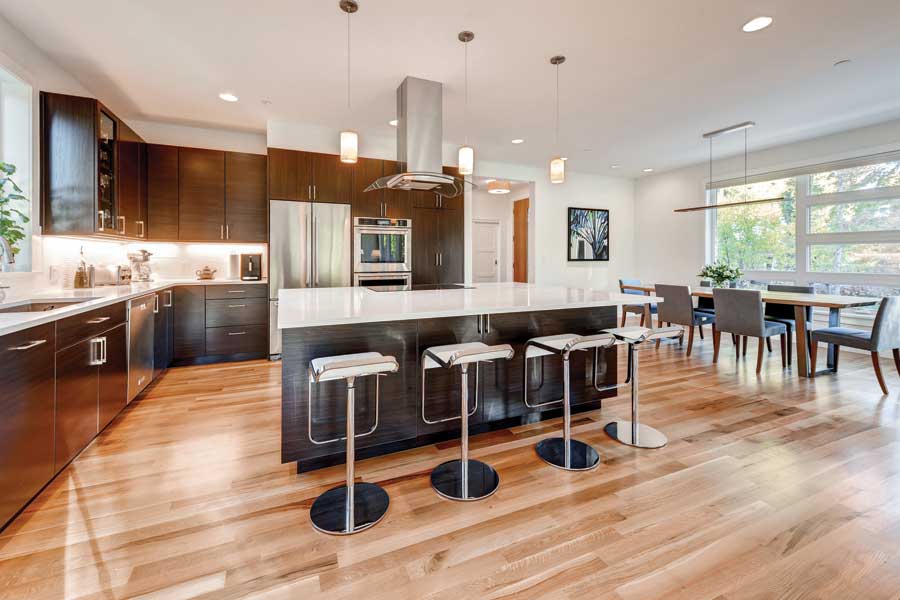 The color palette is simple, with white Caesarstone countertops accented with built-in Wedgewood cabinets. The living room reflects Jennifer's love of modern décor, with gray concrete tiles framing the fireplace, sleek white-and-steel Lem barstools and a midcentury modern Eames chair perched in the corner. A custom-built kitchen table made of solid mahogany from salvaged railway cars complements the oak floors to add the warmth sometimes lost in modern homes. "Some modern architecture, while looking very beautiful in pictures, doesn't feel very warm," Rodwin notes. "We wanted to strike a balance between modernism, warmth and function."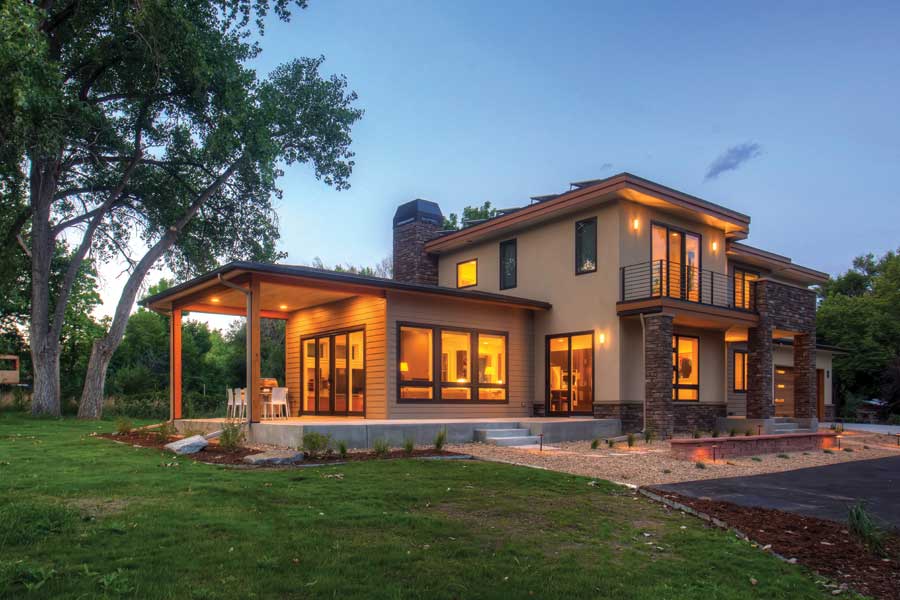 Climb the stairs and a modern white chandelier adds to the art museum-like feel. But step outside the master bedroom onto the wraparound sandstone porch and you know exactly where you are. An owl nests in a nearby cottonwood, and deer and fox frequently cross the yard, while the Flatirons dominate the skyline. "In a lot of ways, it reminds us of France," says Jennifer, of the dry climate, foothills and a community that values art. There's no ocean view, which she admits she sometimes misses. But she has no doubt it will be the source of a whole new collection of paintings. "We love it," she says. "It's home."
---
Resources
Architect: Scott Rodwin, Rodwin Architecture, 1245 Pearl St., Suite 202, Boulder, 303-413-8556, www.rodwinarch.com General Contractor: Brandon David, Skycastle Construction, www.skycastleconstruction.com Concrete Tile Fireplace: Concrete Visions, 2415 Donella Court, Suite 120, Fort Collins, 970-221-1130, www.concrete-visions.com Front Door: Quality Doors and Trim, 1700 S. 120th St., Lafayette, 303-828-2624 Lights: Splashlight Studio, 3207 Walnut St., Boulder, 303-449-3999, www.splashlightstudio.com Kitchen Table/Coffee Table: Revampt, 2601 E. 3rd Ave., Denver, 720-536-5464, www.revamptgoods.com Couch: American Leather, www.americanleather.com Artwork: Jennifer Stanley Johnson, www.jsj-art.com