Outdoor Haven
22 May 2023
Durable outdoor furniture that stands the test-of-time against the Colorado elements
By TERESA A. MCLAMB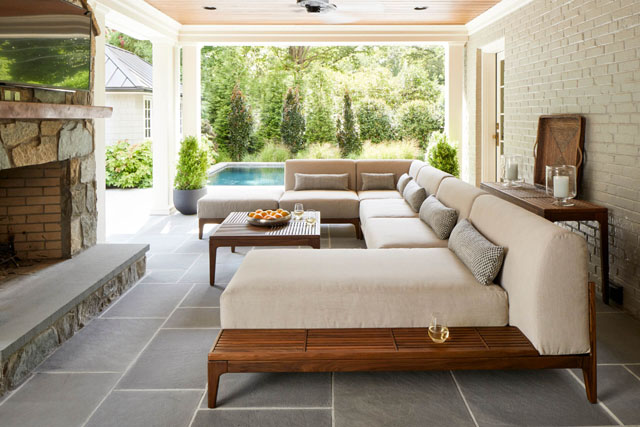 Mention Boulder and the great outdoors comes to mind. Located at the base of the Rocky Mountains at an elevation of 5,430 feet above sea level, it offers wide open spaces, the sandstone slabs of the Flatirons, and incredible opportunities for outdoor sports.
It's also an ideal location to simply relax at home on the patio or porch enjoying the views.
More people seem to be doing this since Covid began, according to Mariah Maydew of Fruehauf's in Winchester, who noted this has caused an increase in the sales of outdoor furniture sets, including large dining tables and extension tables versus individual pieces. Likewise, Boulder's Christy Sports has seen an increase in popularity in sectional and flexible seating furniture that encourages entertaining and truly allows living in your outdoor space, according to Lindsay Kenison, patio furniture merchandise manager for the company. With approximately 300 outdoor furniture manufacturers to choose from, there's a lot of choice out there.
Boulder Magazine spoke with Maydew and Kenison about the outdoor furniture needs and availability to local residents.
With annual temperature fluctuations that can be from below zero to 100 degrees, durability has to be a primary consideration they said. "We choose our outdoor furniture specifically for the Front Range and Rocky Mountain customer," said Kenison. "We will always do our best to select furniture that is best for our dry and sunny climate." Whether the material used for the furniture is aluminum, wrought iron, all weather wicker, wood or stainless steel, the higher quality product is the most durable, she noted. "If you want furniture that will last season to season and year to year, it's important to purchase from a well-known manufacturer and a reliable retailer."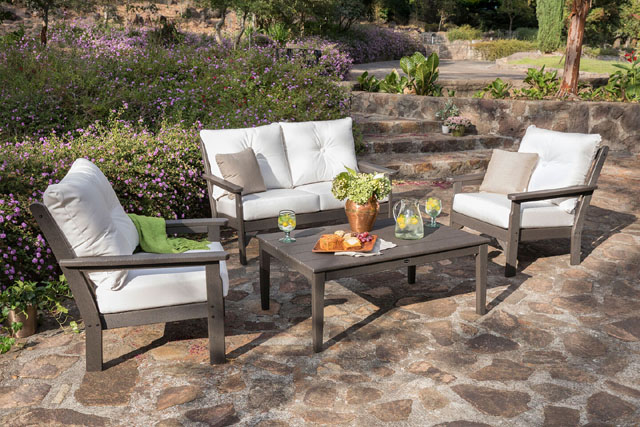 In addition to durability, Maydew noted that weight is important to this locale. "Many of us are in high wind areas and need heavy furniture that will not blow away." Snow, freeze/thaw and high UV are also considerations when looking at how the materials will hold up, she said.
"Patio furniture must be designed and built to hold up in our climate. Using high quality materials and manufacturing processes are a must," she added.
Placement of the furniture is also a consideration. Will it be undercover, in full sun, on a small deck or a large patio. "Considering these questions will help determine what materials will be suited for you," Kenison said. Aluminum tends to retain less heat than other metals, she said, so it does well in full sun. Ipe and teak will take longer to patina if placed in a covered area. Wrought iron is good for high winds, and poly-wood which is color fast can be a good choice for a vacation or rental property, especially since it doesn't need to be covered in the winter, she noted.
Both teak and the Brazilian wood Ipe will hold up in the Boulder climate, with little or no maintenance, Maydew said. "Ipe is a stunningly beautiful Brazilian wood, possessing densely fitted natural fibers impervious to water penetration and is among the hardest woods in the world. The beautiful wood can patina over time, but will never lose its style or strength, making it ideal for Boulder County outdoor spaces," Kenison said.
"Both of these woods can be left outside to weather to a gray color, without affecting the integrity of the wood. Synthetic wicker also holds up well, as long it is produced with virgin vinyl with no fillers, so it will not deteriorate or lose its shape." Powder coated wrought iron and aluminum also do well. She added that cushions should be made with either reticulated foam or bagged indoor cushions and a fabric made of solution dyed acrylic, so that it will not fade. "Even the thread used to stitch the cushions needs to be durable enough to hold up in the elements."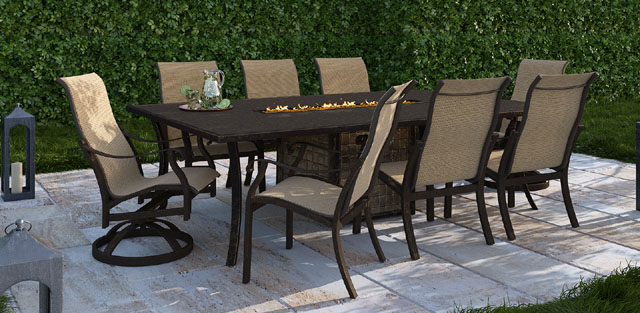 "We are seeing big growth in the composite or poly-wood category. It is an eco-friendly product made from recycled plastics. It is extremely resistant to the elements and has made big strides in style and new looks." Kenison said.
The growth in this market is great for the environment, Mayhew noted. "The brand we carry is made from 100% recycled plastic and has a lifetime warranty, keeping it out of the landfill. Disposable furniture has become an environmental issue, with consumers buying an inexpensive set, then throwing it in the landfill after a couple of years once it starts deteriorating. Quality furniture that will hold in our environment can be an investment, but it will last decades," she said.
Patio furniture doesn't have big swings in trends, Kenison said, which protects your investment when purchasing high quality furniture. We pride ourselves on stocking our stores with classic, transitional and modern designs to suit any buyer and we work hard to carry over many classic pieces from year to year, so you can add to your collection or replace items as needed."
There are a few trends to be noted, however, in several online reports from the 2022 High Point Furniture Market, one of the largest in the world. Curved silhouettes such as the Fermob Sixty's collection, use organic materials with greater flexibility through modular pieces were noted. "Specialty retail stores typically sell patio furniture pieces individually, not only as a set. So, you can customize what pieces you want to fit your space," Maydew noted.
Selecting the pieces you need will require thinking about whether you want them for a single purpose or dual purposes. For example, a dining height fire pit can be used for dining or lounging, Maydew added. You could also consider a fire pit that converts to a coffee table when not in use.
Maintenance of outdoor furniture, even in weather extremes, requires a little mild soap and water occasionally, Kinson said. The exception is for wood, which should be cleaned regularly to keep it from patinating too quickly and looking fresh, she added.
Covering your furniture is also a consideration. "The great thing about Colorado is we can have a beautiful day during our typical cooler months, giving us an opportunity to use our outdoor spaces year-round." Maydew said. "Of course, a fire pit can take the chill off in the evening or on a nice day in fall, while a cantilever umbrella that can angle and rotate depending on where the sun is, can make an otherwise hot day enjoyable. Another great way to always be ready for those nice days is to cover your patio furniture. Then, when you want to enjoy that nice day outside, you just pull the covers off; no need for cleaning!" christysports.com/outdoor-living/patio-furniture.html; fruehaufs.com