Fluent in everything from jazz to blues to Latin, bassist Mark Diamond has been, very quietly, one of Boulder's most versatile, prolific and persistent musicians.
By Dave Kirby There's a chilly snap to the air on an October Monday night at Arapahoe and Broadway, a cool autumn wind scraping leaves over the Boulder Creek Bridge. A muffled rumble resonates from the Riverside. This is a familiar corner to longtime Boulderites. The historic brick-painted sign at the top of the building bears the name 'Yocum,' a remnant of Daniel Yocum's photography studio—once a candy store—that opened here in 1932. Inside, in the street-level room known as the Agora Events Center, The Heavy Cats are working through their set of blues numbers. Blues stringmaster (violin and guitar) Lionel Young is at the mic, peeling off Delta and Chicago blues howls as if it were a second language. At the front of the stage is Mark Diamond, cranking mercilessly on the standup bass. Especially on the more aggressive Chicago blues numbers, the instrument seems a shade out of place, but Diamond makes it feel natural and fluid. That's what a good bassist does: Eschewing showboat antics, his job is to provide a melodic, harmonically precise floor for the guitarists or reedmen to dance on. It's a Blues Jam night at the Agora. The house band takes a 40-minute set and then tees up local players for their turns on stage. Diamond runs the show, keeping a signup sheet posted in front of the stage where local players take their turns. This isn't amateur night. The first couple of players are experienced blues players, older guys who obviously earned their chops in bands years ago, and whose family lives and careers have crowded out the time to play in a band. "I pride my jams on being high-level jams," Diamond says. "They're not school, and they're not for beginners. I encourage beginners, or at least those who might be ready to play at the jam, to still come and watch how it's done. Ask questions. And when they feel like they're ready to join that team up there, that's when it's time."
Growing Up with Cousin Brucey
The Blues Jam landed at the Agora this summer after 10 years at the Boulder Outlook Hotel, where its success persuaded the owners to start booking touring blues acts, turning the Outlook into one of the region's most essential blues venues. Before that, Diamond's showcase night spent 10 years at the Catacombs, and a year or two at the Broker, with various stops like 'Round Midnight and the Rock 'n Soul Café along the way.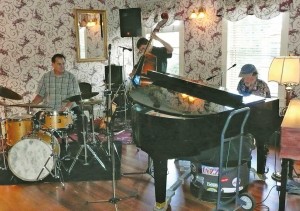 But it all really started when Diamond, who had returned to Colorado after some road work with an outfit called the Seattle Rhythm Band, teamed up with pianist Andy Weyl in 1982 for Happy Hour Jazz at the Mezzanine in the Hotel Boulderado. Their beloved five-days-a-week engagement featured guest players, and helped to forge a partnership between Diamond and Weyl that's still going strong today, 32 years later, with Big Swing Trio. The open-stage showcase has been a long, sometimes strange trip for Diamond, and he's a natural for it. But 23 years after first putting the thing together, he is setting aside the open-stage showcase for now to concentrate on his own gig.  The Agora engagement has given way to a Monday-night residency called "Music Mondays with Mark Diamond and Friends," starting in January at the Bohemian Biergarten. Diamond plans to stage a revolving selection of his own groups (more on those later) and guest artists drawn from his lengthy list of colleagues both locally and from the road—blues, jazz, Latin, and any genre-defying hybrids he can assemble. Club music is the lifeblood of any music scene, and Diamond has been plying this trade since 1974. A New Jersey transplant who grew up with WABC's Cousin Brucey and Harry Harrison on a transistor radio in the 1960s and '70s, Diamond first came to Colorado on a cross-country hitchhiking tour in 1977, fell in love with it, and upon his return to the East Coast persuaded his then-bandmates to join him on a move to Estes Park a couple of years later. It's easy enough to dismiss Estes Park as a tourist town these days, but Diamond says it was a jumpin' music scene back in the day. "When I was there, there were five or six clubs and I worked all of them," he remembers. "There was a real music scene up there back then, amazingly enough. We didn't just play in Estes Park, but boy, on any given night, you could walk into five or six clubs and hear really good bands playing. It was an amazing time."
Bullet Fingers
Diamond, who played piano, clarinet and drums starting in his preteen years, describes his relationship with the standup bass pretty simply: "Only, always. I didn't choose it, it chose me. "My cousin, who was a couple of years older than me, was an upright bass player in his high school orchestra," Diamond says. "He went to college and eventually medical school, and I visited him on a Christmas break one year, and his old bass from his high school days was sitting in a room all by itself, all dusty. On a whim, I said, 'Hey man, mind if I borrow that thing?' "I took it home and just started playing with it. I had no idea what I was doing. But I had a couple of friends, a guy and a girl, who had a duo thing, both playing guitar and singing. I used to play some percussion for them, so I knew all their music. So I brought this bass home, and I'd go over to my friend's house and start plunking away at these songs that I knew in my head, and find my way into them on the bass. Literally three months after I brought the bass home, I was gigging with them, and I've never looked back." For all of its elegant heft, the standup bass is a pitiless master. "It's brutal," Diamond laughs. "It's always a challenging instrument, but especially at the beginning when you're literally bleeding down the strings from the blisters. I'll always remember those days. "To me, the upright has all the elements of the instruments I played prior to the bass. It has the elements of the chords of the piano, it has the elements of the clarinet's melody, it has the percussiveness of the drums. So for me, I'm still actually playing all those instruments."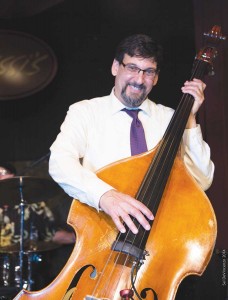 And even if Diamond fell under rock 'n' roll's spell like so many of his generation, he also absorbed classical and Latin music, the latter a product of the huge Puerto Rican population in the New York metro area. But eventually, almost inevitably, Diamond started exploring jazz. Follow Mark Diamond's many gigs at http://www.markdiamondmusic.com "I think the first jazz tune I ever played was 'Take Five.' I remember going to a jam session very early in my bass-playing days—I was not at any skill level—and I had these giant blisters on my fingers. I was jamming with these guys who were really good, and I wasn't any good, and someone called 'Take Five,' and I had to endure making it all the way through the song with these bullets on the end of my fingers."
Heavy Cats and Purple Squirrel
These days, Diamond divides his time into a lot of different pieces. He holds down the Big Swing Trio and The Heavy Cats gig with Lionel Young; he plays in a funk/groove original ensemble called Purple Squirrel, the Latin ensemble Los Bohemios, the diverse rock band Milestone and his tango project, Trio Arrabal; and he backs local songwriter Jeff Brinkman. A really good standup bassist is a hard thing to find. Reduce that to one that can play jazz and blues and 'grass and Latin, and around here that's Mark Diamond. Between gigging and hosting blues and jazz jams, Diamond has played a dizzying number of rooms around Boulder. These are the laboratories where music scenes are born, grow and flourish. Diamond has been deep in the trenches of this scene, watching part-timers who have never heard each other find common ground, exchange solos, shade and interpret just-discovered songs, or just jam for the sublime exhilaration of jamming, meanwhile crafting his own sound, stretched across roots music, pop and assorted esoterica. By some unwritten law, most musicians tend to work assiduously inside their own silos, but Diamond draws from the intimacy of the club scene and the unexpected revelations of part-timers to shape and inform his own musical voice. In some ways, it's all part of his own education. Any player worth his salt will tell you that an honestly embraced musical education never, ever ends. By extension, of course, Diamond has learned a lot—maybe more than he ever wanted to know—about the Darwinian fortunes of the bistro business. Does Diamond ever imagine easing up on the gigs and maybe opening a joint of his own? "Ha! Never. Do you remember the great [famed Boulder saxophonist] Spike Robinson? For one year of his life, he ran a jazz club. It was his club, in the south part of Boulder. A little before my time. "He repeatedly said to me that it was the worst year of his life."
---
Dave Kirby has been writing about music for various publications since 1978. He lives in Boulder with his wife and their two white German shepherds, one 17 years old and one a puppy.