A Writer's Workshop
05 Oct 2016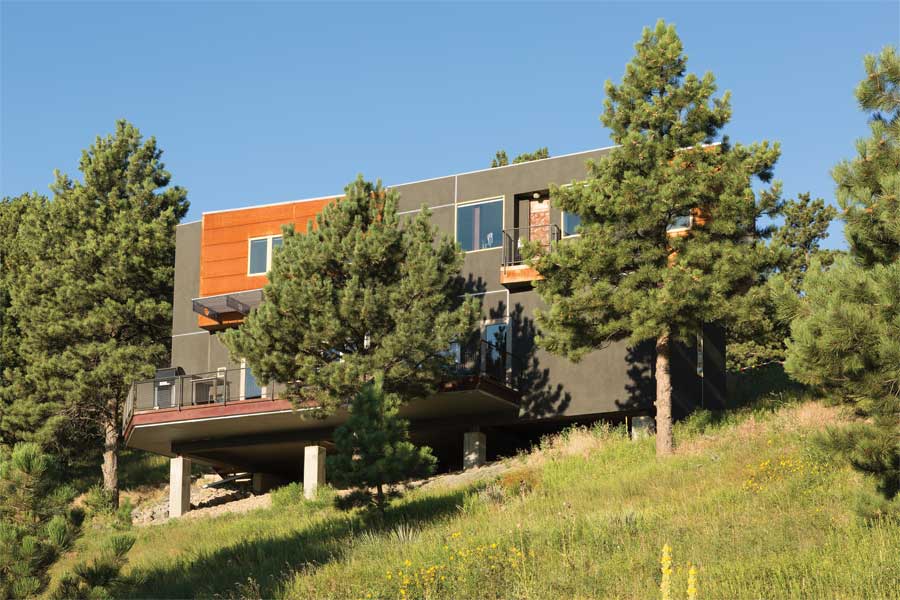 This mountaintop home is a creative, restful retreat for its author/owner
By Lisa Marshall Photos by Paul Weinrauch, www.weinrauchphotography.com Life throws curveballs. Sometimes you strike out; sometimes you hit a home run. Kerstin Lieff somehow managed to hit it out of the park after getting the biggest curveball anyone could. In 2006, she lost her husband to cancerous brain tumors. She sold the house they'd lived in, full of too many memories to bear, and rented a cabin to try to pick up the pieces. "Once Bernie died," she says, "I had no idea what to do with myself." Shortly after Bernie's death, Lieff was riding her bike up some steep mountain switchbacks when she spotted a sign for 101 acres of land for sale. On a whim, she called the real estate agent, who steered her in the direction of another nearby property owned by the daughter of an Auschwitz survivor. "The agent said, 'She only wants to sell to people she likes, and she would like you,'" Lieff recalls. When she visited the property, Lieff was overcome with emotion. "It was just this incredible moment in time. I felt like Bernie was with me, and I felt like I belonged here." A year later, she put pencil to paper and penned a vision for the home where she would begin a new life without him: "I want a contemplative space, comfortable, cozy, inviting, warm, light. Something gentle to look at, but not distracting; some green, perhaps a peephole to see all is OK out there…" And the whole time she was pursuing a long unrealized goal—a college degree in environmental design. For her final project at CU Boulder, Lieff designed her own house, and in 2007 she drafted a nine-page narrative for her class, envisioning a modest, unobtrusive structure that would lie on the ridgeline like a train passing through the forest. "I want to blend with, and feel like I am part of, something that was always there. I want the earth to say thank you for coming…" And she took a creative writing class with her remaining three college credits. Both decisions would shape her life more than she could realize.
More Curves Ahead
Today, Lieff spends most of her time perched over an antique Asian desk working on a novel in her second-floor bedroom that overlooks a remote, wildflower-studded 35-acre property in the Boulder foothills. Her memoir, Letters from Berlin: A Story of War, Survival, and the Redeeming Power of Love and Friendship, tells the story of her mother's coming-of-age in Hitler's Germany and subsequent imprisonment in the Russian Gulag. It won a Colorado Book Award in 2013—the same year Lieff received a master's degree in creative writing from Fairleigh Dickinson University. In 2014, the dream home she designed in college was completed. But the road to her new writing life in the mountains still had some curves.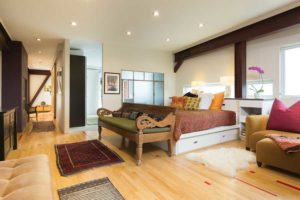 A trusting soul, Lieff had put complete confidence in a general contractor while she worked on her memoir. She realizes now she should have been more focused on the house. "Honestly, everything that could go wrong did," says Lieff, as she walks through her one-of-a-kind home that was seven years in the making.  "I didn't think that it could ever actually happen." Over the course of the next few years, she says, that contractor would embezzle hundreds of thousands of dollars intended for the house (she ultimately took him to court and recovered most of it). He'd also make a series of critical mistakes—poorly installed siding, roofing and decking—that had to be ripped out and corrected. "It seemed like every time we had a task to perform we found screwups on the other guy's part and we had to fix them," recalls general contractor Rick Benson of ­Boulder-based PR Homes, who came to Lieff's aid and helped finish the job. Eternally optimistic, with a tangle of red curls and warm blue eyes, Lieff managed to stay positive throughout, moving into the 400-square-foot guest studio above the home's garage for two years and calling on a new set of trusted contractors and artisans to help her finish the job. At the end of the workday, they'd often find an impromptu feast of grilled meat and veggies waiting for them on the spectacular deck that sports a bar with windows that open directly onto the airy kitchen. "I've had clients who would hit the ceiling at the smallest thing, and despite everything she went through, she remained patient and kind throughout the entire thing," recalls Dan Roman, of Arvada-based Romanform, who handcrafted the home's custom, white-concrete kitchen countertops and artistic sinks. "She's just a warm and thoughtful person" who's quick to smile and laugh.
A True Original
When you pull up to the one-bedroom, 2,100-square-foot house today, you immediately see its uniqueness. Bold green garage doors on the adjacent guest studio add a splash of color to the earth-tone stucco and metal siding that help the house blend into the rugged landscape. To reach the front door, you cross a wooden entry bridge. With its faint patina, revolving mount and iron pull, the door is impressively engineered. Santa Fe–based La Puerta Originals, which specializes in custom doors, refurbished the door that once served as an Indian temple entrance. Owner Scott Coleman crafted another door for the guest suite from vintage, multicolored Mexican doorjambs.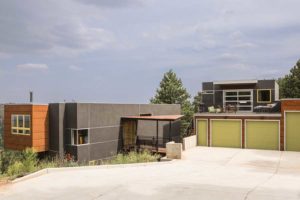 Inside the main house, you find a design that—like its designer—defies expectations. In the ceiling, steel beams and heating pipes are artfully exposed. (As a design student, Lieff always thought it was a shame to cover them up.) In the kitchen rests a queen bed nestled in an alcove (a nod to Bernie, who used to lie on a bed in their old kitchen to read the newspaper). The enormous dining table has a removable top to double as a pool table, and an ancient Indian wooden altar hangs above it. Recycled materials, Asian antiques and artwork embellish the home's modern colors and finishes. The dining-room floorboards were once bleachers at Regis Jesuit High School. Many of the vintage-looking sliding doors were recycled from Brighton-based Queen City Architectural Salvage. "I like to watch my neighbors through them—hummingbirds, blue jays and bears," Lieff says. A quirky portrait of John Lennon hangs beside a whimsical barnyard scene, while a chilling mixed-media portrait of a Depression-era church by artist Paul Andrews illustrates Lieff's respect for the past. The upstairs suite—quiet and cool, with sweeping views to the east—feels like a restful sanctuary where Lieff is free to create. The master bathroom has a Japanese soaking tub for quiet contemplation and an outdoor shower surrounded by woods. Natural light floods the master bedroom through long and low rectangular windows (perhaps the "peepholes" Lieff envisioned) at eye level with the bed. The room's antique desk is expressly reserved for writing—no bill paying or emailing allowed. "I always saw myself up here writing, and here I am," says Lieff, creating the next chapter in an accomplished life.
Dining Room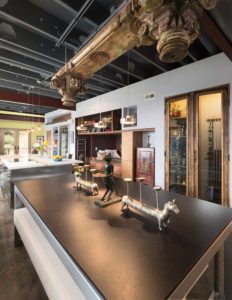 A wooden altar that lived its past life in India hangs above the dining table, which converts to a pool table. A queen bed tucked into a nook in the background is ideal for reading the morning paper, as Kerstin Lieff's late husband used to do in their former kitchen.
Front Door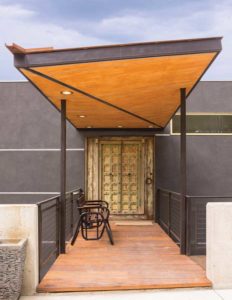 Lieff's front door used to be the entrance to an Indian temple. She sourced the restored antique from Santa Fe–based La Puerta Originals.
Spacious Patio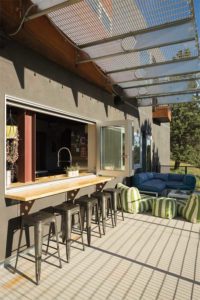 When Lieff entertains, she simply passes food and drink through the large retractable kitchen windows to guests soaking up sunshine on the spacious patio.
Powder Room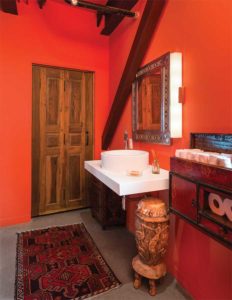 Color and art even extend into the downstairs powder room.
The Loft
A cozy loft is the perfect play place for Lieff's grandchildren when they visit.
The Guesthouse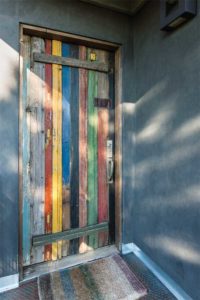 A custom guesthouse door was made from vintage, multicolored Mexican doorjambs. Salvaged materials throughout the home lend complexity, color and texture that complement the austere architectural lines.