Fabulous Fire Pits
10 Jun 2021
Bill Melvin was grateful he installed this fire pit in his yard in 2020, just when the pandemic was starting to sweep the country.
Fire pits add instant warmth and ambience to outdoor spaces
By Carol Brock
There's something comforting—and innately human—about sitting around a fire with family and friends. Especially during the pandemic, as fire pits provide a sorely needed social balm in a safe environment.
"Our fire pit has been a lifesaver during COVID," says Bill Melvin, owner of Ecoscape Environmental Design in Boulder, which installed a 2-ton granite-slab fire pit in his backyard when stay-at-home orders were enacted in spring 2020. "It allowed us a safe place to gather with friends, particularly this past winter, as the isolation grew old and we really needed some sense of socialization."
If you're thinking of adding a fire pit to your landscape, here are some designs by local companies to fan the flames of your imagination.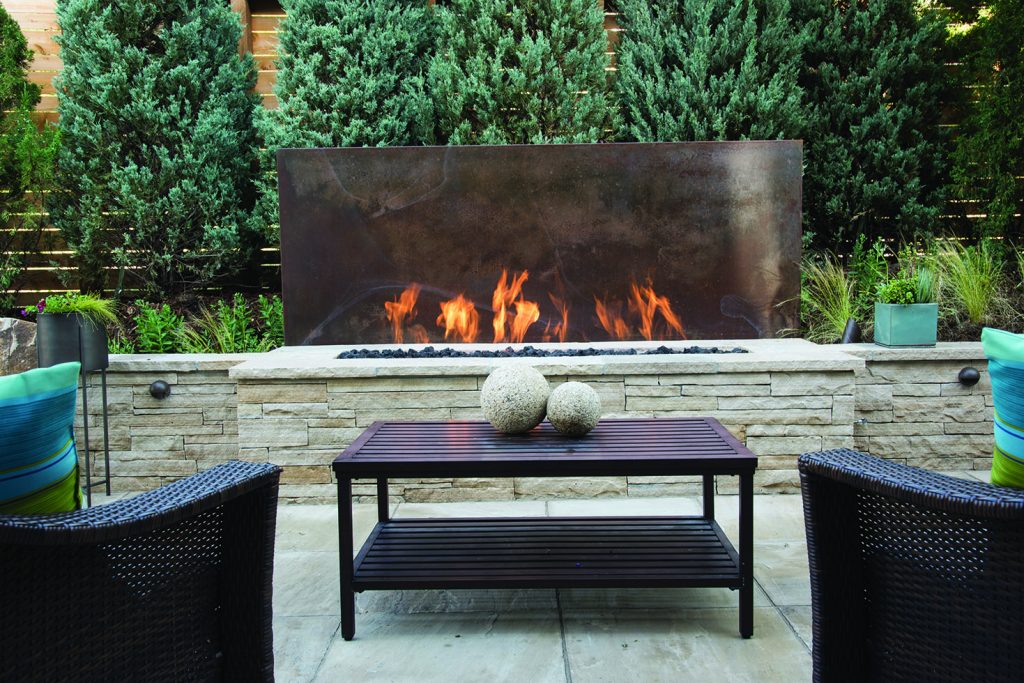 Masterfully Modern
A cold rolled steel sheet separates flames from plants in this modern fire pit made of New Mexico buff flagstone installed by Ecoscape Environmental Design. Oversize sliding glass doors face the outdoor space, which offers enjoyment not only from the patio and deck, "but from the dining room, living room and kitchen inside the house," says designer Bill Melvin.
---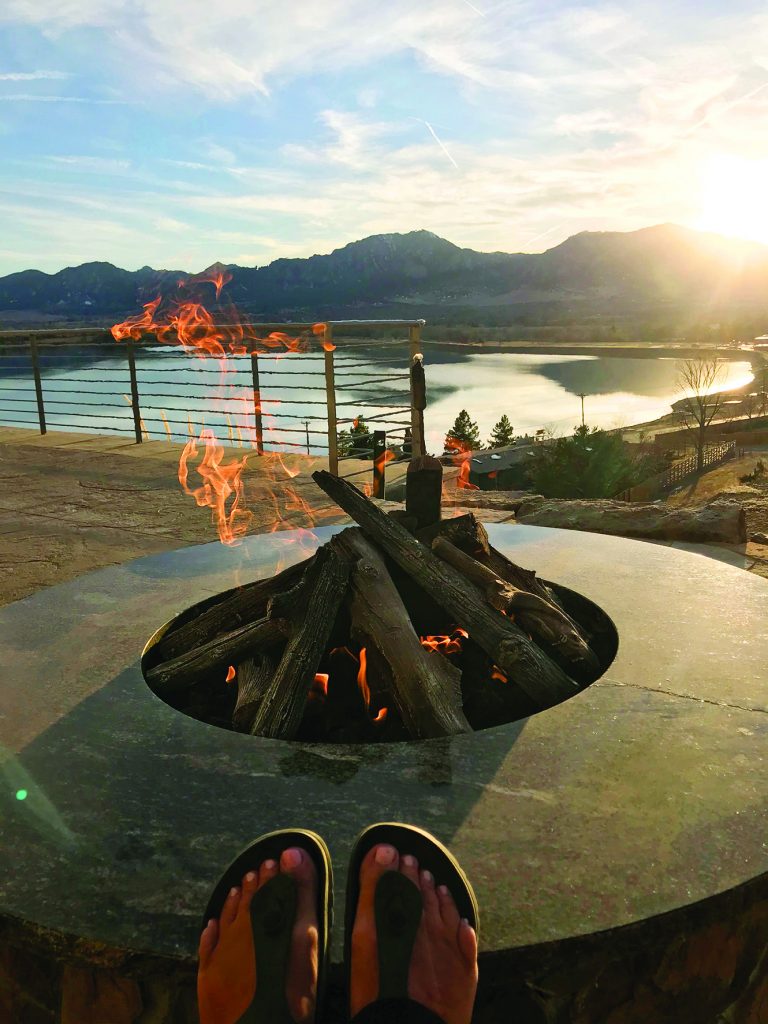 Baseline Beauty
Changing Landscapes built this gas fire pit with Colorado buff flagstone, cobblestone and a polished granite cap to match the home's existing stone. "Stacked faux fire logs above the lava rock add ambience," says Paul Hartman, whose firm designed the pit. Homeowner Laura Zuckerman says, "It's wonderful to have a place in our garden where we can all safely gather. We roast marshmallows for s'mores and the dogs fall asleep by the fire. It's glamping without the tent."
---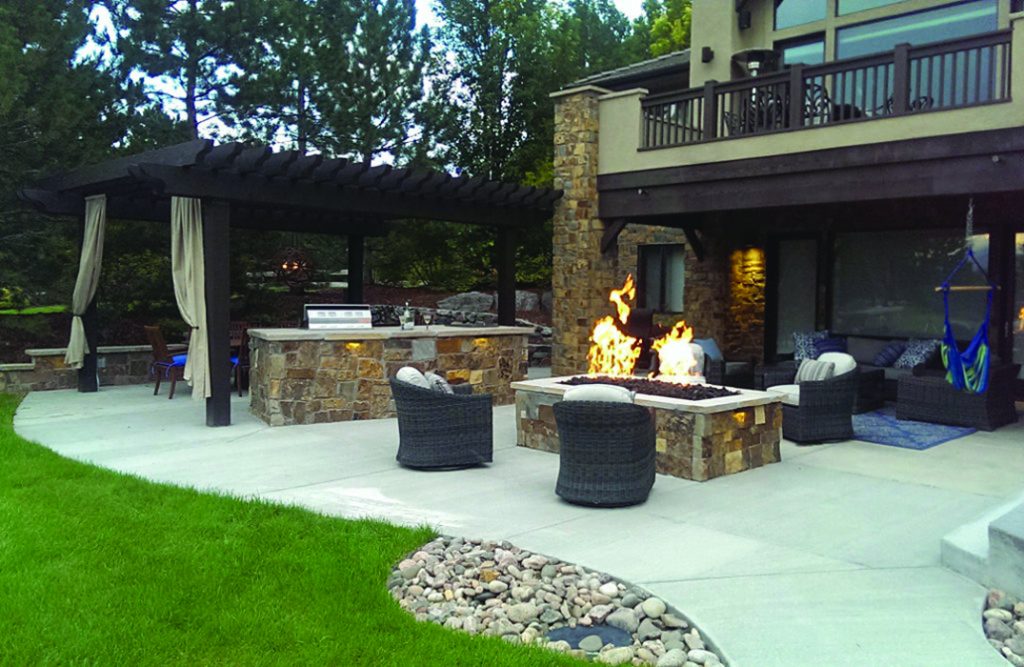 Go with Gas
Jordan Oliver, owner of Garden Art Landscaping, often enlists The Gas Connection in Broomfield to install gas lines for a fire pit and tie them into the meter. "The flames put out from fire pits done in this fashion are taller, brighter and much warmer than propane, or than just using a small, three-quarter-inch gas line that's for a grill," he says.
---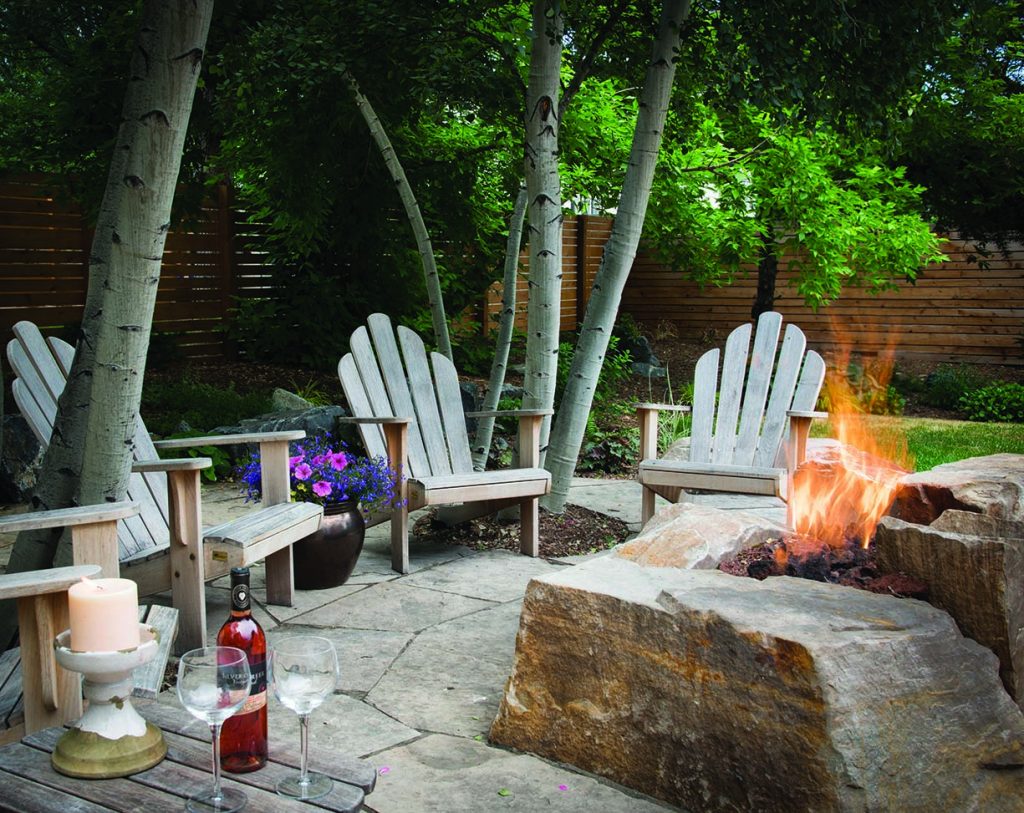 Rustic Retreat
This Colorado-style fire pit designed by Ecoscape Environmental Design features large buff boulders set into a flagstone patio flanked by native aspen trees. Says designer Bill Melvin, "The Adirondack chairs offer just the right touch to kick back on a cool evening warmed by the flames."
---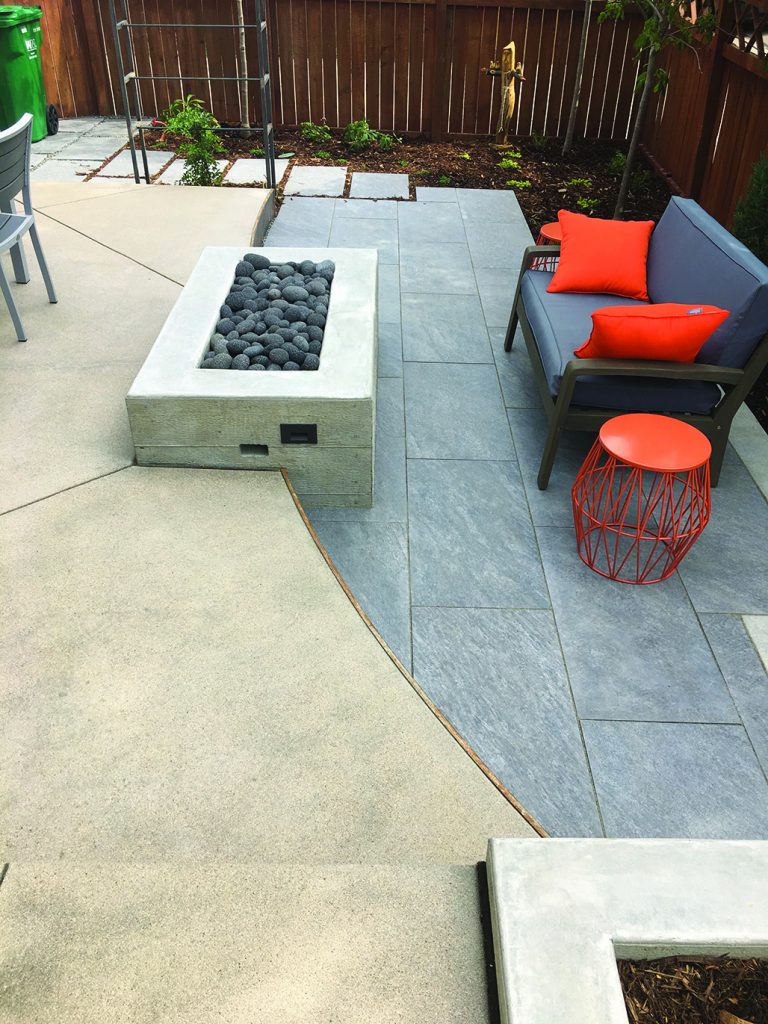 Eye-Catcher
Contrasting materials make this small Lafayette side yard an eye-catcher. Designed by Ecoscape Environmental Design, the concrete fire pit creates a dynamic focal point by neatly bisecting the patio made of ceramic tiles and sandscape finished concrete.
---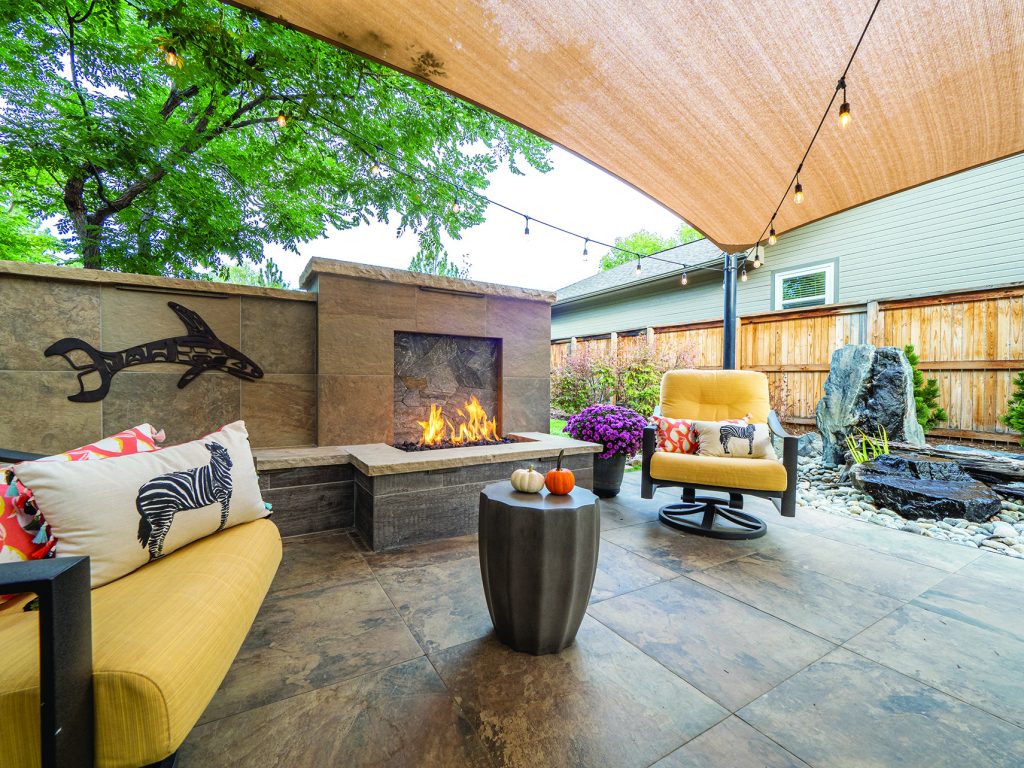 Form and Function
These homeowners wanted a space that offered neighborhood privacy and warm intimacy at the same time. So Ecoscape Environmental Design created an upright fire pit of ceramic tiles and quartzite stone to screen views and invoke a welcoming atmosphere. "It's a wonderful fusion of form and function," says designer Bill Melvin.
---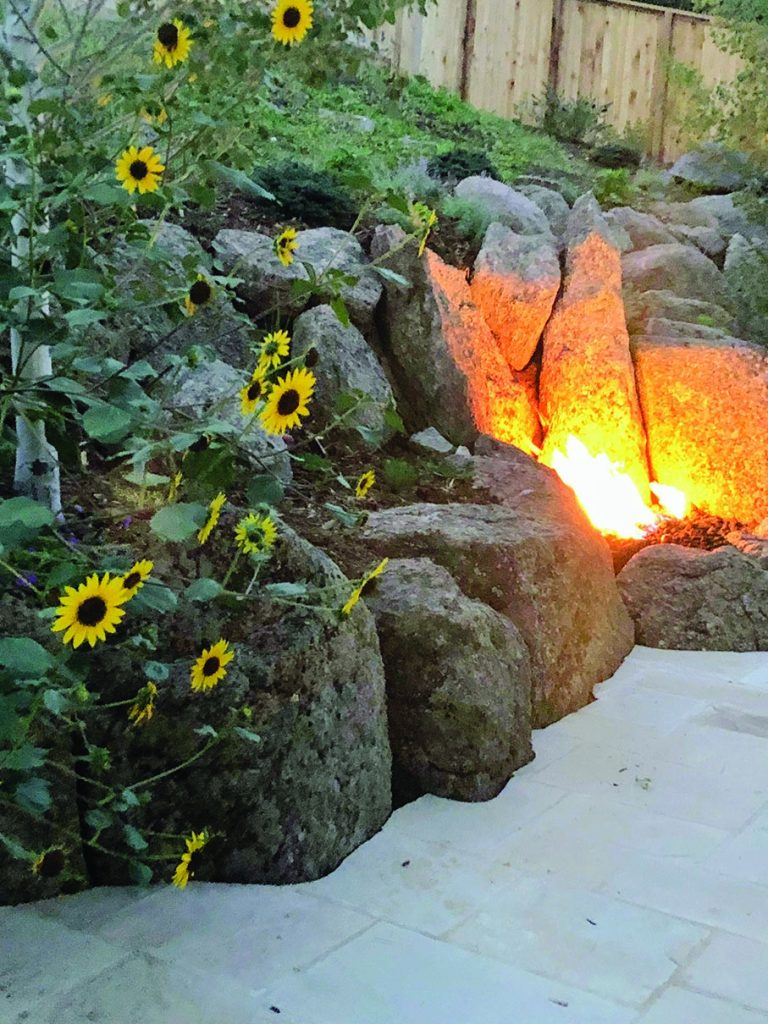 Foothills Flamer
Boulder's Changing Landscapes created this gas-fueled fire pit for a couple of Texan transplants. The challenging project required specialized equipment to get the moss rock boulders up a steep slope, which the boulders now help stabilize. "Our fire pit keeps us warm while we snuggle together and watch the dancing flames," says homeowner Scott Morgan. "We count all the stars, with all our blessings."
---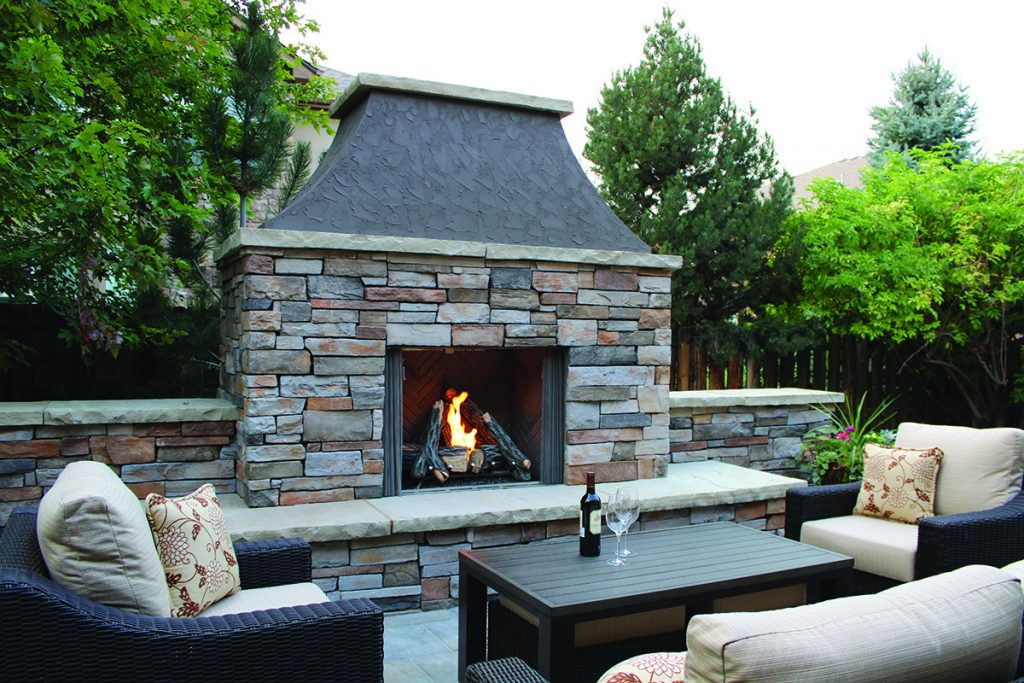 Warm Retrofit
If an existing fire pit needs a little more oomph, consider retrofitting it with a higher gas volume burner element, says landscaper Jordan Oliver of Garden Art Landscaping. Manufactured outdoor gas fireplaces typically put out between 75,000 and 90,000 British Thermal Units. This fire pit was retrofitted to achieve 250,000 BTUs, Oliver says, "which is much more heat than a traditional gas log premanufactured insert."
---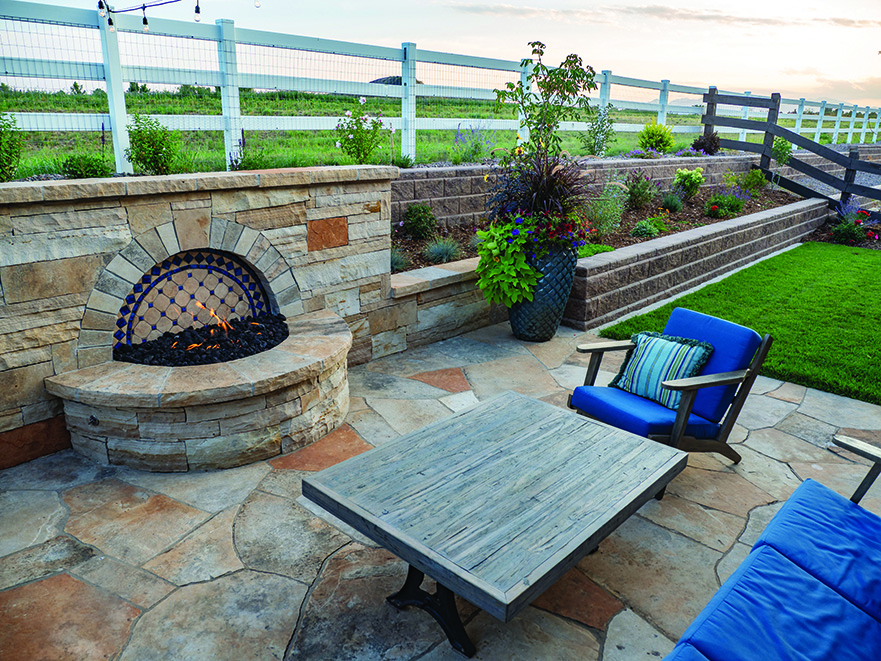 Vista Views
"With such large vistas, we wanted to create an intentional focal point to this outdoor patio space," says Bill Melvin, whose company designed this gas fire pit that boasts black lava rocks. The artfully crafted tile backdrop nicely contrasts with the neutral stone mantel and hearth made of Colorado buff flagstone.
---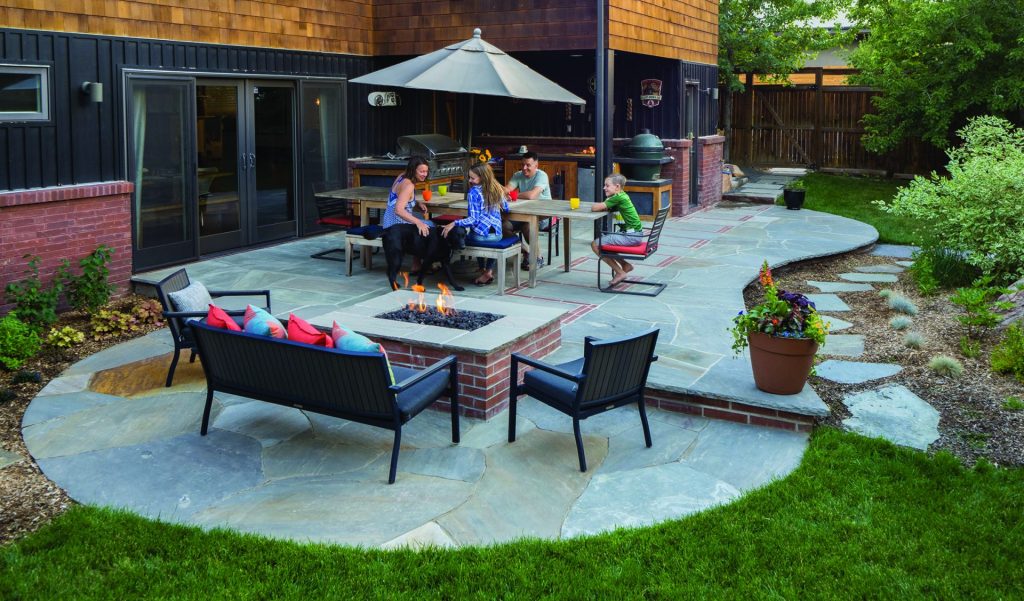 Brick by Brick
The bluestone capper and red brick in this fire pit beautifully integrate with the bluestone patio and home exterior. The repeating brick pattern weaves effortlessly into the free-flowing shapes in the patio to "create exquisite, complementary geometries," says designer Bill Melvin, whose company created this unique family gathering space.
---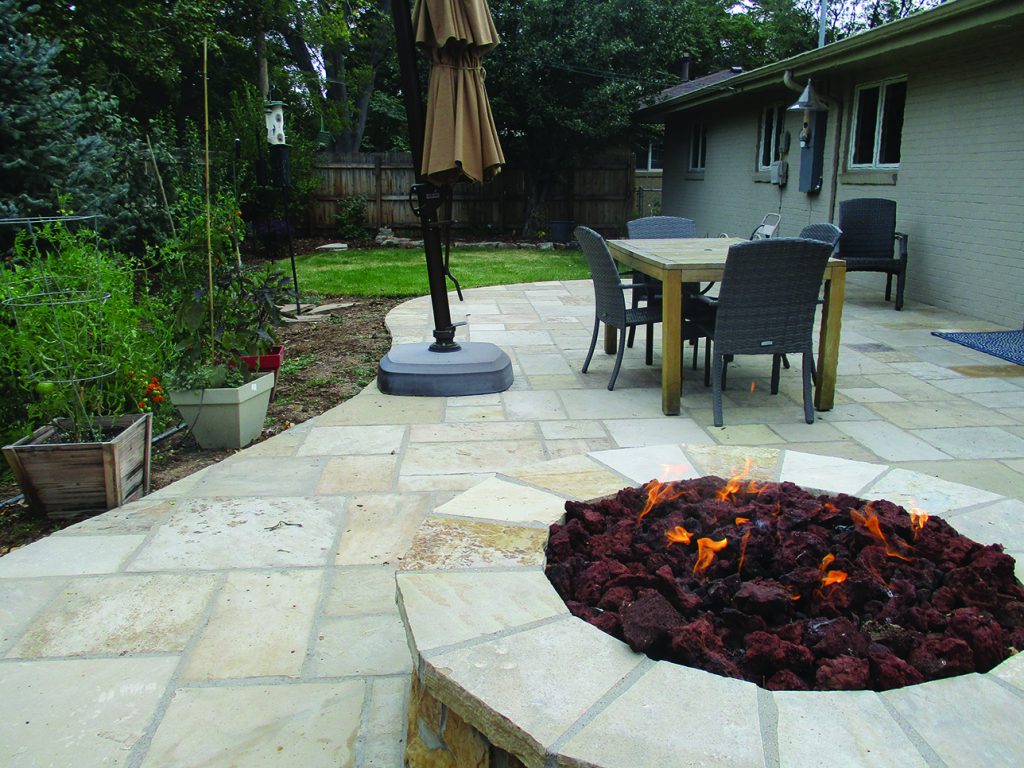 Going In Circles
Custom circular fire pits are generally 52 inches in diameter and 24 inches in height, says landscaper Jordan Oliver of Garden Art Landscaping, which designed and installed this pit. "The most important part of a fire pit is to have great flames in the burner element," he says. His company uses custom-built, adjustable stainless steel dual circle burner elements for "the best and tallest flame output."
---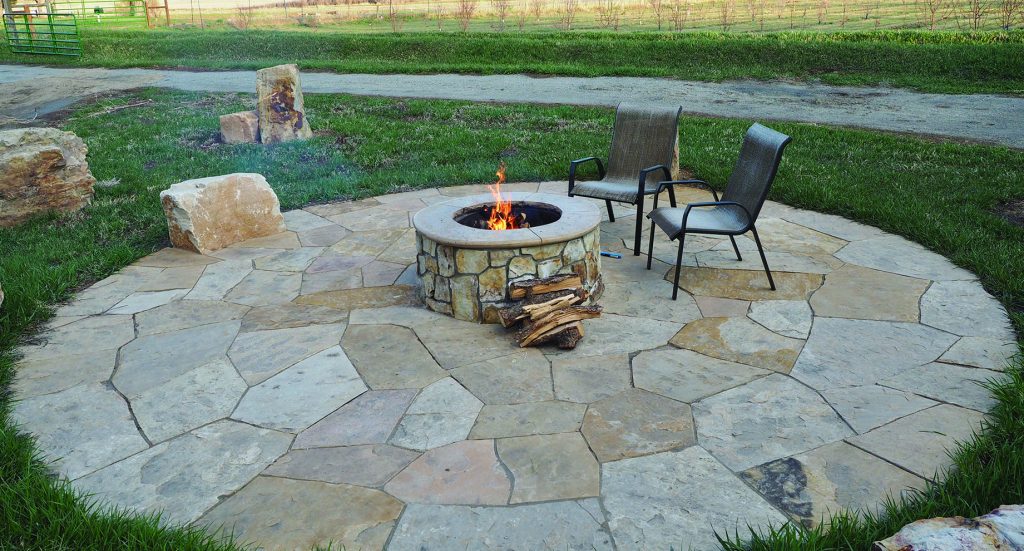 Apple of My Eye
Cherokee boulders for socially distanced seating ring this rustic fire pit. Paul Hartman of Changing Landscapes installed the wood-burning pit on a heritage apple orchard he owns with his wife, Sue, where the couple tends 700 trees for making hard cider. The pit was the site of many guitar jams and wassailing this winter. "Charcuterie sometimes appeared, which we paired with an appropriate cider," Sue says. "Every night was magical."