Farmhouse Favorites: How to infuse any room with farmhouse style
08 Mar 2018
Author Kim Leggett believes that the best elements of the farm can be repurposed for urban living.

By Kim Leggett excerpted by Lisa Truesdale Growing up in a small Tennessee town, Kim Leggett vividly remembers how her grandmother's house always seemed to be the most stylish place in the neighborhood—but also the most comfortable and welcoming. Some of her fondest childhood memories were created in the dining room, with its rustic table and mismatched chairs, next to a vintage sideboard that held rows of pies during the holidays and untold treasures and trinkets to be discovered in its junk drawer. Now an accomplished interior designer and antiques dealer in Franklin, Tenn., Leggett has written a new book, City Farmhouse Style: Designs for a Modern Country Life. It's inspired by her grandmother's imagination, creativity and reinvention, she says, and so is her career. City farmhouse style is more of a lifestyle than a formal definition of decorating, Leggett explains. Although once-functional pie safes are now modern-day centerpieces in a room and old mercantile signs are prized objets d'art, Leggett believes that the best elements of the farm can be repurposed for urban living. "The beauty of farmhouse style is that it recognizes no boundaries," she notes in her book. "It embraces an eclectic mix of periods and aesthetics, combining the traditional farmhouse of decades ago with modern trends of today." Here are some tips from her book to help you integrate this distinctive style into your home, whether it's a tiny apartment, a spacious loft, an older house or a sleek contemporary. (also see Resources below)
Matching the mismatched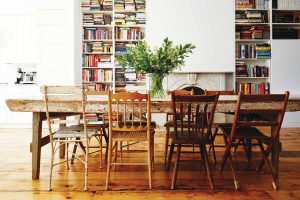 A narrow farm table is paired with an interesting mix of diminutive mismatched chairs. The slim, structural shape of the salvaged marble mantel makes it as much an art form as a practical firebox surround. Flanking the fireplace are custom bookshelves that reach to the top of the high ceilings.
White-on-white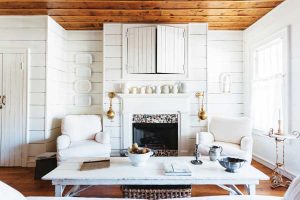 White is the "it" color in farmhouse design, so go with a white-on-white scheme to create a light and airy mood in a small space. Whitewashed walls, white upholstery and collections of white accessories—like these platters and antique pitchers—will freshen the space and make it feel larger and less cluttered. The wood-plank floors and ceiling are left in a natural state to ground the white furnishings and add warmth.
The no-fuss look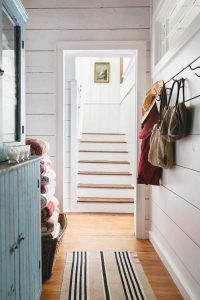 Who says you have to own a country house to experience farmhouse charm? With crisp white walls, humble finishes and carefully curated furnishings, you can transform a modern dwelling, like this brownstone, into an airy space with a modern spin on farmhouse style. The simplified, no-fuss look embraces utilitarian pieces and the everyday beauty of uncomplicated design.
Farmhouse 'bones'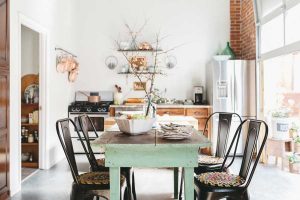 The table's beautifully distressed surface and original green paint add farmhouse "bones" to the industrial architecture of this apartment. Open shelves are both practical and good-looking; they keep dishes and utensils in reach and display their everyday charm at the same time. To enhance the farmhouse ambience, line the shelves with such classic country collectibles as white earthenware or copper serving pieces.
Old-fashioned illumination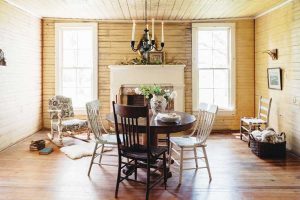 This home's old wiring had been cobbled together over the years and, when the homeowners stripped it out, for the most part they chose not to replace it. Instead, candle chandeliers, candle sconces and kerosene lamps create a soft glow. Illuminating rooms the old-fashioned way makes the atmosphere truly authentic for these homeowners.
Simple details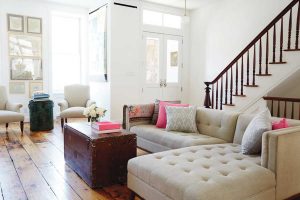 Since a minimal farmhouse look is all about letting simple details shine, this homeowner opted to forgo area rugs and let the wide-plank floors command center stage. It's also important to choose furnishings that have simple, strong features. Here, a streamlined sectional sofa in a neutral fabric anchors the living room. In lieu of tables, repurpose an interesting reclaimed object, such as the metal storage trunk used here. Small vintage butcher blocks, stacked wooden boxes, old suitcases and unusual stools work well, too.
Choices for a small space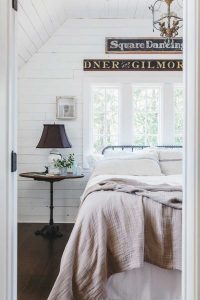 A simple spool headboard supports natural homespun pillows without blocking the light and the view. Next to the bed, an antique candlestick table gets the job done but takes up less space than a nightstand would. In a small space, even minor decorating choices—such as the color of your lampshades—have a big impact. Silhouetted against the white walls, the black lampshade adds an effective contrast while directing the light where it needs to be for nighttime reading. Eye-catching by nature, large vintage signs can fill entire sections of wall space for uncluttered style and visual impact.
Working with a budget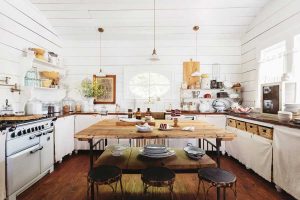 When the budget didn't stretch far enough to include custom cabinetry, this homeowner opted for simple shelves instead of upper cabinets, and sailcloth fabric instead of pricey cabinet doors (for a tailored look, she sewed buttonholes along the top edge of the fabric panels so they would slip easily over simple cup hooks). Counters were fashioned from salvaged joists and given a proper shellacking, while the repurposed island (formerly a European prison bed) was fitted with a plank top and a lower shelf that add both work surface and storage, not to mention a hint of cool industrial style.
Use color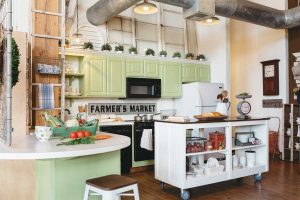 While most farmhouse enthusiasts reach for the white paint when freshening up their cabinets, you can make a cheery departure using color. A coat of apple-green paint on the builder-grade cabinets adds a fresh, organic element to this industrial loft. For a budget-friendly farmhouse vibe, accent your space with a bevy of salvaged finds. The large, chipped windowpanes installed above the cabinets mimic the original windows across the room (not pictured), while a repurposed thrift store workbench became a striking prep station. In a moment of country ingenuity, a vintage ladder creates vertical storage in the compact cooking space.
---
Try These Tips

Old books are a beautiful design element; their worn and tattered bindings and pages have a character that works so well in farmhouse-style interiors.
Using antique exterior doors as interior ones gives a whole new meaning to bringing the outside in.
When limited space doesn't allow for swinging doors, borrow an idea born in a barn: Suspend old four-panel doors on a sliding track.
Display pretty silverware openly and close at hand in small stoneware vessels.
For instant country-kitchen style, add a farmhouse sink.
Vintage ones can be found at most salvage yards, and reproduction sinks are readily available, too.
If you're missing the look and feel of weathered floors, you can easily mimic their character by using vintage area rugs—the more worn a rug is, the more attractive it tends to be.
Nothing says a country garden like a field of wildflowers, so don't be afraid to plant these spirited blooms in containers, displayed in unexpected places like an antique stool or vintage country chair.
Vintage portraits of family members whose names are lost to history have found their way into all styles of decorated spaces. Track down a few family photos or portraits of ancestors and display them in groups.
Use peg rails to hang bulky clothing, especially if closet space is at a premium.

—Kim Leggett
---
Farmhouse Resources

Check the following stores and websites for farmhouse furnishings and flourishes. Old Glory Antiques, 1930 S. Broadway, Denver, www.oldglorystyle.com

World Market,

1685 28th St., Boulder, www.worldmarket.com Wise Buys Antiques, 190 2nd Ave., Niwot, Facebook: Wise Buys Antiques Noble Treasures Antiques, 409 S. Public Road, Lafayette, www.nobletreasuresantiques.com St. Vrain Historical Society Antique & Vintage Shows (held annually in May and October), Longmont, www.stvrainhistoricalsociety.com Hello! Furniture, 1420 Nelson Road, Longmont, www.hellofurniture.com McGuckin Hardware, 2525 Arapahoe Ave., Boulder, www.mcguckin.com Antique Farm House, www.antiquefarmhouse.com The Faded Farmhouse, www.thefadedfarmhouse.com Urban Farmhouse Design, www.urbanfarmhouse.com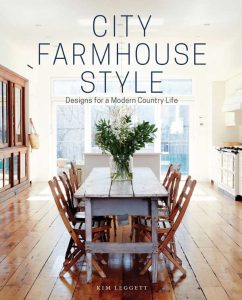 —City Farmhouse Style: Designs for a Modern Country Life is published by Abrams and available wherever books are sold.
---