Feature Garden: This sweeping landscape is a magnet for all things winged
29 Mar 2019
Vistas, Hues & Bird's-eye Views
By Carol Brock Photos by David Winger/WingerPhotography.PhotoShelter.com Despite its amazing vistas, Jim Strouse's yard lacked three things he loved when he moved into his Boulder home in 2007: flowers, pollinators and birds.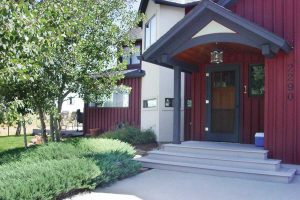 Fortunately, that changed when he met Cheri Stringer, owner of Longmont's TLC Gardens, at a networking mixer. Strouse enlisted Stringer to create a haven for all things winged—birds, butterflies, bees and other pollinators, without blocking the sweeping views he and his wife, Laura, enjoy at their 0.8-acre property. So Stringer set about creating a sustainable landscape using mostly low-lying Colorado native plants and trees with bird-friendly fruits like hawthorn and serviceberry. "We picked stuff that didn't need a ton of water, and plants that would flourish in this climate," says Strouse, who owns Control Service Center in Boulder, founded by his late brother Rick. "Cheri's really good with microclimates, and everything just comes back and flourishes." Today, lavender, Russian sage, hyssop, hardy fuchsia, snow-in-summer, penstemon, Agastache and other environmentally friendly plants bloom in succession and attract the wildlife the homeowners adore. "Now we have tons of pollinators, and it's just really cool," says Strouse, who taught his four grandkids the value of pollinators and that the bees on the flowers wouldn't harm them. "In spring and summer, you can walk outside and hear them buzzing like crazy." He also sees birds of all feathers, including finches, sparrows, juncos, flickers, woodpeckers, hawks and owls. "It's a birding paradise," he gleefully says.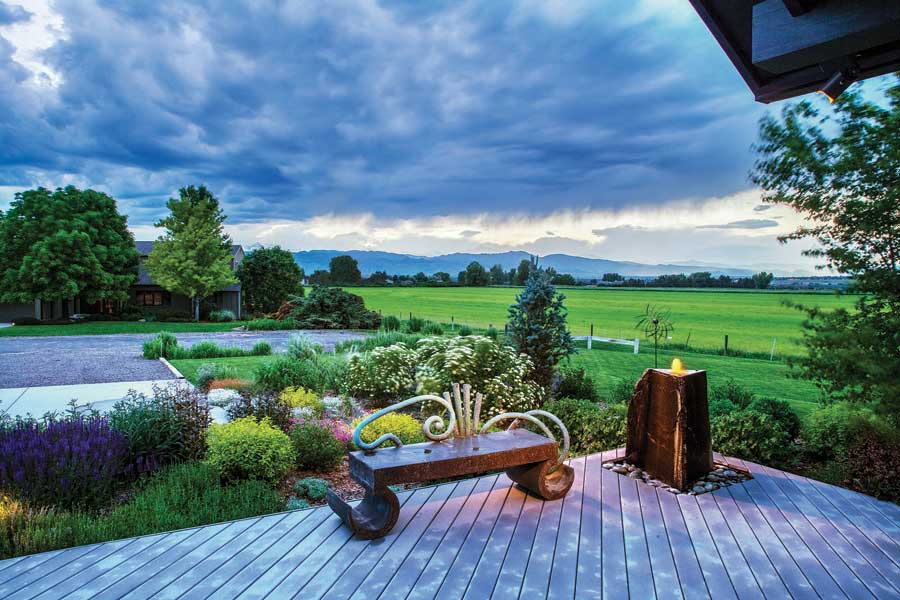 Setting the Stages
To create that paradise, Stringer tackled the project in stages, addressing a main concern: "We wanted beautiful curb appeal," Strouse says. To achieve that, Stringer ripped out the voluminous creeping junipers surrounding the entry and replaced them with a landing of Trex to create a distinct entrance. The landing is a resting spot for a fabricated-stone water feature that Stringer designed and built on-site. "It's one of my favorite things," Strouse says. "There are always several species of birds sitting on it and getting a drink." Stringer heated the fountain, so it's a year-round water source.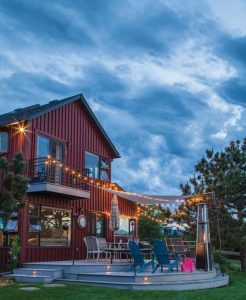 The landing also supports a "musical-note" stone bench created by Berthoud sculptor James Vilona. "His wife hated it," Strouse recalls, "so he had it out on the side of a barn and weeds were growing over it. When we saw it I thought, 'Wow, that's kind of cool,' so we dug it out and cleaned it up." The landing connects with a boardwalk Stringer installed for easy access to the home's north deck. She also replaced fencing and created flow patterns and access points throughout the property. Strouse says, "I wanted a landscaper who just 'gets' us—gets what we wanted, and Cheri was great." He admits his landscape escapades are far from over, and he'll most likely see Cheri again. "It's definitely an ongoing project," Strouse says of his yard. Now he wants to replace the mulch that blows away every winter at his windswept property, which adjoins 100 acres of open space by Teller Lake.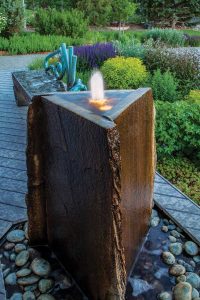 Another stage involved the detached garage. The previous owner converted the home's one-car garage into living space, so Strouse added a detached garage. Stringer connected it to the main house by a covered boardwalk, but she had strict orders when it came to a driveway: "I did not want a paved driveway," Strouse says. "I'd be compelled to shovel it every time it snowed." So Stringer suggested matted grass, which has held up remarkably well, even with cars driving over it. "It's my favorite feature. I don't have to shovel; I do have to mow, but I'm one of those weird people who loves to mow," Strouse says with a laugh. "It's my therapy." With a wildlife haven, a mower's paradise and unobstructed views, Strouse has all the therapy he'll ever need. In fact, if his yard had a personality, it would be contemplative, he says. "It's definitely peaceful. There's no traffic or noise." Only the three things he loves, thanks to a little TLC.
Deck Integration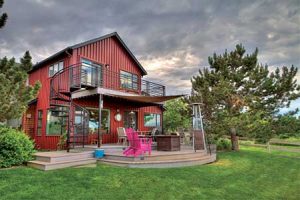 TLC Gardens reconfigured the fencing and installed a spiral staircase and boardwalk to integrate the multilevel decks and provide easier access to the spacious yard.
Matted Grass Driveway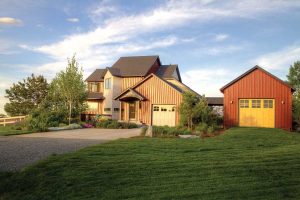 Jim added the detached garage, and TLC Gardens suggested a matted grass driveway so Jim wouldn't have to shovel snow off it in the winter. The driveway was constructed with a grid system to ensure long-term performance and limit impermeable surfaces. "It's just held up really well," Jim says. "I mow it in summer like the rest of the yard, and it's just really cool."
Breezy Connection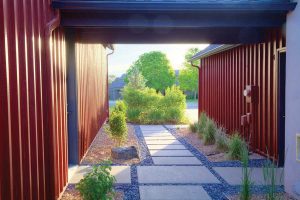 TLC Gardens added a breezeway to connect the detached garage to the house. Sustainable, underlying drainage and a modern aesthetic tie the two structures together.
Entrance Definition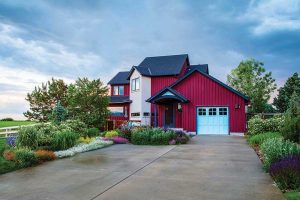 A simple saw cut to the existing driveway helped TLC Gardens create a more defined entrance. They also added an entrance landing and planting beds. The previous owner had converted the garage into a living space.
Variable Textures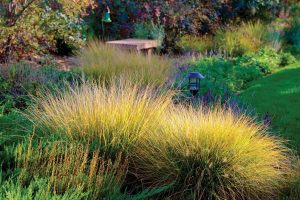 Soft morning light across the plant palette highlights the landscape's variable textures, colors and forms.
---
TLC Gardens won a Silver Award for the Strouse garden in the 2016 International Landscape Design Awards, bestowed by the Association for Professional Landscape Designers. Contact TLC Gardens at 303-648-6229 or visit ­www.­tlcgardens.com.