Featured Remodel: Getting Back to the Land
04 Jul 2010
Turning a century-old dairy barn into a cozy home and a pasture into a flower farm took all the grit and know-how of these handy homeowners. But they say getting back to the land made it all worthwhile.
Now that it's a sweet comfortable home, you'd never know that cows occupied this former dairy barn for more than a century. It's just blocks from the bustling Diagonal Highway, IBM headquarters and sprawling northeast Boulder suburbs. But at the end of the dusty, quarter-mile driveway leading to McReilly Farms is a place that's managed to resist time's frenzied march. A green 1947 Dodge truck slumbers in the shade of a towering cottonwood, piled high with rusted milk jugs that never made their destination. Dogs laze in the grass beneath the grain silo, outside a century-old dairy barn. And across the 5-acre property where cattle once roamed, lilacs and peonies—many planted by the previous owners a half-century ago—reawaken each spring to join perennial and lavender fields in a riot of color. "We didn't want to tear down the o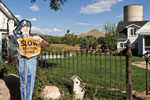 ld buildings and put up a 10,000-square-foot house. We wanted to actually get back to the agricultural use of the land," says Mike McNamara, a Boulder Rural fire captain and landscape designer who bought the former dairy farm with his wife, landscape architect Richelle Reilly, in 2000. Since then, the colorful duo have transformed the barn into a comfortable home, and the cow pasture into flower and lavender fields. And they say the land has transformed them, too. "One day, we thought, 'We live on a farm at a great location. Let's put out signs at 63rd and Monarch that say 'We have fresh cut flowers,' and see what happens," McNamara recalls. "Lo and behold, the first day we put the signs out, we had a half-dozen people come down the road. Now, we put signs out on Saturdays and Sundays in summer and we sell out." The couple'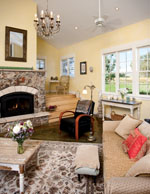 s evolution from workaday architects to moonlighting flower farmers began more than a decade ago. They'd run out of places to plant flowers on their quaint, postage-stamp-size lot near downtown Boulder, and were hungry to spread out. But after eight years of looking, they'd failed to find the perfect spot. When Reilly got a tip from a realtor friend that some farmland was about to be listed, she hopped in the car near dusk and drove up to find a parcel littered with 13 junked cars, old farming equipment and a half-dozen dilapidated buildings. It was the light that won her over.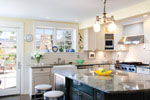 "There is this magical time of night out here, right about the time the sun is getting ready to go down, and the light just does this thing," she explains, gesturing to the sweeping view of the foothills to the west and Haystack Mountain to the north. So she called her husband, a hint of desperation in her voice, and said, 'You have to come see me right now.'" They put in an offer the next day.
Trouble in Paradise
Despite its bucolic charm and enchanting sunsets, their newly bought property was fraught with challenges.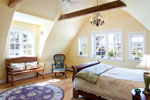 Once part of a 70-acre parcel owned by Mary and Wendell Dawson, the property had an old farmhouse where McNamara and Reilly lived with their two sons for the next few years. But first they had to banish a variety of critters that had moved into it. Initially, they planned to renovate the farmhouse, but when they took a closer look at its structural integrity they switched to Plan B. "When we finally took it down, we discovered the entire foundation consisted of 5-gallon buckets filled with concrete," Mike recalls. Plan B involved transforming the dairy barn into a home, despite the fact that hundreds of cows had lined up to be systematically milked and fed inside it for more than a century. The headlocks and grain troughs were still in place, as was the stench of manure and urine-soaked hay. After removing the stanchions and troughs, McNamara donned a mask and gloves and shoveled for three days to clear out all the cow poop and rodent droppings. Then came the power-sprayer and disinfectant cleaner.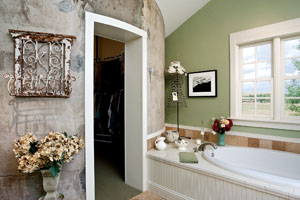 "If you can imagine all those years of all those cows sitting in here," McNamara says, standing in the now bright-yellow kitchen with stained-concrete floors. Nearby, the old grain silo serves as a circular pantry on the bottom floor and a closet upstairs. Huge windows in the newly built sunken living room bring the glorious outside in, and a display case holds McNamara's antique firefighting objects and toy-firetruck collection. Except for the silo, the dairy barn's interior has been utterly transformed. But the homey white-painted exterior, gabled roof and screened-in porch make the place look as if it's been there forever, and always will be. On sweltering summer days, flower fanciers make their way down the dirt drive to be greeted by "Officer Bob"—a slightly rusted traffic-cop lawn ornament, who holds a sign that says "Slow: School Zone." The pasture, once strewn with rusted farm implements, is ablaze with the color and aroma of more than 1,200 lavender plants and 30 different kinds of perennials. Inside the tractor barn turned air-conditioned flower cottage (with implements and birdhouses adorning its exterior), Reilly works her magic. "She is a real artist, and the flowers are her paint," says Laura Skaggs, a neighbor who followed the sign down the road two summers ago, and now makes the trip almost weekly in the summer to pick up a bundle of fresh lavender or a generous bouquet in a glass Ball j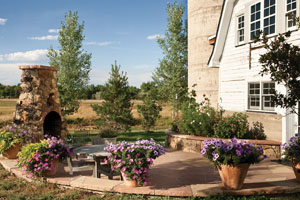 ar. "I love that they (Reilly and McNamara) respect the tradition of this little valley north of town. This was established by early pioneers as an agricultural valley, and the more we can keep it feeling that way, the better I like it." As for the couple who transformed the ranch into a home and business—and still hold their day jobs—they say they've gained a deep appreciation for how hard their predecessors worked, and even feel their presence from time to time. Mail occasionally arrives for Wendell Dawson, and Mary's peonies still bloom every year. "We have heard from everyone around here that they were just very, very nice people," McNamara says. Adds Reilly: "I like to think they would approve of us." See tips from the homeowner "Top 10 Uses for Fresh Lavender"