Fiery Fall Flowers
27 Sep 2015
Plant these flowers and grasses for fabulous fall colors in the garden.
By Lisa Marshall Just say the words "fall flowers" and you'll likely conjure up images of whiskey barrels overflowing with crimson chrysanthemums, pale purple asters, yellow pansies and pink snapdragons. But for those wanting to venture outside these dependable autumn plants, a wealth of lesser-known grasses, bulbs, shrubs and perennials can offer a feast of fall color and a cornucopia for pollinators long after summer beauties have lost their luster. And the good news is many actually do best when planted in early fall. "Fall is a great time to plant, because it's cooled off and they can get their roots down and established," says Pat Hayward, executive director of Plant Select, a nonprofit that identifies and showcases plants uniquely suited for Colorado gardens. Augment your new year-round additions with showy cool-season annuals and ornamentals, and you'll be well on your way to a stunning fall flower garden. So stick the following plants in the ground now and enjoy an even grander spectacle after they get established and peak again next autumn.
Beautiful Bulbs

Most people associate flowering bulbs with the birth of spring but a few varieties can be planted in early September. Bieberstein's crocus, also known as large autumn crocus (Crocus speciosus), has dainty lilac-purple flowers and reddish-orange pistils. It's cold-hardy enough to survive the fall in Boulder County's foothills. "Come October, you'll have a beautiful surprise coming through the ground cover," says Eve Reshetnik Brawner, co-owner of Harlequin's Gardens in Boulder. Saffron crocus (Crocus sativus) has red thread-like stigmas that smell lovely and are a source of the culinary spice saffron.
Graceful Grasses
"Grasses add graceful movement, fine texture, verticality and fall color, and many of them really are at their best in fall," says Brawner. This year Plant Select unveiled Windwalker big bluestem (Andropogon gerardii). This thick and regal powdery-blue grass can grow as tall as 6 feet and turns a deep burgundy in September. Brawner's other favorites include undaunted ruby muhly (Muhlenbergia reverchonii), a wispy, gray-green mound topped with tiny ruby flowers that peak in autumn. She also likes purple maiden grass (Miscanthus 'Purpurascens'), with spectacular orange-red foliage and feathery-white plumes that give it the nickname "flame grass." "Plant it at the top of a mound or somewhere it can get early morning or late-afternoon autumn sunlight and it will light right up."
Splashy Shrubs & Verdant Vines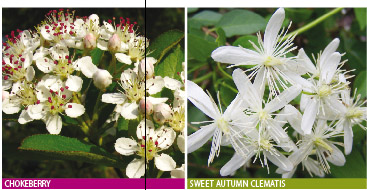 For a large splash of fall color, the deciduous waxflower (Jamesia americana) can't be beat, with tiny white flowers and green foliage that turns vivid shades of orange, pink and yellow come fall. Chokeberry (Aronia sp.) serves a dual purpose: as late-season berries for birds and other critters, and a source of brilliant autumn leaves. For a fragrant white surprise amid fall's classic reds, oranges and yellows, try planting sweet autumn clematis (Clematis terniflora) along a fence or garden shed. This hardy climbing vine does well in shade and puts off tiny white flowers in fall.
Personable Perennials
The list of colorful autumn perennials is long, but hyssops and salvias are at the top when it comes to attracting pollinators. Plant Select's new drought-tolerant Windwalker salvia 'Royal Red' (Salvia darcyi) grows up to 4 feet tall and produces blood-red flowers through October. "It's hard to find color this vivid," Hayward says. "I've watched hummingbirds fight over this plant."

For fiery yellow stained with orange, try Coronado hyssop (Agastache aurantiaca), another pollinator magnet. Many varieties of sedum, also known as stonecrop, are rich with color in fall. The aptly named 'Autumn Joy' sedum (Sedum herbstfreude) blooms into November as it transitions from pink to copper hues. With large, bright ornamental flowers that peak from late summer into fall, the 'Goldsturm' black-eyed Susan (Rudbeckia fulgida) and purple coneflower (Echinacea purpurea) are good bets for fall brilliance, says Ann Hartman-Maher, perennials manager at The Flower Bin in Longmont.
Accent Annuals
Nothing beats a basket of spectacular mums or dainty pansies to spruce up a sun-scorched flower garden. Just keep your expectations realistic, Brawner advises. "The mums you buy in the fall have probably been forced to bloom, and it takes a lot of the energy out of them. They may not succeed in your garden."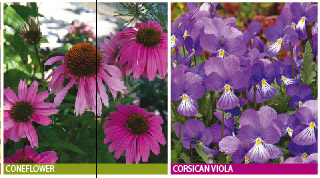 If that's your hope, she suggests buying and planting mums in spring when they haven't yet blossomed. If you do buy mums in fall in the hope that they'll overwinter in your garden, you'll improve your chances by planting them right away instead of letting them linger on your porch, Hartman-Maher says. Also consider planting cold-hardy ornamental cabbages and kale for vivid splashes of purple and green, as well as pansies and violas. The pretty purple Corsican viola (Viola corsica) is particularly hardy. While violas aren't likely to last until next autumn, if you're lucky you'll see them again in spring. Use the last of the growing season to plant a few of these beauties, and you'll have an autumn garden full of gorgeous, pollinator-friendly flowers.