Love It and Leave It: Self-Watering Containers
01 Jun 2022
In hot, dry climates like Colorado's, where back yards bake in the high heat and abundant sun, self-watering planters are an answer to gardeners' prayers.
By Lisa Muschinski
Colorado is tough on outdoor container plants. They dry up before you can get around to watering them, and they often need water multiple times a day. Unless you have a neighbor or friend willing to swing by and water, you're forced to choose between tending to your garden and taking the kids camping. Keeping plants hydrated and happy can feel like a full-time job.
There's a solution.
Self-watering planters have a water reservoir at the base and a wicking mechanism that carries hydration to plants when they need it. This system ensures your tomatoes, herbs and ornamentals stay watered in the most effective manner possible—no matter where you decide to go for summer fun.
Michael Morris, hard goods manager at Longmont's Flower Bin, can't advocate for self-watering planters enough. "It saves time, it's convenient, and if you forget to water, it will take care of the plants itself," he says.
Self-watering planters take up the water they need, when they need it, explains Susan Holden Walsh, who has been selling Farm Tub self-watering planters to Boulder-area gardeners for 10 years. The wicks, she explains, "are like straws for plants."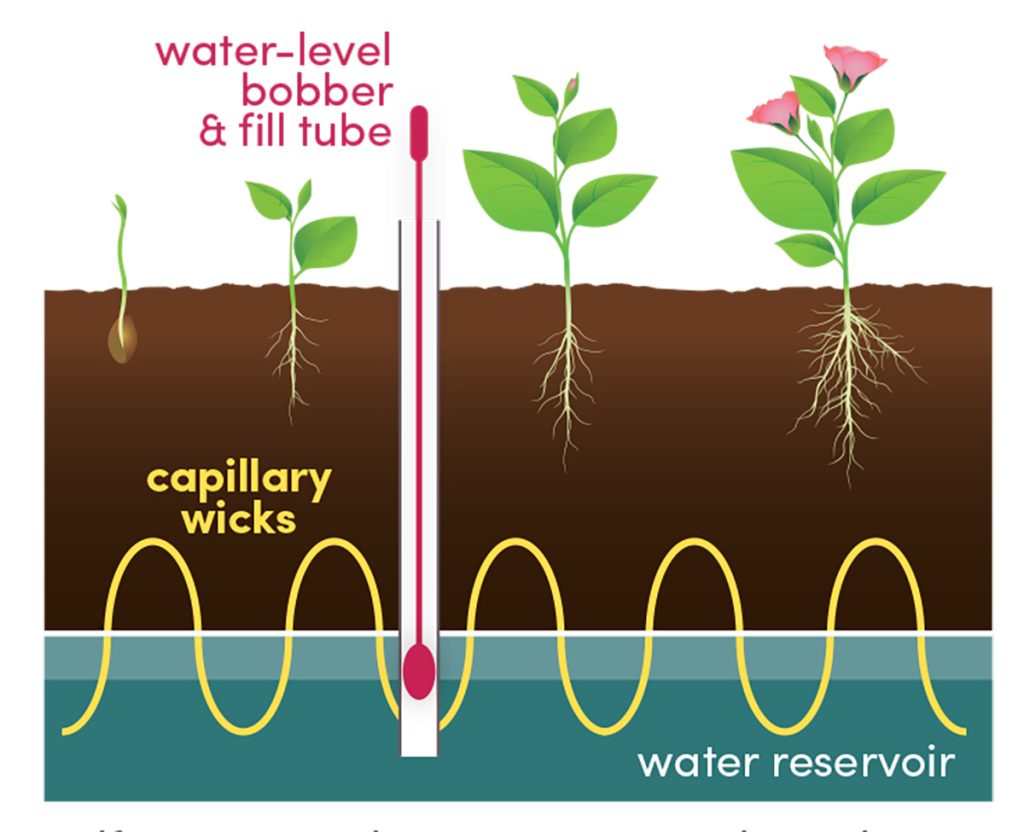 Farm Tub food-grade galvanized steel planters are available fully assembled or as a DIY kit that gardeners can attach to their own planters. They have large water reservoirs, so gardeners can leave them for 10 days to two weeks without needing to refill them—even for "heavy drinkers" like tomato plants—making them ideal for travelers and second-home owners, Walsh says.
Walsh and her husband, Bob—a landscape architect—created the planters for themselves when they were growing vegetables in their home's sunroom, which they've since turned into a greenhouse. They grow herbs, peppers and green onions in their own Farm Tubs, but Walsh says their customers use them to cultivate everything from deep-rooted plants to root vegetables.
Walsh says container gardening is ideal for Front Range gardeners because it allows them to control two of the biggest challenges: lack of water and poor-quality soil.
"In our climate, in the lowlands, we tend to have too much clay, and in the highlands, it's too sandy," she says. "Nothing's really fertile in this crazy place we live in. But with containers, you can control the kind of soil you need for what you're going to grow."
Potting soil is almost always the best choice, she adds.
While the decision to move to self-watering containers may seem like a no-brainer, it does require a slight change in perspective. "When watering from beneath, it's not what the soil looks like, but how happy your plants look," Walsh says. "There's a little bit of a shift in how you look at what's going on in your container."
Plants can take up too much water if the reservoir is constantly full, she warns, so it's a good idea to let the water-indicator float reach its lowest point before refilling.