Pocket Parks for Pollinators
08 Sep 2021
Andrea Montoya gardening in the Goss-Grove pollinator pocket parks she founded. She recently spotted a rare pollinator there—the American Bumblebee (Bombus pensylvanicus), whose geographic distribution has fiercely declined. "That little bee sent up a flurry of encouragement across our small community!" she says.
Public and residential gardens form a pollinator-friendly urban corridor in the Goss-Grove neighborhood
Story by Deborah Foy, Andrea Montoya & Dave Sutherland Photos courtesy Dave Sutherland
"We can do so much better," thought Andrea Montoya, while surveying two small, barren pocket parks in Boulder's Goss-Grove neighborhood. Originally built as traffic-diversion islands, the parks had morphed into wastelands where illicit activities often occurred. Montoya wondered if the parks could better serve her community and the environment. 
She was familiar with the concept of pollinator-friendly gardens, in which biodiverse habitats and native plants positively impact insects and sequester carbon in the soil so it can't exacerbate climate change. In fact, some area residents had already reconfigured their yards into pollinator-friendly habitats and were aware that native plants, insects and birds are part of an intricately woven eco-system dependent upon each other.
"Not only do they look beautiful, they help mitigate climate change and conserve water," Montoya says of her neighborhood's pollinator gardens. So she started researching native plants and discovered that early spring pasque flowers, yarrow, bee balm and milkweed are midsummer blooming natives that attract native bees, honeybees, moths, butterflies and hummingbirds, while milkweed is critical to the monarch butterfly's life cycle.
Chokecherry, serviceberry and American plum provide flowers and fruits for insects and birds, as well as caterpillar habitat. She learned that often-overlooked native grasses, like little bluestem and drop seed, add shelter, food and texture to pollinator gardens. "Supporting and growing these native ecosystems is now more important than ever due to the threat of climate change," Montoya says.
Creating a "pollinator corridor" of neighborhood and public garden spaces had been done elsewhere, so why not in her neighborhood, she thought. Pollinator decline and loss of forage encouraged her to investigate organically managed, multi-storey gardens with native flowers, grasses, shrubs and trees that require very little supplemental water after maturity. If she could plant these types of pollinator gardens in the Goss-Grove pocket parks, they would support and enhance the pollinators in her neighbors' reconfigured yards.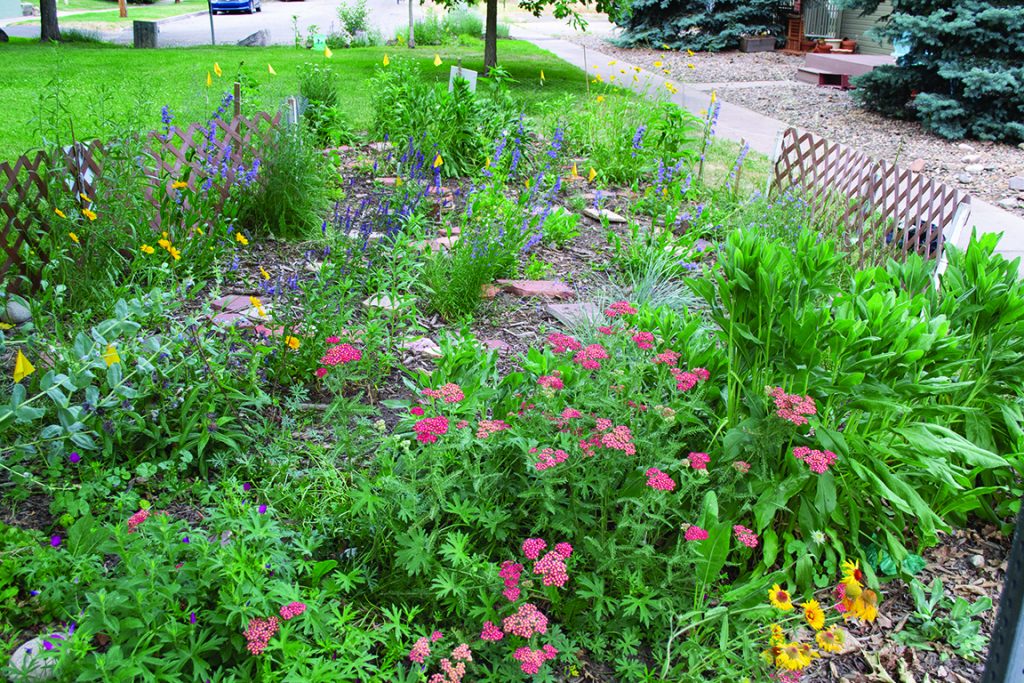 Tending to the Natives
While researching the idea, Montoya discovered that native plants are at least four times more attractive to bees and pollinators than non-native ornamentals. Most people are familiar with honeybees, whose pollination is responsible for one out of every three bites of food. Honeybees are a managed, introduced species brought to the U.S. from Europe in the 1600s for agricultural use. But Montoya discovered that Colorado is also home to 950 different species of native bees, with at least 565 that pollinate wild and cultivated spaces along the Front Range.
The very plants Montoya considered for the Goss-Grove pocket parks would also support and protect the state's native pollinators. Honeybees are social and live in colonies, whereas native bees are solitary. Except for female bumblebees, native bees live for one season and do not interact with other bees, except to mate. "Seventy percent of native bees nest in the ground and thirty percent nest in cavities, like hollow plant stems and tunnels in old logs and tree snags," Montoya says. "Just like us, native bees need habitat, food, shelter and water to thrive."
To support native bees, she incorporated many native plants with varied bloom times into her designs for the Goss-Grove pollinator gardens, and included groupings of three to five species of the same plant to provide constant food sources. She left a few dirt patches without mulch or gravel for ground-nesting bees, and decided to install tree stumps and small branch piles for wood-boring bees. Cavity-nesting bees would appreciate drying stems and canes for nesting sites in fall. "Trimming them back in the spring instead of the fall, and leaving them in loose piles would allow a new season of bees to emerge," Montoya says. "The hope was to encourage the incredible diversity of native bees—from early spring mason bees to leafcutter bees to the many different bumblebees—to make our neighborhood urban corridor their home."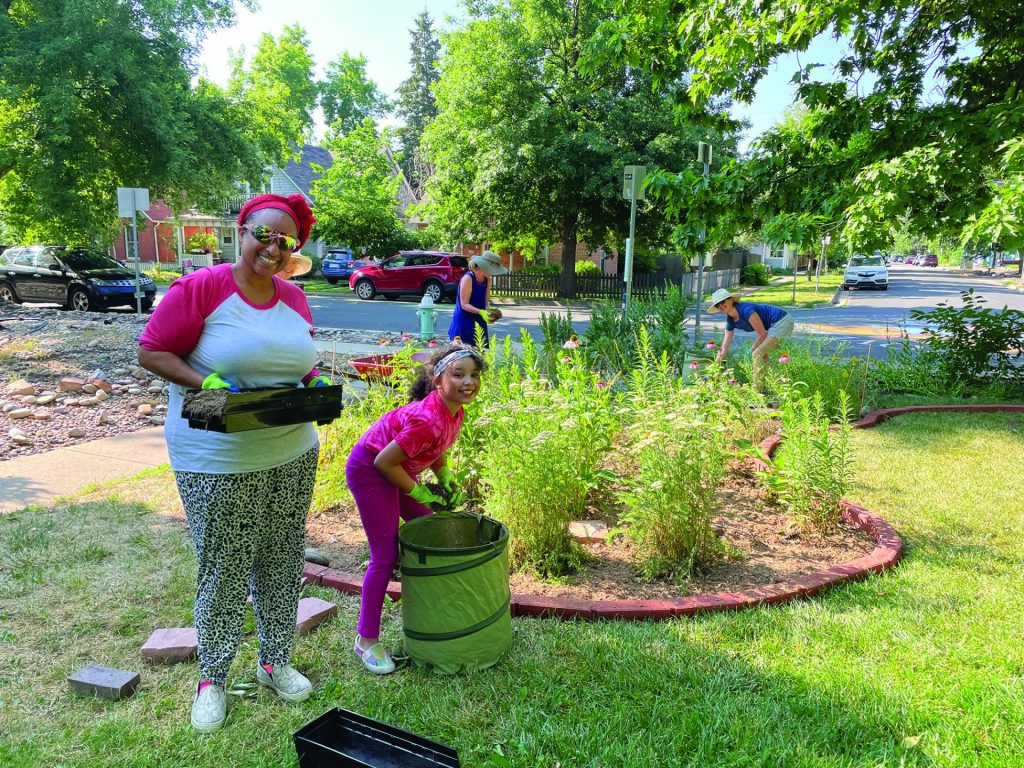 Pocket Park Buzz
With designs for the pocket parks that addressed climate change and declining pollinators, Montoya successfully rounded up neighborhood support for the Goss-Grove urban corridor project. In 2019, the city of Boulder awarded her a grant, and she started planting the parks that summer. Neighbors who had planted pollinator-friendly gardens had a head start, and all Montoya needed to complete the pollinator corridor was more yards and more volunteers. 
Today, more than 300 native plants have been planted in Goss-Grove yards. The two pocket parks at 18th and 19th streets harbor more than 1,800 square feet of mostly native flowers, grasses and shrubs that surround grassy picnicking areas. Instead of walking by the pocket parks and seeing parched, barren soil, Montoya now sees bees, butterflies, birds and neighbors happily enjoying the spaces. And, most importantly for her, this "rewilding" is helping the climate. As Montoya puts it: "We can all do better."