Prefab-ulous!
04 Jul 2007
Toss out your old image of prefabricated buildings, because modern prefab "sheds" are sleek enough to be chic, but cheap enough to give you a spare room for minimal expense.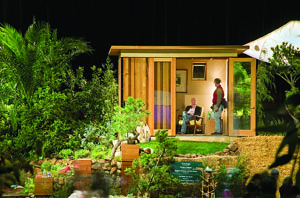 Sarah wanted a serene space where she could meditate and practice yoga, but with a husband, three kids and two dogs in a three-bedroom home, she wasn't going to get one. "We thought about adding on, but we couldn't really afford it," says Sarah. So she did some Internet research and discovered the perfect solution: a prefabricated shed. Unlike their predecessors, today's modern prefab "sheds" are stand-alone, green-built structures with sleek designs that can incorporate trendy features, like French doors, bamboo floors, floor-to-ceiling windows and fancy wood trims, as well as bathrooms and air conditioning. Although Sarah opted for a stripped-down standard unit—"we use a space heater in winter and a fan in summer"—she says her shed has been a "lifesaver." When her husband watches the kids, she slips outdoors to the backyard, where the shed sits in the garden next to the patio. "It's really great to have my own little space where I can spend a couple of hours alone," Sarah says.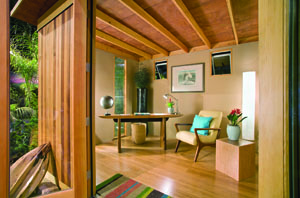 She's not alone in that regard. The demand for prefab sheds, which are more palatial than their name implies and run the gamut from stand-alone single rooms to sophisticated multiroom guesthouses, is growing. Compared with adding on to an existing home at a cost of $150 to $200 per square foot in Boulder County, prefab sheds are a bargain at about $85 per square foot. That's because these mass-produced, low-tech, pre-assembled paneled rooms can be flat-packed and shipped directly to buyers. And, unlike new construction, shed owners don't have a lengthy wait for their spare room. Buyers can typically assemble a shed in a weekend, with a few tools and a little patience. Several companies manufacture prefab sheds, including San Francisco's Modern Cabana, Orlando's MetroShed and Seattle's Modern-Shed. For a fee, some will also install your shed, assist with securing permits (if necessary) and provide an array of customized options and packages.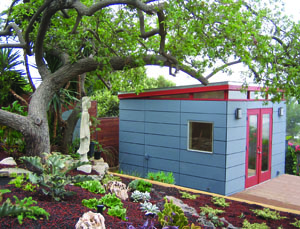 "Certainly the idea of modular homes is nothing new," says Rick Sommerfeld, senior architecture instructor at the University of Colorado. "But it's coming into the mainstream because mass customization can now occur." Because of innovations in mass production, MetroShed founder David Ballinger says he can offer his flagship shed for $8,000, which dropped from $15,000 in 1999. Modern-Shed offers basic 10-by-12-foot sheds for as little as $5,700. And because they're factory-produced to exact standards, require little labor to assemble, rarely need a slab foundation, create virtually no on-site waste and are light on the land once constructed, prefab sheds are, by design, green products. Julee Herdt, associate professor of architecture at the University of Colorado and a recognized pioneer in environmental design and construction, says solid thermal insulation enables a modern prefab shed to be highly energy efficient.
Since sheds typically start at around 100 square feet, "prefab lends itself to small scale," Herdt says, which appeals to many people. Ballinger, for example, has sold MetroSheds to retirees who disposed of their belongings to travel and wanted a shed for a place to hang their hats between jaunts. He's also sold them to would-be first-time home buyers who are afraid of or unable to secure a mortgage and "are willing to settle for a lot less, if it looks nice." Not surprisingly, baby boomers are one of his most solid clientele. "They're stuck in a refinance trap," Ballinger says. "They can't sell their home and buy a bigger one because of soaring property values, so they buy a shed instead to have an instant extra room." Modern Cabana sells many of its super-green sheds to 40- to 60-year-old women in the $150,000 income bracket who simply want a "me" space. Co-owner Nick Damner says the company's popular 10-by-10-foot, $12,500 shed has been used for home offices, cigar rooms, tree forts, yoga studios, recreation rooms and even for the dedicated purpose of kicking a spouse out of the house. MetroSheds' prefabs have become a welding shop, a Harley Davidson storage facility, an alpaca-watching pod and a rooftop hideaway, among other uses. Sheds also do double duty as offices, guesthouses, play rooms and studios. "Adults are still kids at heart," Herdt says. "We want our fort. Sheds give us an opportunity to create our own space." Depending on its purpose, a shed can be outfitted with bathrooms, wall separations, and heating and air conditioning, but a local contractor, plumber or electrician must install these add-ons. Boulder shed owner Sarah didn't require these luxuries. "I just needed a tiny room for my yoga mat and meditation cushion," she says. "An extra bonus is that the shed's windows overlook the garden. It's the perfectly peaceful space I always wanted." Writer Julie Kailus dreams of owning a mod pod to replace the rustic garden shed that her guests usually mistake for an outhouse.