Ricardo Peña: Life from music to mountaineering
17 Sep 2015
For most of the calendar year, the sounds in Ricardo Peña's ears are musical: Cuban son, rock 'n' roll, blues, bolero. The consonance of rhyming instrumentation, Spanish paeans to love and loss from a bygone era, familiar anthems and party songs from Norteamérica. When he's leading the Ricardo Peña Band, some of the music is familiar to most of us; when he leads the traditional Latin quintet Los Bohemios (pictured above: Jose Espino, Mark Diamond, Amy Biondo, Peña and Ed Edwards), Peña's muse is seductively romantic and a little mysterious. And for some portion of the year, usually our winter season, Peña immerses himself in the angular dissonance of crunching snow, crumbling talus, and the lonesome songs of unrelenting wind strafing the high peaks of the Andes. Both music and mountains are destinations for him, and both represent journeys taken via circuitous routes.
Boogie-Woogie in His DNA
Anyone who lurked the club scene in Buffalo, N.Y., in the late 1980s probably heard Ricardo Peña pounding away at the keys at one time or another. He was that skinny music-school kid with the Latin name, romping gleefully through Ray Charles standards like they were coded in his DNA.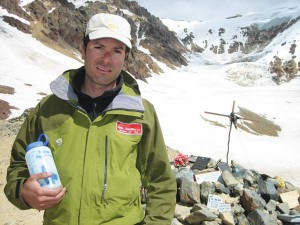 Born in Mexico City, Peña, 46, has lived in Colorado since 1996, working as a bandleader and multi-instrumentalist despite his primary training as a pianist. In Buffalo, he'd studied classical music at the State University of New York at Buffalo by day and sneaked out at night to play Dr. John. Those days served Peña well. When longtime local blues icon Lionel Young won the International Blues Challenge competition in 2011, Peña was lauded for his piano work in Young's band. "It was great to read the reviews of the CD we recorded," Peña recalls. "The critics would notice the New Orleans piano, the boogie-woogie piano. That was one thing I learned in Buffalo that gave me a real edge as a professional. There were some cats there who could really play the real traditional blues piano." And the Latin music—well, Peña brought that with him from Mexico, right? Not exactly. "In Mexico, my father had lots of Latin music playing around the house, so it was very close to my heart, but it wasn't what I wanted to play," Peña says. "As a kid, I discovered the Beatles and decided that was what I wanted to play. But when I was in Buffalo I needed more [jobs], and there was this salsa band that needed a pianist. Now, I knew nothing about salsa music." He laughs. "I guess they assumed that I would just learn it. Maybe it would be easier for me, or something, having a Latin name. And I did learn it, but it was hard!" So the Mexican kid who wanted to play Beatles music went off to Buffalo to study Chopin, learned the blues along the way, and then taught himself Latin styles— salsa, samba, Afro-Cuban—to get a few more gigs. "I find it fascinating how Cuban music, and the African connection influenced everything, from New Orleans and all those funk rhythms, to Mexico, to Central America," Peña says. "It's been great to learn and embrace all these styles, and also to see the band embrace them. Our attitude is, let's not just jam through this, let's really learn it. You can't just improvise everything with a jazz approach. Each musical style is like its own language; if you learn the idioms and the expressions, you give it that flavor." Los Bohemios evolved from Peña's first band, Milestone, which became one of the Denver area's most essential Latin musical ensembles. The current band, which covers everything from Tito Puente to Buena Vista Social Club to Santana, performs at the St Julien and other local venues as diverse as the Broomfield Auditorium, Boulder's Second Story Garage and Denver's City Park Jazz Fest, and released a highly regarded eponymous CD in 2013. "It's extremely satisfying to have an album that is superb from start to finish," KUVO's Arturo Gomez wrote of the CD. "This is an auspicious debut for a group that evokes romance and at times makes you want to get up and dance."
The Pull of the Mountains
Peña was drawn to the Colorado Front Range by the promise of being able to pursue his two passions: music and mountaineering, the latter a passion from his boyhood. Now an accomplished mountaineer and guide, he regularly leads expeditions to Mexico and the Andes, especially up the imposing Aconcagua, at nearly 23,000 feet the tallest mountain outside Asia.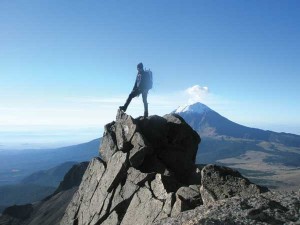 In February 2005, having a little extra time on his hands, Peña hired an outfitter and climbed to the site of the 1972 Andes plane crash that prompted the stirring survival tale of a handful of Uruguayan rugby players, known to many of us through the 1974 book and 1993 film Alive!  "We saw a little bit of blue fabric sticking out of the rocks. We started removing the rocks, and it turned out to be a coat," he says. "We felt a little bit of weight to it, and I looked in the inside pocket and I pulled out a wallet. I saw the driver's license. It said 'Eduardo Strauch,' and I recognized the name—the coat had belonged to one of the 16 survivors. What had happened was, when Eduardo boarded the plane he took off his coat with his documents in it, and placed it on a shelf above the seat. When the plane crashed, the coat went flying out the back when the fuselage broke in two, and it landed up there at 14,000 feet while the plane slid down to 12,500." Peña reunited Strauch, now an architect and visual artist living in Uruguay, with his coat and documents, and they have remained close friends ever since, participating in yearly climbs up to the crash site and collaborating on presentations and documentaries on the crash. Strauch even painted the artwork for Los Bohemios' CD. If Peña's route toward a diverse, culturally dualistic musical career on the Colorado Front Range sounds a little improbable—the Beatles to Rachmaninoff to "Guantanamera," Mexico City to Buffalo to Colorado to the world's highest peaks—it is fully consistent with the character of a searcher, with the wisdom to know that the straight line isn't always the most fulfilling. In December 2005, 10 months after finding Strauch's half-buried wallet, Peña led the first expedition to trace the route followed by the two plane-crash survivors who went in search of help. "The only information we could get [about the route] was from Nando Parrado and Roberto Canessa, the only two people who had ever done it, neither with any mountaineering experience. And they had done it 33 years before, in a do-or-die situation. We looked at it on Google Earth, tried to piece together the route they took," he says. "Usually we climb peaks because we want to get to the summit, or the route is a great route. We usually try to find the best route, but in this case there was all this avalanche danger, rockfall danger. A lot of people had tried it, but they couldn't finish because it was too dangerous. But we found the route." Just like he found the route to his music.
---
Catch Los Bohemios at Centro Latin Kitchen in Boulder Sept. 13 and 20 from 2-5 p.m. For other dates, visit www.ricardopena.net.
---
By Dave Kirby--Dave Kirby has been writing about music for various publications since 1978. He lives in Boulder with his wife and their white German shepherds.