Thinking Outside the Cubicle
13 Oct 2016
Office spaces that borrow residential design pay off in terms of creativity and the bottom line
By Kate Jonuska Very few words are as freighted with drudgery as "cubicle"—that boxy workstation that's come to symbolize dreary offices and faceless corporations.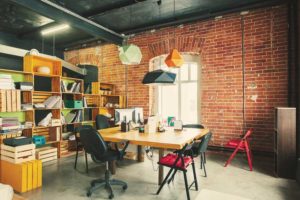 "Back in the day, we had cubicles and shades of gray. Offices were really impersonal spaces, really sterile," says Lindi Bolinger, interior designer and co-owner of TruDesign in Lafayette. But in the 21st century, bland and homogeneous no longer suffice. Instead, welcoming, customizable, homier office design has become an unspoken benefit that employees cherish—and often expect. "It's about keeping employees around longer," says Terri Davidson, who handles sales and design for Boulder's BC Interiors, which specializes in workplace design and furnishings. "These days, lots of people are at work more than they're at home, so if they're going to be there, they want a homey atmosphere where they can relax and even have fun." So how do you bring a bit of home to work?
Color & Texture
Please, forget 50 shades of gray and focus on the effect colors have to set the tone of a workday. Many high-tech companies, including Google, gravitate toward energizing workplace colors, like orange, yellow, lime green and turquoise.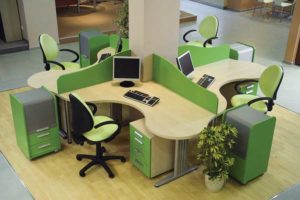 "I'm seeing more and more that white is the standard for desks, and then companies bring in metallics and bright colors to add personality," Davidson says. "I've literally had business owners say to me, 'I want my office to look like Google.' They want to have the coolest, the latest, the greatest, because they want to attract millennials." This Google-driven style is prevalent among tech companies, but another office palette consists of calming blues and greens, paired with natural materials like wood and stone. "What we're seeing is either that color vibrancy and pattern, or else something very Zen," says Cynthia Stafford, designer and co-owner of TruDesign. "Earthier colors and cooler tones, with lots of natural elements. Anything with live-edge wood, like on a table, is attractive." Texture is another homier element, so patterned fabrics and textured pillows are common in seating areas.
Make It Modular
"Companies are looking for creative input from their employees, rather than just wanting them to sit and answer emails all day," Bolinger says. Therefore, just as homes have come to embrace open floor plans with mixed-use spaces, so have offices.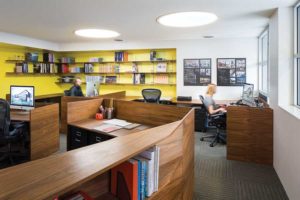 "Tall cubicle walls are coming down to a lower height, or they're having no panels at all, to create more collaborative, flexible space where (employees) can have impromptu meetings or brainstorming sessions," Davidson says. Architect Harvey Hine agrees. "Offices today are designed to promote interaction, rather than putting people in cubicles," says the president of Boulder's HMH Architecture + Interiors. Much like a home environment, where family members can gather and chat in a number of spaces, today's office is following suit. Says Hine, "Many offices have no assigned workstations and people can choose where they will work on a daily basis. If one considers a group of people sitting around a dining room table, this is the same as a group of employees sitting around a table discussing ideas. In today's business environment, ideas are worth more than isolated productivity." Sit-to-stand desks and tables are also popular, as are interesting shapes of chairs and tables. Instead of the traditional meeting table, an office might opt for a standing-height pub table with barstools. "Living room furniture arrangements are common in offices today," Hine says.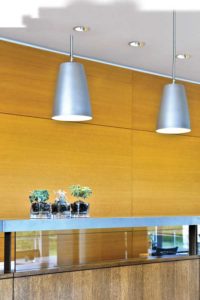 Light On
Overhead fluorescent lighting—those buzzing, flickering tubes—used to be one of an office's worst attributes. Today, however, more offices are embracing three types of light (ambient, task and accent) normally reserved for residential design. This translates to tabletop lamps or recessed/pot lights for task lighting, and sconces, hanging pendants and even full-on chandeliers for accent lighting. "Today you can get that warm, incandescent tone of light from LEDs, more so than you can from fluorescents or even the LEDs of a few years ago," Bolinger says. Indeed, "soft lighting similar to residential lighting is relaxing," Hines says, "and allows better visibility of computer screens."
Good-bye Ugly Break Room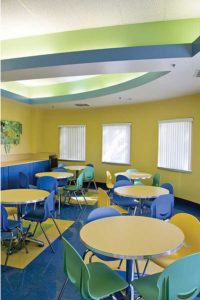 More and more employers are offering upscale eating areas with fancy countertops, stainless-steel appliances and breakfast-bar seating. "We're definitely seeing a more homey atmosphere in the kitchen, where wood and metal are combined, and softer fabrics are on the chairs," Davidson says. "Employees want a break room that's like being at home. Some even have ovens and a stove, so employees can prepare a meal if they want to." Eco-friendly break rooms have dishwashers, too, so workers can ditch the plastic in favor of reusable washable utensils. "Coffee shops are becoming offices, and offices have extensive kitchens," Hine says.
Make It Yours
The office is a place to greet customers, so "homier design is not only for the people working there, but also for people coming into the office to feel great about doing business there," says TruDesign's Stafford. This is especially true in the case of small businesses, she says. Her company recently redesigned an office for an ex–baseball player turned financial advisor. "We brought in some elements of who he actually was, so people got to know him on a personal level from the interior design." Stafford's company made displays out of bats and balls, and reupholstered the owner's grandfather's chair to make it a more personal space rather than a sterile financial professional's office.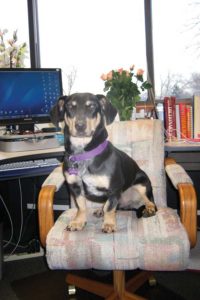 Hine's company has "two office dogs who act as our receptionists. They add calm and friendship when things get rough." If employees could bring pets to work with them, the number of pet adoptions would certainly rise, according to The Humane Society of the United States, as many people who would like a pet don't adopt them because of long working hours. "The hard line between our lives and work environments is blurring," Hine says, and the bottom line is the better employees, clients and visitors feel about an office, the better its success.