Treats for Tweets: Birdseed Ornaments
09 Dec 2020
Making birdseed ornaments creates family fun and food for feathered friends
By Ruthanne Johnson
Admit it. You like getting gifts. Yes, opening those holiday packages helps brighten the darkest days. Imagine, then, the excitement a little bird feels upon the discovery of a yummy new food source—especially in winter, when most natural foods aren't readily available and the bird's need for energy-packed calories is high.
In the spirit of giving and getting, a great wintertime project is making birdseed ornaments. Not only does it give overwintering birds a needed boost, it's a fun foodie project that teaches kids about the birds that visit their yard. And the ornaments themselves spread cheer during winter's bleaker months.
Incredibly, Colorado ranks among the top 10 states with the biggest bird lists. Roughly 500 of the 900 species documented in the U.S. and Canada have been spotted in Colorado. This diversity is "impressive, given that Colorado has no ocean coastline," notes the National Audubon Society's website.
That variety is due in part to Colorado's considerable acreage of natural lands, including eight national wildlife refuges and more than 1.3 million acres deemed key habitat for birds. Colorado is part of the North America Central Flyway for bird migration, and the Front Range offers diverse accommodations for them. "We have the mountains, plains, riparian areas and arid scrubland," says Jamie Simo, store manager at Front Range Birding Company, a Boulder birding supply store. "The fact that there are so many habitats means a wide variety of birds."
More than 200 bird species overwinter in Colorado, and many of those stick around in Boulder County, including juncos, chickadees, nuthatches, woodpeckers, flickers, siskins, grosbeaks, finches, towhees and jays, to name just a few. For these hardy species, winter food sources are critical.
Providing food in your backyard naturally draws birds into your domain, which in turn presents significant birdwatching opportunities—and health benefits for you and your kids. Studies show sustained exposure to nature can lead to lower blood pressure, lower levels of the stress hormone cortisol, and improved cognition. More specifically relating to birds, one study shows that people living in neighborhoods with more birds and trees are less likely to experience depression, anxiety and stress. Another study links bird-watching to improved attention skills, better puzzle-solving abilities and stress recovery.
Making birdseed ornaments is also a fun activity that brings you and your kids together. You can get as creative as you want, with -traditional-shaped ornaments tied with organic fruit ribbons, ornaments with amusing faces, or even positive sayings, like "Be Kind" or "Tweets Welcome!"
Carol McCasland with the Boulder County Audubon Society puts out suet and birdseed in squirrel-proof feeders for her backyard birds. "I feed sunflower chips, so there is no mess in the yard.  The birds seem to love it," she says. "I also place dried mealworms on my deck rails. The word gets out quickly, and I soon have a mob!"
Of course, bird feeders get the job done, too. But during the holidays, ornaments are thoughtful gifts for family and friends—-feathered or otherwise!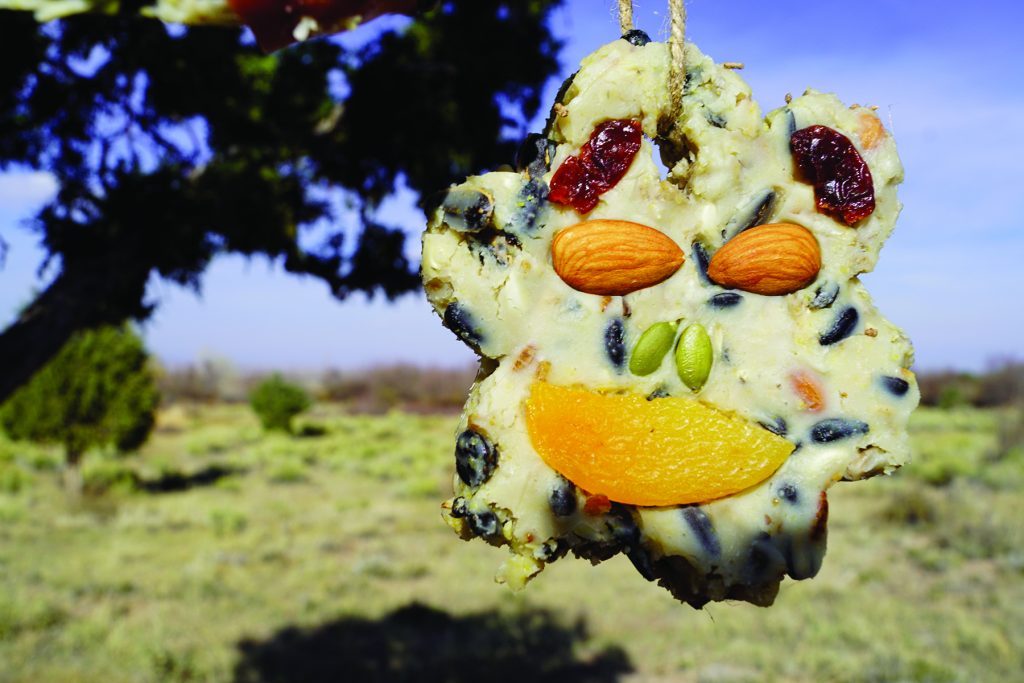 Birdseed Ornament Tips
Suet is a good base ingredient. It's basically beef fat and packed with protein. If you prefer a vegan replacement, use solid vegetable shortening.
Mix in a variety of foods, as different bird species have different preferences. Black oil sunflower seed appeals to the widest variety of birds, and birdseed mixes with dried fruits, nuts and high-protein pumpkin and hulled sunflower seeds are attractive to many birds.
Be sure to hang ornaments at least 3 feet from windows to help prevent bird strikes, and place ornaments at different levels. Sparrows, juncos and towhees feed closer to the ground, while finches, chickadees and woodpeckers feed in trees.
Make sure pets such as dogs and cats cannot access birdseed ornaments, which could make them sick.
---
Marvel Meal Birdseed Ornament*
INGREDIENTS
3½ cups wild birdseed 1 cup quick oats ½ cup cornmeal 1½ cups shortening (look for palm oil-free varieties) or lard
¾ cup nut butter (any kind)
* Add pumpkin seeds, dried mealworms (extra protein!) and/ or dried fruits for variety.
DIRECTIONS
Mix together birdseed, oats and cornmeal, and set aside. Melt shortening or lard and combine it with the nut butter in a separate bowl, stirring until thoroughly mixed. Combine the dry and melted ingredients and stir until incorporated. Pour the mixture into a 1-inch-deep sheet pan and refrigerate it until the mixture hardens, about an hour. Pull out the pan and press cookie cutters into the mixture (but don't remove them yet). Decorate the ornaments with dried fruits, such as apricots and cranberries to create facial features, or organic fruit ribbons. Stick a straw into the ornament where you'll be threading through string or ribbon for hanging.
Put the pan in the freezer for a few hours so you can easily pop the ornaments out of the cookie cutters without breaking them. Place ornaments in freezer bags and store them in the freezer until you're ready to gift or hang them. Outdoor temperatures must be 40˚ F or lower, as the string will melt through the ornament in higher temps. In warmer temperatures—and to keep squirrels at bay—it's best to place ornaments inside a suet cage.
---
The Old Standby
This recipe is super easy to make and fun for younger children. You only need a pine cone, nut butter of any variety, birdseed and string.
DIRECTIONS
Tie a string around the upper part of a pine cone. Roll the cone in the nut butter and then the birdseed. Hang it up and watch the birds go nuts!