10 Tips to Transform a Room
04 Sep 2008
Makeovers don't have to be costly. These design tips won't break the bank, but they will spiff up your space.
Fall is about new looks. When foliage turns fiery and people deck out in new fashions, why not take the autumnal spirit a step further and give your home a new look, too? We asked four local interior designers—Cher Schuck of CS Design in Superior, Ulla Lange of Ulla Lange Design in Boulder, and Linda Klueber and Lacy Graham of Niwot Interiors—for ideas on how to make an ordinary space extraordinary, without breaking the bank. Here are their suggestions: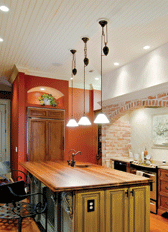 1. Change the Lighting. Appropriate lighting is crucial; dark rooms aren't inviting. Add ceiling lights, task lights, rope lights or recessed lights to brighten specific areas. Remember, lamps accessorize a room the way handbags and jewelry accessorize an outfit. 2. Add Throw Pillows. To quickly update a room's look and feel, swap out the throw pillows. Changing the mix can alter tones, add texture, and contemporize or traditionalize a room. 3. Add Area Rugs. Area rugs define a space and anchor furniture. Many designers build an entire room around the colors and textures in an area rug. 4. Rearrange the Furniture. Let a room show off its best assets just by reconfiguring the space. If the room is long and narrow, use furniture to divide it into distinct areas, which creates the illusion of width. Resist the tendency to line walls with furniture. 5. Add Texture. Fabric wall coverings are back in vogue. Consider grass-cloth coverings, which add depth and interest to a room, or cover a whole wall or partial wall with cast-stone panels or Venetian plaster. Wainscotting is a nice touch, too.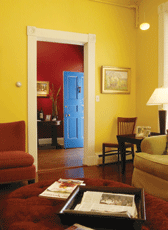 6. Don't Be Afraid of Color. Paint is one of the least expensive ways to transform a space. Paint an accent wall a solid color, or stripe a wall, either horizontally or vertically, with two tones of the same color. 7. Make Artful Decisions. Simply changing or rearranging artwork can enliven a space. Move art from room to room and re-mat and reframe to make paintings and posters display at their best. 8. Change or Add Window Treatments. Avoid walls of draperies, but do consider woven woods, bamboo and plantation shutters. Pay attention to what window coverings look like from inside and out. Plantation shutters, for example, add an exterior horizontal grid to windows. When viewed from outside, they add interest to the whole house.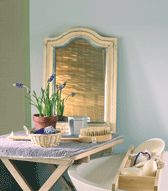 9. Buy One New Thing. If you want to transform the living room, a new coffee table might do the trick. If it's a powder room, an antique mirror could pump up appeal. 10. Consult a Pro. You don't have to spend a fortune on interior design. Just an hour of a designer's time, which costs between $75 and $200, will give you enough ideas to create an attractive, functional, inviting space.