Feature Garden: Fab in Four Seasons
01 Jul 2016
It's hard to believe this lush garden was once an eyesore.
Now it's a sight for sore eyes in every season.
By Mary Lynn Bruny When you see a mature garden in perfect harmony with its environment, it's hard to imagine it hasn't been there forever. But just a few short years ago, this Mapleton Hill garden was a nearly empty eyesore. In 2012, the property underwent an extreme makeover, after landscape designer Vicki Mellott hatched a plan to turn the lot into a lush oasis during several phases over the next three years. "It was a lot that had nothing on it except old concrete walls," recalls Mellott, owner of Boulder's Metamorphic Gardens, which still maintains the garden. "And it just sloped straight down to the ditch. It was a steep slope, too, and there was nothing much growing on it except a few old bushes and trees."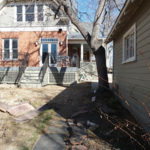 The homeowners wanted a garden of delights, but they also wanted it to be functional with spaces for outdoor dining, children's play and vegetables—a tall order for the steep lot. "In gardening, we talk about creating 'rooms'—the spaces you're in, and the way you travel through them," Mellott says. "That was important to the homeowners. They wanted to have a feeling of various spaces to be in." They also wanted privacy, as the historic area's regulations only allow for minimal fence heights.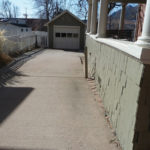 So Mellott developed a two-tiered garden design to accommodate the different "rooms." A deck on the back of the house now leads to a handsome flagstone patio with a dining area. The patio is adjacent to the driveway-turned-walkway that leads to a charming detached garage that became a work cottage. The patio also abuts a lawn rimmed with fully planted garden beds. At the back of the lawn, a gate leads to an elaborate flagstone retaining wall with steps to a lower level containing raised vegetable beds and a shaded grassy area.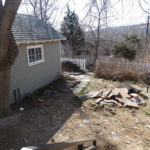 The ever-changing garden has hundreds of plants with different blooming cycles. "It's a very seasonal garden," Mellott observes. "We have a lot of plants that follow the seasons, so one look is not the look you'll see throughout the growing season. My goal is to create beauty year-round." "Mission accomplished" in this lovely garden!
Amazing stonework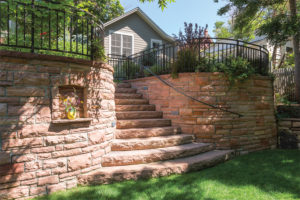 The steps of the massive flagstone retaining wall lead to a lower garden with raised vegetable beds and a shady sitting area. Conrad Gonzalez, of Gonzalez Stone Masonry in Longmont, did the stonework. "The construction of the wall was an amazing feat," Mellott says. "He's an incredible mason."
Purples, limes and oranges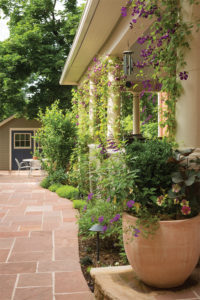 Lime-green fiveleaf akebia and 'Jackmanii' clematis vines weave up the porch columns on the east side. "The akebia creates a great green column," Mellott says. "It comes on early and stays late, and it's been very steadfast—even with all the last few years of crazy weather." The accent pot contains purple Brazilian salvia, boxwood, ligularia, and pink-and-yellow variegated petunias. "Lime green is a color I use a lot. I tend to go for complementary colors, so I'll use purples, limes and oranges." What was once the driveway to the old garage became an inviting walkway to a work cottage with a table and chairs in front of it. "It's the kids' table when the owners are entertaining," Mellott says. Low lighting dots the pathway. "I alternate lights on paths, and use the least amount necessary. You want it to feel subtle."
A  private oasis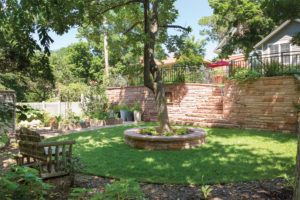 The lower-level garden is a private oasis that the owners use a lot in summer. "The ash tree provides great shade," Mellott says. "There's also a seasonal ditch below the yard, so it's like having their own built-in water feature." Shade-loving hostas and impatiens ring the ash in the flagstone planter, while 'Annabelle' hydrangeas and 'June' hostas are peppered around the bench.
Nothing beats evergreens for privacy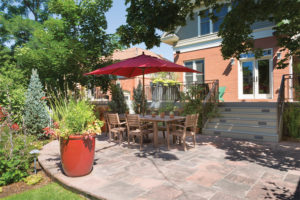 The orange patio pots add color splashes that complement the natural flagstone. A columnar blue spruce flanks the patio to help provide privacy and add texture and winter interest. "Nothing beats evergreens for privacy, because they're instant screens. We have five blue spruces in the yard, and they're very hedge-able," says the garden's landscape designer, Vicki Mellott of Boulder's Metamorphic Gardens, who wires the columnar spruces. "I spiral a coated green wire through their branches for spring snowstorms. When heavy snow settles in the branches, the wire keeps them from splaying."
Using pots throughout the seasons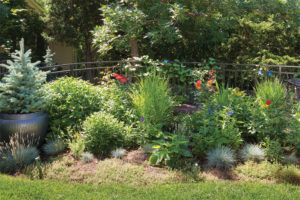 Blue morning glories hang on the fence of this densely planted bed adjacent to the upper-level lawn. Stripy 'Oranges 'n' Lemons' roses are in the back, along with 'Blue Butterfly' delphinium and yellow rudbeckia. Little 'Boulder Blue' fescue and thyme cover the front. The accent pot contains a blue spruce. "I use pots throughout the seasons, and I like to change them up," Mellott says. "They stay there all winter, so snow catches on things and adds dimension to the garden."
A succession of blooms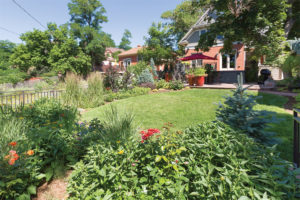 This is the garden in early summer. It was planned to have a succession of blooms throughout the growing season, as well as winter interest with evergreens and unusual plants like Harry Lauder's walking stick.
Intimate seating area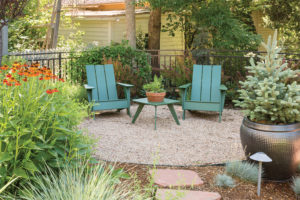 An intimate seating area off the upper-level lawn sports blue Adirondack chairs and a pot of succulents, while gravel defines the space. "This is where the kids load stones in trucks and move them around," Mellott says. Behind the chairs are red barberry bushes, and 'Sweet Autumn' clematis drapes the rail. Orange 'Mardi Gras' helenium blooms in the foreground, and a pot from Sturtz & Copeland contains another blue spruce with 'Boulder Blue' fescue grasses growing alongside it.
Gardening in veggie boxes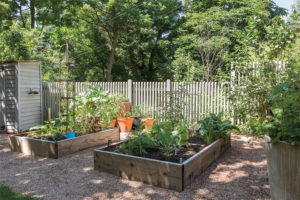 The whole family likes to garden in the lower-level veggie boxes. To increase the amount of herbs they could grow, Mellott added container gardens. The property's old incinerator sits behind the terra-cotta pots and now houses a rhubarb plant.
Bushes in pots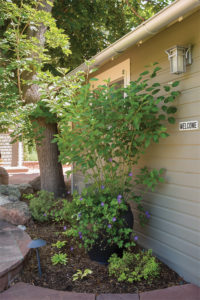 A Norway maple shades the side of the work cottage. Planted below the maple is a 'Carol Mackie' daphne. Hostas and spirea are in front of the Sturtz & Copeland pot that contains 'Emerald Blue' phlox, and a 'Cardinal' dogwood whose stems turn yellow in spring. By putting the bush in a pot, Mellott added height and an accent, and avoided "planting something 4 feet from the trunk of a maple," she says. How long can bushes last in pots? "I've had a small crab apple in a pot for 15 years, and I don't mulch it or put it in a protected place."