Let There Be Light
05 Oct 2016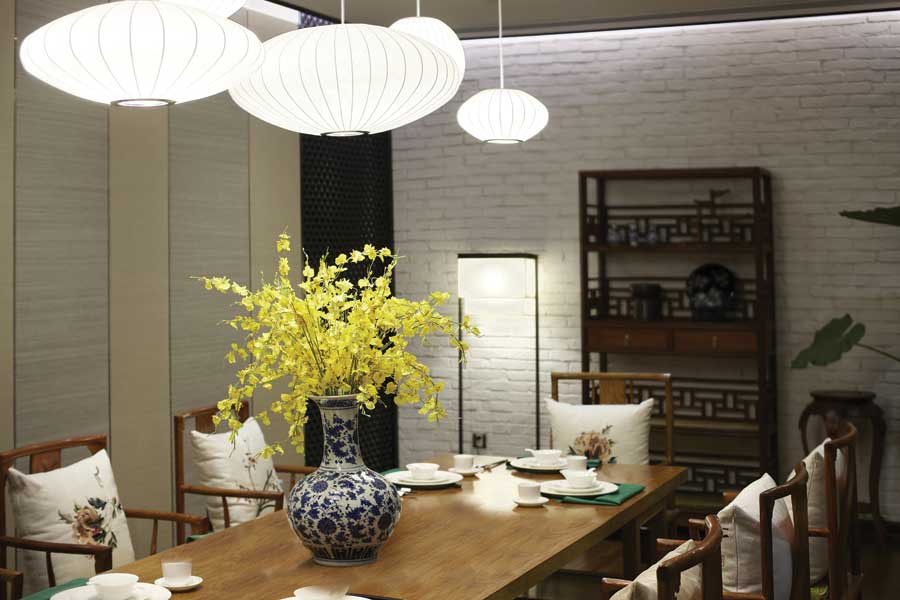 Lighting Trends and Tips
By Karen Mitchell As the days shorten and we spend more time indoors, it's the perfect time to consider how to brighten your living space by improving your home's lighting.
When choosing lighting, take your home's style into consideration, advises Emily Bynum, principal and architectural lighting consultant for Element Architectural Lighting Design in Boulder. "Whether the home is clean and minimal or weighty and warm, the decorative lighting needs to follow this feel." Think of lighting in layers, she suggests. The first layer is ambient light that fills an area with comfortable illumination so you can safely move through the space. Task lighting is for doing tasks, such as prepping food, reading or applying makeup. Architectural lighting includes features like recessed ceiling cans and cove lights. Decorative and accent lighting add style and highlight features like artwork. Bynum suggests varying the direction of lighting as well. "Usually ambient light is directed down, so adding elements of indirect light, such as onto the ceiling, helps with uniformity and one's overall perception of a bright space." Cheryl Gaiser, co-owner of Inlighten Studios in Boulder, says many clients want a central lighting piece to serve as an anchor. "There's a desire for an open, airy and lighter feel, especially in larger homes," she says. A power piece, such as a large chandelier, has the greatest impact and scale in spaces like the entry or a great room, Bynum and Gaiser agree. "From there, you can find pieces that coordinate through shape, form and finish," Bynum says.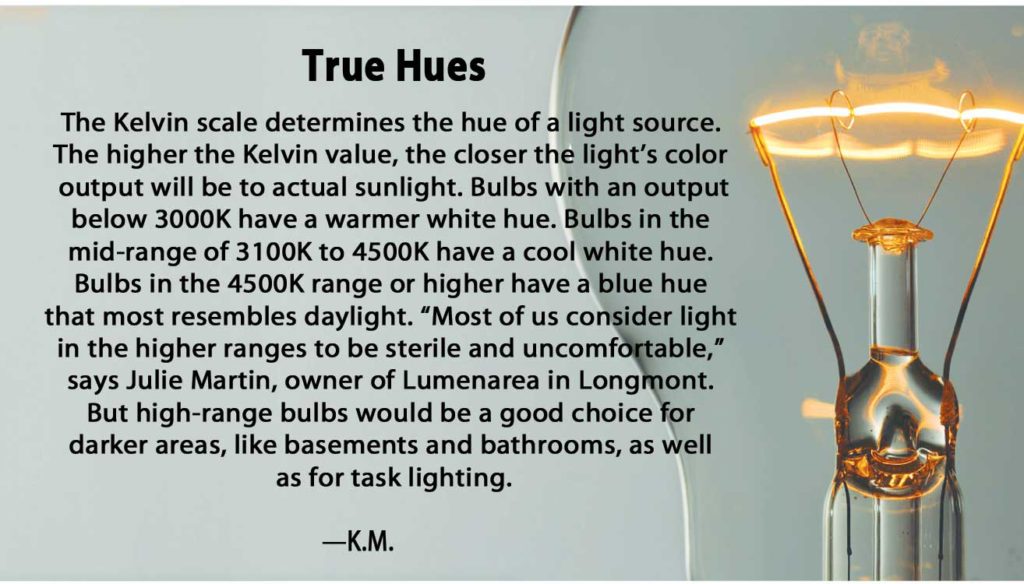 Lighten Up
Many homeowners want to modernize their lighting scheme, says John Hasse, lighting designer and master electrician at Boulder's Splashlight Studio. "We see a lot of interest in antique and brushed brass, as well as white matte finishes and mid-century modern," he says, noting the chic-industrial trend that marries industrial and rustic lighting elements. "It's kind of a vintage look with a modern twist."
LIGHTING TIPS

photo by ezume images

Rooms should have different layers of light, like task lighting, recessed lighting, decorative lighting and lamps. Layers provide the most comfortable lighting. For example, in a study you might have recessed cans, a desk lamp and a decorative ceiling fixture. Plan lighting according to the activities that occur in a room and the mood you want to create.

—Julie Martin, Lumenarea

Don't forget controls. They provide the flexibility to change the environment by varying the intensity of lighting layers. You can instantly change from a bright work setting to a calm, relaxing space just by using dimmers.

—Emily Bynum, Element Architectural Lighting Design

When you go to a lighting studio for advice, be prepared to discuss what lighting applications you want in your home, such as task lighting and lighting for gaming, entertaining, ambience, et cetera.

—Cheryl Gaiser, Inlighten Studios

If you're buying new furniture, do that before choosing lighting. There are thousands of lighting choices, so it's easier to choose lighting after you have the furnishings for a room.

—John Hasse, Splashlight Studio
Julie Martin, owner of Lumenarea in Longmont, agrees. "The mid-century look is similar to that of the 1950s, but with an updated style. Metal shades in colors such as red or teal, retro drum pendants and sputnik-style pendants might fit into this category," she says, adding that orb lighting is also hugely popular. "Orb lights can be as simple as several plain metal circles joined together or as fancy as strips of crystal that create a circle," she explains. "They're often used in large foyers, or in pairs over a long dining room table." Malleable metal chandeliers are also huge, as the elements can be repositioned to fit spatial configurations. Botanically inspired designs that borrow forms, shapes and colors from the natural world are popular, too, as are oversize fixtures and large statement pendants that create a focal point above dining room tables and kitchen islands. Kitchen lighting is particularly important, as that's often where homeowners and guests congregate. "We're doing lots of pendants over islands, and some of these islands are very big," Gaiser says. "We're also doing a lot of LED linear lighting, some of which can be as thin as 3-inches wide, 2-inches high, and 6-plus-feet long."
Antique Light-Buying Tips

Antique chandeliers at Boulder's Chantique store captivate America's Next Top Model winner Nicole Fox of Louisville, Colo. (Photo by Stephanie Block, Courtesy Chantique)

When shopping for antique lighting, always ask the following questions, suggested by Anthony Funderburgh, owner of Boulder's Chantique, which sells authentic antique chandeliers.

What is this antique lighting made of? Is it brass, bronze or wrought iron? Not all materials are of the same quality.
Ask where a chandelier was made and if it has a known history.
If the lighting is billed as crystal, make sure it's crystal. Real crystal divides light into a rain­bow spectrum.
Make sure any antique lighting has been properly rewired for your needs. And never fret about mixing an antique piece with modern décor. "In contemporary homes, an antique chandelier adds character and warmth," Funderburgh says.

—K.M.
Artwork is another area where proper lighting makes a difference. Be sure to take ceiling height into account so you can determine the correct angle for lighting art, Gaiser says. "You can light up an entire room and create ambience solely with artwork lighting," she says. Adding a few soft-pink lamp bulbs will create a more diffused lighting atmosphere when hosting a party. "Use them in those rooms where you'll entertain to create some pink accents," says New York–based designer Wendy Waxman, adding, "It's a flattering color for most any complexion." Waxman also suggests battery-­operated LED rope lights for mantels and outdoor spots where electrical outlets aren't available, or where wires would create eyesores. "These lights can also be squished into glass vases to add special touches, and can be used as portable lighting fixtures," she says. "The battery packs are not prominent, and the lights can be reused over and over again to add twinkle and glitter."
Way of the Future
Modern lighting is majorly shifting to LEDs. "It's the new direction in the lighting world—it's versatile and maintenance-free," Bynum says. Some manufacturers are phasing out compact fluorescents altogether, and many city codes prohibit energy-hogging incandescent bulbs. "LEDs are dimmable and long-lived, they save energy, and they have great light output with good color rendering and temperature," Bynum notes. "And because an LED can be so small, indoor trends include concealing LED lighting in coves, on shelving or vanities, and backlighting translucent materials." In fact, some LED lights are less than an inch thick, Martin says. But when buying LEDs, make sure they're high quality. "Many less-expensive bulbs are not color matched, leaving you with differences in the color of your lighting, " she says, adding her store carries those with dimming capabilities and long warranties. "LED lighting is definitely the way of the future," Martin says. So try some of these ideas to light up your life this fall.
---
What's Trending Now in Lighting?
Mid-century modern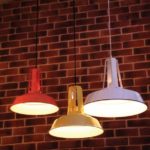 New lighting trends: mid-century modern
Orbs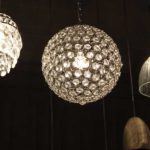 New lighting trends: orbs
Filament bulbs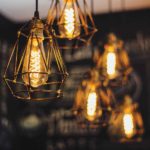 New lighting trends: filament bulbs
Pendants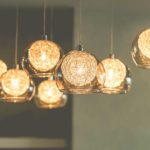 New lighting trends: Metral chandeliers
Metal chandeliers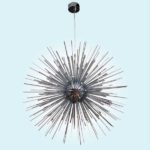 New lighting trends: Metal chandeliers