Become an Herbivore
28 Jun 2015
Growing fresh herbs and chiles is easy, and it saves you a bundle at the supermarket.
You too could become an herbivore
Show of hands. Who wants to pay $3 for a tiny package of fresh herbs when the recipe calls for a small amount and you can't use the rest before it rots? If you grow a culinary garden, you don't need to worry about that. Herbs and peppers add flavor to any dish and are universal to many cuisines. Cilantro, for instance, is equally at home in a Thai curry as in Mexican dishes. Chiles spice up Italian and Asian recipes alike. 

Growing herbs and peppers is easy. They're exceptionally undemanding and require very little effort beyond planting. Most familiar herbs originated in the dry, sunny Mediterranean region and thrive in Colorado's hot summers. Rosemary, sage, oregano and thyme, for example, are hardy full-sun perennials that like things on the drier side, craving only a little extra water on the hottest days. Annuals, like basil and cilantro, are a bit more particular, preferring partial shade and moist soil—requirements that aren't hard to accommodate.
(scroll down for recipes)
And you don't need a lot of land for herbs and peppers. A few plants produce a nice yield, and most are just as happy rubbing leaves with ornamentals as growing in their own plot or containers. Susan Evans, a master gardener and herbalist in Indian Hills, Colo., groups plants according to their cultivation needs in her terraced garden. She plants heat-loving annuals, like basil, chives, parsley and chiles, in pots she puts in front of a stone wall to retain heat. She devotes another plot to partial-shade herbs, while perennial herbs grow among vegetables and in her edible flower garden. She keeps more delicate herbs in containers on a porch so she can quickly move them inside in case of frost or hail. An added benefit of perennial herbs is their insect-repellent qualities. "They help keep pests out of the garden because of their strong scent," says Evans, who teaches classes in growing and cooking with fresh herbs. Herbs that are stressed can attract aphids, but it's not necessary to spray with insecticides, says Chet Anderson, owner of the certified-organic Fresh Herb Company in Longmont. "Just wash them off with an organic soap-and-water mixture." Harvest herbs in the early morning when they're freshest, picking just what you need for that day. Wrap rinsed herbs in damp paper towels and put them in the refrigerator until you're ready to cook. Alternatively, stand cut stems upright in a glass of fresh water, which makes herbs last much longer. Regularly cut back herbs to keep them prolific and prevent flowering, which can negatively impact the herb's flavor.
Here are some cuisines and the herbs and peppers they use that you could easily grow.
Italian Herbs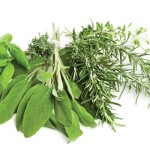 We may think of red sauce as the quintessential Italian food, but this cuisine differs by region, says chef Steven Nalls, an instructor at Auguste Escoffier School of Culinary Arts in Boulder. "The pesto region is Liguria on the eastern coast. On the northeastern side you get richer flavors—more rosemary and cream sauces than oil-based sauces," Nalls says. "In the northeast, there's more French influence, with dishes infused with lavender, basil and thyme. South toward Sardinia, you'll see dishes incorporating chiles and fresh lemons." Basil: The variety typically used in Italian dishes is the large-leafed sweet or Genovese basil, the base ingredient of pesto. Oregano: Surprisingly, Nalls says, there's some evidence oregano wasn't a big flavor profile in Italy until World War II. Recipes before the war more often called for marjoram, a cousin of oregano with a milder flavor. The classic garden oregano is typically Greek oregano. Rosemary: An evergreen member of the mint family with a pungent, somewhat piney flavor, rosemary works well with roasted meats and vegetables, particularly potatoes. Rosemary doesn't like to be crowded in the garden. Thyme: Originally from Greece, thyme was spread through Europe by the Romans and is a staple in Italian cooking. Unlike most herbs, which are generally added to a dish toward the end to preserve freshness, thyme is added early to give its oils time to release and infuse. Sage: Another staple of Italian cuisine, sage is great for roasted meats, risotto, gnocchi and many pasta dishes. This herb thrives particularly well in Colorado.
Middle Eastern Herbs
"The Middle East is so ancient that its flavor profiles have been influenced by many different regions," Nalls says, but mint, parsley, thyme and sumac are the notable herbs in this region. Mint: While there are many varieties of mint, spearmint is the one typically used for cooking savory dishes, like lamb. Mint is an aggressive perennial that will take over wherever you put it, so it's best grown in containers or areas where you don't mind if it spreads. Parsley: Finely chopped parsley is a primary ingredient in tabbouleh, a salad made with bulgur wheat, cherry tomatoes, fresh mint, cucumber and green onions seasoned with olive oil, fresh lemon juice, and salt and pepper. Grown as an annual, parsley prefers moist soil and full sun. Sumac: Dried and ground, the red berries of sumac impart a tart lemony tang to salads, grains and meats. It's often an ingredient in za'atar, a spice blend made with sumac, thyme, oregano, salt and sesame seeds that's used to season just about everything. Sumac is actually a large invasive shrub, so buy it at a spice store or a Middle Eastern grocery.
Mexican Herbs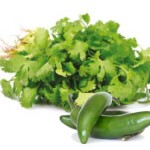 Cilantro is a staple in many Mexican dishes. But people either love or hate this herb. Cilantro lovers can't describe its unique flavor, but the haters say it tastes like soap. "It's a genetic thing," Nalls says. Chiles: Technically a fruit, chiles appear in nearly every Mexican dish and there are an amazing variety of them, from milder poblanos and Anaheims to smoking-hot serranos and habañeros. In between are jalapeños and Big Jims. All are easy to grow if you give them full sun and moist soil. Cilantro: This herb grows well from seed, but is very sensitive to heat and tends to bolt (flowering and setting seed very quickly). "Treat it as if it were a green," Anderson says. "Plant the seeds in small batches every couple of weeks so you'll have an ongoing harvest." Cilantro prefers shade in the hottest part of the afternoon. Epazote: An ancient herb sometimes described as a cross between mint and pepper, epazote is commonly used to flavor bean dishes. Younger leaves have a mild taste, while older ones are much stronger and can have a gasoline odor. The Aztecs cultivated epazote as a remedy for flatulence—"a good thing when you're eating all those beans," Nalls says. All this enthusiastic grower needs is full sun. The epazote in Nalls' garden reached 5 feet in height. Mexican oregano: Related to lemon verbena, this hardy herb has citrus and licorice overtones, and is interchangeable with the Mediterranean oregano.
Asian Herbs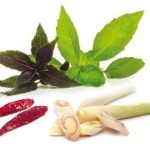 "Asian cuisine is all about feng shui, about balance," Nalls says. "It's about bitter mixed with sweet mixed with sour mixed with spicy. It creates an explosion of flavors. You might pair a really spicy chile with a lot of sweet in the sauce to balance the heat." Chiles: The fiery chile in Szechuan and Hunan cooking is actually the dried red flakes of the Mexican chile de árbol. Thai and Vietnamese dishes feature the flaming bird's eye chile, a small green or red pepper that's typically used fresh. Lemongrass: This tropical grass has a wonderful lemony flavor that's used to flavor soups, curries and pastes throughout southeast Asia. Thai basil: This herb has a slightly spicy, licorice-like flavor and is used in all sorts of Thai dishes. It's also good with pastas, eggs and just about any dish that calls for basil. Shiso: A member of the mint family, shiso is an annual that's also known as Japanese basil. In Japan, it's used as a wrapping for sushi and to flavor soups and stir-fry dishes. You can use it in place of mint for most dishes. Red shiso has an anise-mint flavor, while green shiso tastes like spicy cinnamon. Both grow well in Colorado, but shiso needs moist soil, full sun and partial shade on hot afternoons. Like other greens, shiso is primarily a spring crop, turning bitter when the temperature rises.
---
By Arna Cohen
---
RECIPES
Herb Chicken with Cucumber and Herb Salad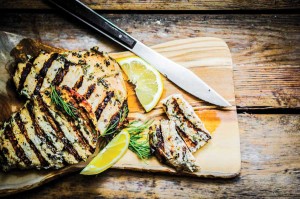 This recipe comes from chef William Kelley of Zucca Italian Ristorante in Louisville. "This is a popular recipe we serve here from time to time," he says. "It's a simple grilled chicken dish with fresh herbs and a fresh herb salad." INGREDIENTS 1 sprig fresh rosemary, leaves only 1 sprig fresh thyme, leaves only 1 small bunch Italian flat-leaf parsley 4 fresh basil leaves 1 lemon, zested and juiced 4 bone-in chicken breasts, leg quarters or thighs 1 tablespoon kosher or sea salt 2 teaspoons black pepper 1 teaspoon crushed red chile flakes 2 cloves garlic, minced 2 ounces canola or vegetable oil 1 cucumber 8 grape tomatoes, halved 3 green onions, chopped ¼ cup fresh arugula 2 tablespoons olive oil 1 teaspoon kosher or sea salt DIRECTIONS Chop rosemary, thyme and parsley, and reserve half for the salad. Add basil and lemon zest to one-half of the herb mixture and chop together until fine. Place chicken in a medium mixing bowl and add the herb mixture, salt, pepper, chile flakes, garlic, canola oil and half of the lemon juice (reserve the other half). Mix together until chicken is well coated. Heat grill. While grill is heating, cut cucumber into four pieces lengthwise and remove seeds. Slice cucumber into quarter-inch pieces and place in a mixing bowl. Add the reserved herbs, tomatoes, green onions, arugula, olive oil, sea salt and the other half of the lemon juice. Mix together and let sit. Once grill is heated, sear chicken on skin side for five minutes. Turn grill heat down to medium and flip chicken. Close grill hood and cook chicken 7-8 minutes until it's fully cooked. Pull chicken off heat and let rest 5-10 minutes (meat's internal temperature should reach a minimum of 165 degrees). Serve chicken with salad.
---
Fresh Herb & Sea Salt Roasted Beets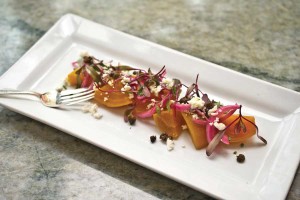 This recipe is from Boulder's Mediterranean Restaurant, which recommends using fresh farm beets from Isabelle or Red Wagon farms. INGREDIENTS 5 pounds farm-fresh beets (medium size) ½ cup olive oil 5 sprigs fresh rosemary 10 sprigs fresh thyme 3 fresh bay leaves 2 whole cinnamon sticks ½ teaspoon whole cloves 1 teaspoon whole juniper berries 1 tablespoon whole fennel seeds 5 whole garlic cloves 6 tablespoons sea salt 1 teaspoon whole black peppercorns DIRECTIONS Toss cleaned whole beets (skin on) with the olive oil. Combine all dry ingredients. Toss beets with herbs and spices and coat evenly. Pour mixture into a heavy roasting pan and cover or wrap in aluminum foil. Bake 1¼ hours at 325 degrees (may need to bake longer, depending on the size of the beets). Cool in the refrigerator, rinse, peel and chop the beets and serve.
---
Steak with Piquant Italian Salsa Verde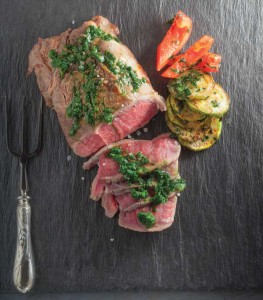 This bold green sauce comes together in a flash in a food processor. Garlic, capers and anchovy add complexity to the lively puree of parsley and basil in this dynamite recipe from Whole Foods. INGREDIENTS ½ cup flat-leaf parsley leaves ½ cup basil leaves 2 cloves garlic 2 tablespoons capers, drained 1 (or 2, to taste) anchovy fillets, cut into pieces 1 cup extra virgin olive oil 2 tablespoons fresh lime juice Freshly ground pepper, to taste Sea salt, to taste (optional) 1½ pounds sirloin steak 5 cups baby field greens DIRECTIONS In a food processor, puree parsley, basil, garlic, capers and anchovy fillet(s). Scrape down the sides of the bowl. Slowly add olive oil, pulsing until completely combined. Add lime juice and pepper. Process until blended and the sauce is smooth. Taste and adjust seasonings. The anchovy will contribute salt, so additional salt may not be needed. Set sauce aside. Season the steak with olive oil, salt and pepper and grill, broil or pan fry to your liking. Slice it thinly and drizzle with the salsa verde. Serve over fresh greens.
---
Nasturtium Vinaigrette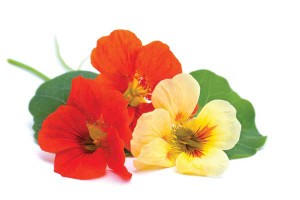 If you grow herbs among edible flowers, this vinaigrette from The Greenbriar Inn in Boulder is a light dressing for lettuce and other greens. INGREDIENTS 2 cups fresh nasturtium flowers ½ cup honey ¼ cup fresh lemon juice 1 tablespoon Dijon mustard 1 cup white balsamic vinegar 3 cloves garlic, crushed 2 shallots, chopped 1 cup olive oil DIRECTIONS Blend all ingredients in a blender or food processor. Refrigerate any remaining portion.
---
Herb Pesto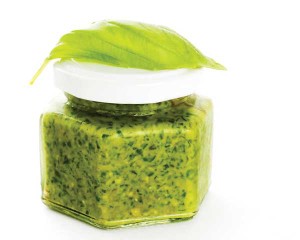 This recipe from chef William Kelley of Zucca Italian Ristorante in Louisville uses two herbs—parsley and basil—and arugula for a fresh, zesty pesto. INGREDIENTS ½ cup fresh basil ½ bunch parsley 2 tablespoons arugula 1/8 cup Parmesan, shredded ¼ teaspoon red chile flakes 1 teaspoon salt ½ teaspoon coarse black pepper 1 tablespoon toasted pine nuts 2 teaspoons fresh lemon juice ¼ cup olive oil DIRECTIONS Place all ingredients except oil and lemon juice in a food processor and blend until coarse. Add lemon juice and pulse for 30 seconds. With the processor running, slowly add the olive oil. Pesto should be well incorporated and thick-bodied.