Feature Home: The House that Binx Built
04 Jul 2007
Tour a home in Fourmile Canyon that qualifies as one huge "Mother of Invention."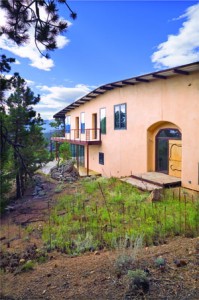 It all began on a foggy day in 1994, with a 42-second series of painstakingly planned blasts using 80,000 pounds of explosives. Just 60 feet from the excavation site, on a steep wooded hillside, a slightly eccentric inventor named Binx Selby stood looking on excitedly with his wife and newborn, witnessing the birth of what could very well be his most artful (and at times most controversial) creation. "It has probably come out a lot like I originally conceived it," says Selby, gazing up through thick spectacles at the three-story, 27,000-square-foot house that sprang from the crater. "To me, it's like a sculpture." With nine bathrooms, seven bedrooms, a 30-car garage (yes, 30!), and a third-floor meditation hall large enough to house a small plane, Selby's home doesn't sound like much of a model for energy conservation. In fact, after Selby broke ground and carved a three-quarter-mile dirt driveway to access the home, the surrounding Fourmile Canyon neighborhood erupted in controversy, as some accused the inventor of creating a colossal resource-hogging eyesore.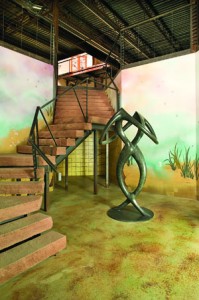 But 13 years later, with the controversy long subsided and the house finished (save a few touches), a tour reveals a wholly unique structure that uses solar power, geothermal and an array of Selby's own inventions to create a home with an ecological footprint far smaller than those a fraction of its size. "We use less power, fuel and water than anyone else up here," says Selby, 64, of the entirely off-the-grid house. An entrepreneur-turned-devout Buddhist (see "Father of Invention" on page 44), Selby initially envisioned the place as both a workshop where he could prototype his inventions and a spiritual gathering place. It ended up being neither. (Neighbors balked at the idea of a hillside Buddhist retreat, and after the birth of his daughter, Selby decided to take a break from entrepreneurial endeavors.) Instead, the place serves mostly as a home to their family of three and to artisan friends from the eclectic border town of Patagonia, Ariz., who live at the house while adorning it with artistic flourishes.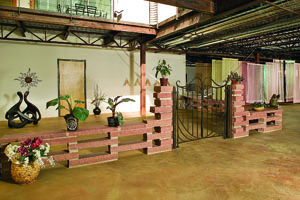 Thanks to their contributions, ranging from intricately hand-painted walls and handcrafted furniture to exquisite ironwork and authentic Mexican stucco and tile work, one thing is certain: There will never be another house quite like this one. From the outside, it looks like a simple, three-story box constructed with exposed steel beams, adobe walls and native sandstone accents. But enter the front door and you'll discover a place that juxtaposes the industrial high-tech feel of an inventor's workshop with the calming Asian influences of a student of Eastern philosophy. Case in point: the "doorbell"—a Zen-like gong crafted from a huge carved log that strikes a sawed-off high-pressure oxygen cylinder. "I probably struck one in a junkyard once and it stuck with me," says Selby, admiring the cylinder's eerie tone. "That's part of the inventor's sponge syndrome—you pick up all of this stuff."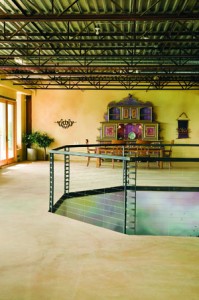 From the front door, thick sandstone steps surrounded by a circular wall with a hand-painted Japanese design lead to a vast open living room with floor-to-ceiling south-facing windows. Overhead is a ceiling of exposed steel beams; underfoot is a floor of stamped concrete that stretches for thousands of square feet. But delicate Asian artwork and an intricately painted teal-and-purple sideboard help soften the cavernous room. At one end, swaths of sheer pastel fabric serve as a room divider, providing privacy for what will one day become a tearoom and rock garden. At the other, an indoor courtyard, complete with a low flagstone wall, an iron gate and three hammocks, sets the tone for a house that consistently succeeds at breaking the barriers between indoors and outdoors. In the kitchen, large windows offer views of the snowcapped Indian Peaks and bright yellow walls etched with swirling flowers frame an authentic wooden pizza oven. Canadian granite countertops sport tiny blue holograms that seem like tiny blue eyes following you around the room. In the evening, a Burmese Buddhist temple bell announces dinnertime.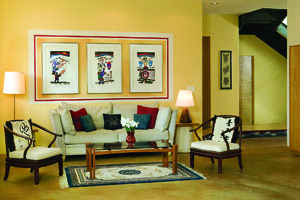 Upstairs, the earthy Eastern design continues, with a sunset-colored music room scrawled with golden inscriptions… "the other arts persuade us, but music takes us by surprise…" … "music is an invisible dance." In the master bathroom, salmon and green Brazilian granite seems to perfectly match the boulders just outside the window. But one of the home's "finest touches," Selby says, is the railing he crafted from stainless-steel piano wire. Surrounding the 7,000-square-foot exterior deck, the see-through rails allow you to bask in the mountain views surrounding the home.
Open-Ended Question
While décor makes Selby's house interesting and livable, it's the vast amounts of empty space that truly grab your attention. "People say, 'Why do you have all that open space in here?'" says Linda Fong, Selby's wife, as she looks out on the 5,200-square-foot third-floor room with little more than a trampoline in it. Over the years, the room has housed a labyrinth, a dance hall, a meditation area and a bike path for Selby and the couple's daughter. Someday, they say, it could become an incredible greenhouse. "It's like bringing the outside in," Fong says.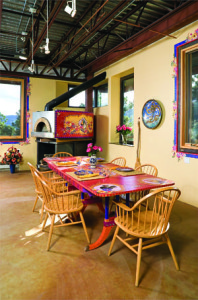 That outside feel is enhanced by what is perhaps the home's most innovative feature—a 30-by-40-foot atrium roof through which light streams to the indoor courtyard a level below. During winter an ultra-efficient fan forces hot air down from the roof into the house. On summer days, the roof automatically opens to vent hot air. Selby's precise initial blast also ensured the house was built deep enough into the hillside to minimize its visibility and maximize its geothermal potential. Where the structure meets granite, pipes pump the earth's year-round 52-degree temperature upward, helping to naturally regulate the home's climate. On the roof, 32 photovoltaic panels generate solar power, which is harnessed in 12 red batteries stationed in the basement control room. Even the generator, which kicks on when solar isn't enough, is extremely low emission; Selby says he had to search far and wide to find it. "It has just been really fun using a lot of different techniques to make the house as energy efficient as possible," he says, seated beneath the atrium's whirring fan with butterscotch sun pouring in. After 13 years, his "sculpture" is just about complete, he says. "We had to do some things a couple times to make them work, but it works now, and it works really well." Lisa Marshall is a freelance writer and mother of four who lives in Lyons in an energy-efficient, work-in-progress home she shares with her amateur inventor husband, Ron.