Gizmos & Gadgets
13 Jan 2015
New electronic devices can help optimize your television-viewing experience.
By Kate Jonuska 
Judging a home-theater experience used to be all about being big, both in terms of a TV's size and the number of speakers attached to it. While no one is suggesting you revert to a tiny screen, increasingly smaller devices and gadgets are the ones that are truly optimizing the modern TV-watching experience. "The home-entertainment market has changed a lot," says Bob Murphy, branch manager of Boulder's ListenUp, which specializes in audio and video systems and home automation. "Our business has evolved over the years from being mostly product-based to being more app- and device-based." Rather than complicating your entertainment life, today's media devices and services actually provide increased flexibility and customization, making controlling your media system easier than ever before.
Life in the Stream
The Apple TV streams and connects to a home network to access music, movies and more you've purchased on your tablet, iPhone or computer.
The most important addition to any modern media room is a streaming service. "We're moving away from the broadcast mentality. Now it's really all about catering to the on-demand niche," says Jay Johnson, president of The Boulder Home Theater Company. "Of course, some smart features are built into your TV itself," he adds, noting how big players like Netflix, Amazon and Hulu can often be streamed through newer televisions without extra equipment. "There are also outboard devices to stream content to the TV wirelessly," Johnson says. In the Apple universe, the device to have is the Apple TV, which, in addition to streaming, connects to your home network to access music, movies and more that you've already purchased on your computer, iPhone or tablet. And the Apple TV's AirPlay feature shares content on your computer or mobile devices with the television screen. Roku players offer a similar range of capabilities, while Google Chromecast specializes in only the content-sharing feature. "Apple people will go with the Apple," says Johnson, though he notes that the user experience is similar for all such devices, including the ability to use your phone or tablet as a remote.
Wireless Sound
The big name in wireless speakers is Sonos. While many companies are catching up to them, Murphy says ListenUp still recommends the Sonos brand above others. Sonos, which began making high-quality speakers that could be controlled remotely and linked together throughout the house, recently broke into the TV market with its PLAYBAR system. "They capitalized on their user base and the ease of use of Sonos to take the product from a pure music system to a TV- and surround-sound playback system," Murphy says. "The sound bar hangs on the wall or sits on a shelf below the TV," where it complements a TV's built-in speakers with richly textured, high-fidelity sound. "If you add two more (Sonos) speakers in back and a subwoofer, you have full 5.1 surround sound." Each Sonos component requires only an existing electrical plug, which means no wires on the floor or expensively hidden behind walls. Plus, you can integrate your TV room's speakers with Sonos speakers in the rest of the house. Separately or together, they can play your existing music collection or stream music from popular services like Pandora, Spotify and Rhapsody.
Universal Control
The market's wider variety of universal remotes means five remotes on the coffee table is happily becoming a thing of the past. "We put a universal remote in every system we install, because it makes life so much simpler," Johnson says. "Generally when we're done with a system, we can hand the client the remote and they can use it immediately. There's not really a learning curve." Most remote models connect via USB cord to your computer for easy programming, which will tie your multiple systems together. In other words, you'll be able to push "Watch TV" once to turn on the TV and toggle it to the correct input for reception, and turn on the sound system and even switch it to your custom volume level. Same for "Play Blu-ray," "Play Playstation" or "Play Music." For an entry-level user, Johnson recommends the suite of Pro Control remotes. Murphy loves Control4, which in addition to wireless remotes offers in-wall control panels that can tie your TV room into a whole-house automation system. Both brands offer apps that allow you to take control via your phone or tablet, too. One caveat: In-wall remotes require professional installation.
Let There Be Light, or Not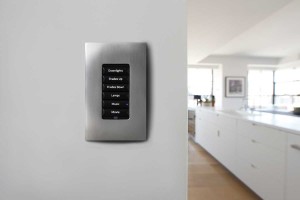 Want to dim the lights in your living room like at the movie theater? Want to never get up off the couch to turn off a light? Multiple electronic devices enable you to do just that. "Lighting makes a big impact but it's usually something people don't think of because they haven't experienced special lighting effects at home before," Johnson says. "You may have $10,000 worth of equipment, but $300 worth of smart switches or dimmers can create a whole different atmosphere." The Belkin WeMo line of light switches can replace existing switches and be controlled by your favorite mobile device. Control4 and Lutron Electronics offer products that control wireless switches as well as dimmers, meaning that when you press "Watch TV" or "Play Music," the lights adjust to your preferred level for each activity.
Netting the Best
While most of these entertainment devices are simple to use, they're not always easy to set up without some technical savvy. One common problem, Murphy says, is forgetting that most of these devices utilize your wifi network, which has to be robust enough to carry that traffic. "If you've got a 10-year-old wifi system and you're suddenly streaming movies and all this control information, you might need to start with a beefier network to handle that." For those not of a technical persuasion, retailers have evolved alongside technology to become service providers too. "A laptop is now our number-one installation tool, not a hammer or screwdriver," Murphy says. "We can do anything, from complete home-theater design to just coming out to set up devices so that they work with each other." In other words, today's home--entertainment retailers are happy to step outside their stores to help customers choose, set up and optimize the right devices for their media rooms.